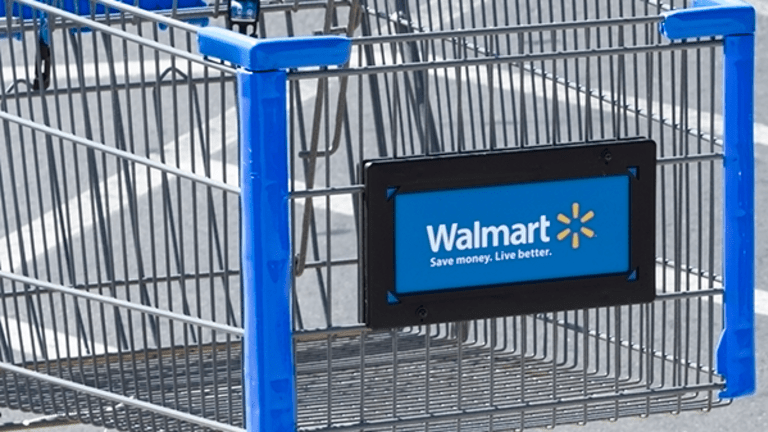 More Than 40 Million Lower Income People Waiting Longer for Tax Refund Checks Whacks Walmart
Walmart had a solid quarter, but warned about a slow start to the first quarter.
Surprise surprise, Walmart (WMT) - Get Walmart Inc. Report  sidestepped the disastrous holiday season seen at many other retailers. 
Walmart shares climbed by 3% to $71.45 on Tuesday after the retail giant reported strong fourth quarter and full-year results before the opening bell. Fourth quarter earnings came in at $1.30 a share on revenue of $133.6 billion, Analysts had estimated earnings of $1.28 a share on sales of $131.1 billion. 
For the full year, the company posted earnings of $4.32 a share, in line with Wall Street's expectations and revenue of $496.9 billion, higher than the $485.7 billion analysts were anticipating.
For the quarter, Walmart's e-commerce sales grew 29%, boosted by its September $3 billion purchase of Jet.com. The company's same-store sales saw a 1.8% increase.
In an effort to compete against e-commerce rival Amazon (AMZN) - Get Amazon.com, Inc. Report , Jet, led by founder Marc Lore, has been stepping up its online game recently including with the start of a new free two-day shipping service, complete with no membership fee.
The move came after Walmart, last May, began testing its two-day shipping subscription service ShippingPass to compete with Amazon's successful Prime service. ShippingPass members received free two-day shipping for $49 a year compared to $99 for Amazon Prime.
And last month, Walmart also lowered the minimum purchase required for free shipping to home to $35 from $50.
Despite the dose of upbeat news, Walmart did rain on the parade of the bulls a little bit. First quarter earnings are seen in a range of 90 cents a share to $1.00 a share. Analysts were banking on earnings of 96 cents a share. 
"Sales started a bit slower than expected due mostly to tax refund delays," Walmart Chief Financial Officer Brett Biggs told reporters on a call. 
Starting this year, the Internal Revenue Service is required to hold off issuing tax refunds until Feb. 15 for those tax filers claiming the Earned Income Tax Credit. Congress put the Feb. 15 date in place to better help the government detect and prevent ID theft-related fraud. The change is said to delay tax refunds for 40 million people.
Lower-income filers who qualify for the Earned Income Tax Credit typically file early in the tax season in order to obtain what is often the largest single check in the year for the family. They then head off to retailers such as Walmart for a splurge. 
"This will be a very interesting week for us," conceded Walmart U.S. CEO Greg Foran.