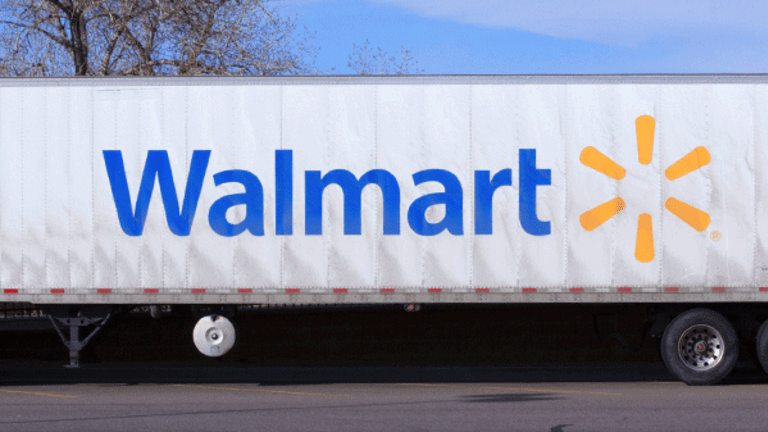 Walmart's Stock May Be Beating Amazon's in 2016, but Be Cautious
The giant retailer's out-performance this year is surprising, but risks remain.
Who'd a thunk it?
At the start of this year, few would have imagined that Walmart's (WMT) - Get Report  stock would outperform ecommerce giant Amazon's, but that is indeed what has happened. Walmart's shares have risen about 16%, while shares of Amazon are up 12.6%.
The world's largest bricks-and-mortar retailer had a strong year, showed promise in an area that was once considered its biggest weakness: ecommerce.
However, Walmart's challenges are far from over. Although it may have steadied itself over the past year, a few threats remain, and investors might want to consider less-risky growth opportunities.
One concern is that Walmart is on a possible collision course with the new wave of change sweeping through Washington.
President-elect Donald Trump is known for his anti-Mexico stance, and has boasted about scoring victories over Ford Motors and the Carrier unit of United Technologies to keep jobs in the U.S.
But Walmart is plowing $1.3 billion into Mexico in its quest to build new distribution centers and expand existing facilities and should hope it isn't inviting his criticism.
After all, as Boeing and Lockheed Martin have discovered, it can take only a tweet from Trump to send shares plunging.
Another challenge for Walmart is Amazon Go, a grocery store with no checkout lines that the ecommerce company is piloting in Seattle. This unique model combines a brick-and-mortar chain with payments operating via sensors.
Already, fresh food sellers such as Whole Foods Market, are wary of the competitive threat posed by Amazon Go.
If it finds favor with customers, Amazon will execute at the speed of light, without waiting for next Christmas.
Although Amazon cancelled its plans to open 2,000 stores, it could surprise other retailers with bigger plans.
Meanwhile, though Walmart has been lauded for making ecommerce inroads and its acquisition of Jet.com, the company is at its core a bricks-and-mortar retailer, and it will take it a while to think or move like Amazon.
And the ecommerce battle comes with its own costs, which could negatively affect Walmart's bottom line.
Finally, the run-up in Walmart's stock implies that profit-taking could happen at any moment.
The more than two dozen analysts with 12-month price forecasts for Walmart's stock have a median target of $73, which isn't much higher than where it is trading.
Next year will be interesting for Walmart, and while it has shown significant promise, there could be a hard landing in store for investors.
---
As we've just explained, you should remain cautious on Walmart. If you're looking for other growth opportunities you can buy now, we've found a genius trader who turned $50,000 into $5 million by using his proprietary trading method. For a limited time, he's guaranteeing you $67,548 per year in profitable trades if you follow his simple step-by-step process. Click here now for details.
The author is an independent contributor who at the time of publication owned none of the stocks mentioned.