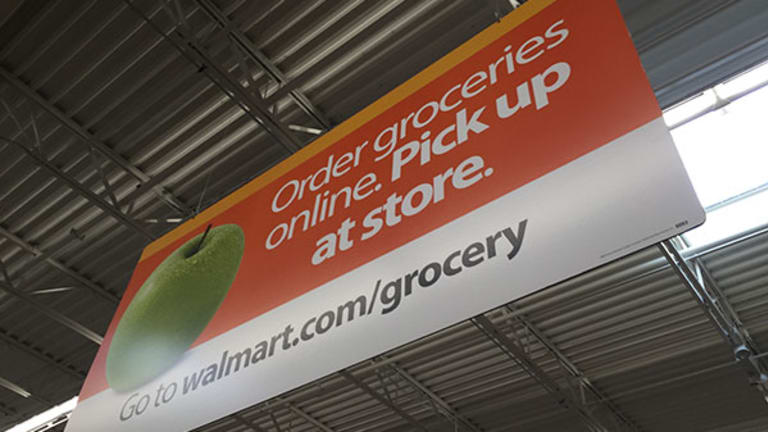 Publish date:
Walmart's Spending $1 Billion on India's Flipkart Would Cap Huge Year for It in Technology
Walmart continues to be willing to spend big to embrace new technology.
Walmart continues to be willing to spend big to embrace new technology.
An already big year for Walmart (WMT) - Get Report in technology may be on the cusp of ending with a bang.
The world's largest retailer is reportedly exploring a $1 billion investment in India's Flipkart. Started in 2007 by two former Amazon (AMZN) - Get Report  employees, Flipkart is the largest online retailer in India. The investment by Walmart would help Flipkart bulk up its operations further to fend off Amazon, which in June promised to inject about $3 billion into its India operation. For Walmart, the investment would rejuvenate its prospects in India after a mixed tenure navigating the fast-growing economy.
Walmart dissolved a joint venture with Bharti Enterprises in 2013 amid troubles navigating regulations on foreign investment in India. WalMart remained in India, however, operating as a wholesaler where restrictions on foreign operators were lighter. A change in the law since 2013 now allows for 100% foreign ownership of food retailers. Today, Walmart only operates 21 stores in India mostly under the Best Price Modern Wholesale banner. 
Here are six other examples of Walmart embracing technology this year.
Jet.com is all about the tech.
1. Spends Big to Acquire Jet.com
Walmart announced in August it would acquire e-commerce playerJet.com for $3 billion in cash. It will also give Jet.com $300 million worth of Walmart shares, which will be paid out over time. Jet.com founder Marc Lore -- a long-time e-commerce entrepreneur -- will assume the leadership of Walmart's U.S. e-commerce operations.
The ability of Jet's technology to help Walmart customers save money over time is not lost on CEO Doug McMillon.
"The customer has more choice over the price they pay, they can build a basket of items," McMillon told TheStreetwhen asked what he really likes about Jet's business model. He added, "It's [building baskets and subsequently saving money on an overall shopping trip] frankly true to the spirit of Walmart's pricing philosophy."
2. Concedes Others Do Tech Better in China
Walmart struck a deal in June with JD.com (JD) - Get Report  , which is the second-largest online retailer in China after Alibaba (BABA) - Get Report  , to unload its struggling online e-commerce business in China Yihaodian. As part of the agreement, Walmart received 144.9 million newly issued JD.com Class A ordinary shares, amounting to approximately 5% of total shares outstanding.
JD.com took ownership of the Yihaodian marketplace assets, including the Yihaodian brand, Web site and app. Walmart continues to operate Yihaodian's direct sales business, and is a seller on the Yihaodian marketplace. 
Walmart opened its first store in China in 1996 but only has about 430 there today, as it has struggled to adjust to the shopping habits of the Chinese. According to research firm iResearch, Yihaodian has a meager 1.5% market share in the online merchant-to-consumer sales segment.
Dedicated online grocery pickup outpost in Walmart's Arkansas backyard.
3. Makes Ordering Food Online More Available
Walmart added grocery pickup to 30 more U.S. markets during the second quarter. It's now available in more than 60 markets and nearly 400 locations in the U.S.
To use the service, customers place their grocery orders online, choose a time to pick them up and then pull into a designated parking spot when arriving at a Walmart store. From there, a Walmart worker brings the groceries to the person's car.
New scan and go checkout at Sam's Club.
4. Launches Scan and Go
Sam's Club has recently gone live in all of its 645 U.S. stores with its new scan and go service. Scan and go works pretty much as it sounds. While a shopper is in a Sam's Club, they open an app and scan each item's barcode. If the item doesn't have a barcode, it could be easily looked up. The app keeps a running total of the items in the cart. A person can then checkout by paying in the app. They then show the receipt on the phone to an employee standing by the door, known as a greeter, who double checks that nothing has been lifted for free. The service closely resembles how a person checks out at an Apple retail store, with items being purchased getting scanned into handheld devices carried around by employees.
Sam's Club began to test scan and go last August at a location near its home base in Arkansas and in Concordia, Calif. It expanded the test to several more stores in February. Scan and go is also currently being tested in several Walmart locations.
It's like a giant iPad!
5. Installs Online Order Pickup Kiosks
Walmart has these giant touchscreen kiosks currently in a handful of stores. Shoppers can go up to the kiosk to confirm their online orders and then take a seat nearby until a worker fetches the items.
Workers who deliver people their online orders are not allowed to accept tips. The service is free to use.
Walmart is dabbling in drones.
6. Tests Flying Drones to Track Inventory
Walmart has begun testing the use of autonomous and remote-controlled drones at one distribution center in Arkansas,  per a demonstration we attended during the company's annual shareholder meeting earlier in the year (no pictures were allowed).
The drones go up and down the racks in the facility and provide real-time data to a worker on the ground. If an item is misplaced, it sends a signal for someone to pick it up and move it to the right spot. The drone technology is part of the retailer's emerging sciences division.
The drones could scan about 30 images per second. Walmart said it has another six to nine months of testing before deciding if it wants to scale the program to others distribution centers.