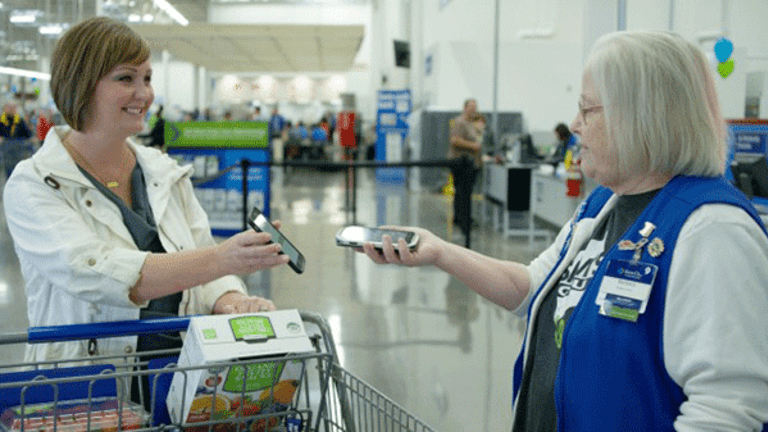 Publish date:
Walmart's Sam's Club Scan-and-Go App May Make Cash Registers Obsolete
Sam's Club, a division of Walmart, is now live at all its stores with a scan-and-go app.
Sam's Club, a division of Walmart, is now live at all its stores with a scan-and-go app.
Sam's Club, the no-frills membership division of Walmart, has taken a step toward replicating Apple's (AAPL) - Get Report futuristic shopping experience at its stores in one way: there's no need for a shopper to wait in line to checkout at a cash register.
Sam's Club has recently gone live in all of its 645 U.S. stores with its new scan and go service, Walmart Vice President of Operations Transformation at Sam's Club Shawna Bowen told TheStreet. Scan and go works pretty much as it sounds. While a shopper is in a Sam's Club, they open an app and scan each item's barcode. If the item doesn't have a barcode, it could be easily looked up. The app keeps a running total of the items in the cart. A person can then checkout by paying in the app. They then show the receipt on the phone to an employee standing by the door, known as a greeter, who double checks that nothing has been lifted for free. The service closely resembles how a person checks out at an Apple retail store, with items being purchased getting scanned into handheld devices carried around by employees. 
Sam's Club began to test scan and go last August at a location near its home base in Arkansas and in Concordia, Ca. It expanded the test to several more stores in February. Scan and go is also currently being tested in several Walmart locations. Bowen says there hasn't been a reduction in the number of cashiers or cash registers at Sam's Club, despite some early adopters of the app seemingly being turned into cashiers (that don't need to get paid or trained).  
Scan and go is the latest example of the world's largest operator of retail stores more fully embracing technology.  
A shopper uses Sam's Club scan and go service.
Sam's Club recently debuted next-day delivery services for office supplies in Dallas, Miami and Tulsa, Okla. Walmart has a few different delivery models currently in motion. In Miami, Walmart is using Instacart rival Deliv to handle small order sizes and Need it Now to tackle larger orders, such as office equipment. Orders in Dallas are delivered by a Walmart truck driver.
Meanwhile,Walmart added grocery pickup to 30 more U.S. markets during the second quarter. It's now available in more than 60 markets and almost 400 locations in the U.S. To use the service, customers place their grocery orders online, choose a time to pick them up and then pull into a designated parking spot when arriving at a Walmart store. From there, a Walmart worker brings the groceries to the person's car.