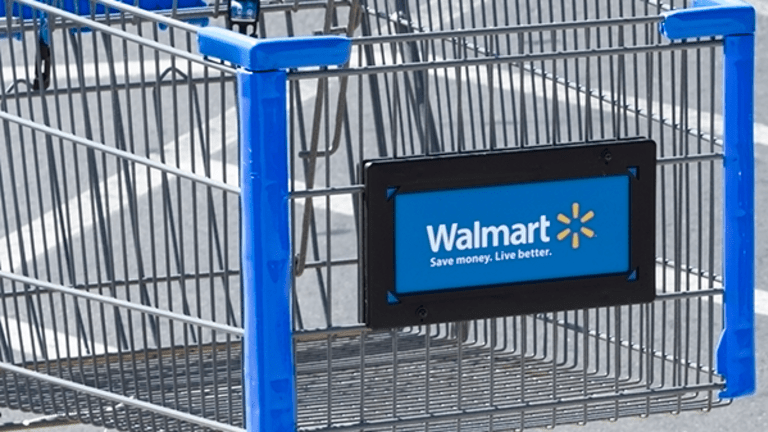 Walmart Is Now Doing Something Incredible That Amazon Has No Quick Answer For
Score another win for Walmart's e-commerce business.
Walmart (WMT) - Get Walmart Inc. Report  has found yet another way to leverage its stores and e-commerce business simultaneously, probably much to the dismay of heated rival Amazon (AMZN) - Get Amazon.com, Inc. Report .
On Wednesday, the world's largest retailer started allowing customers making online purchases on an initial 10,000 items to either take advantage of its free, two-day home shipping option or have it sent to a local Walmart store, at a discounted price.
Pickup discounts vary by item. For example, the price of a Britax B-SAFE 35 Infant Car Seat, Slate Strie at $148.05 will have an additional discount for pickup of $7.40. 
The discount option will roll out to an additional 1 million popular items by the end of June.
"We are at a point right now where we are really able to leverage the assets that are unique to Walmart," Marc Lore, president and CEO of Walmart eCommerce U.S. told TheStreet in an interview.
Walmart's discounts could prove quite disruptive to Amazon.
"We analyzed the price impact across 400 plus of Walmart's stock-keeping units (SKUs) tied into the move and found an average 3.5% discount, with bulkier/heavier-item categories exhibiting a tendency to have higher discounts," KeyBanc Capital Markets analyst Ed Yruma wrote in a new on Thursday. "Amazon is likely to remain price competitive with Walmart initially, though we expect a margin headwind as Walmart's item list expands. Longer term, Amazon could respond by increasing its reliance on physical stores."
Walmart touts its pickup discount as another way it is being more transparent with its pricing, as it costs less for the company to ship items to one of its stores compared to a home. The new option is the direct result of Walmart's $3.3 billion acquisition of e-commerce company Jet.com last year, as it mirrors Jet's Smart Cart feature that guides customers through various ways they can alter their purchases to reduce prices.
The August 2016 acquisition of Jet.com has proved to be possibly Walmart's smartest buy to date. Lore, who founded Jet.com and now leads Walmart's U.S. e-commerce business, has mounted a serious charge against Amazon by aggressively acquiring e-commerce retailers and launching new services. 
Here's what Lore had to say about Walmart's newest e-commerce initiative and overall online business. What follows is an edited and condensed version of our discussion.
Editor's Pick: Originally published April 19.
Q:Have you solved one of the biggest challenges in retail right now with this? Is it just matter of giving people online discounts for picking up stuff in the store that could unlock a new layer of traffic? 
Lore: We are definitely leveraging the assets that we have to reduce one of the biggest costs in an e-commerce transaction, which is last mile delivery. We are pulling those costs out, and sharing those savings back with the customer. It's sort of the same thing we do with Jet's smart cart technology, which is empowering people and being transparent about how to save money by shopping smarter. 
We believe this is a big deal. Products not available in the store that are long tail are cheaper when you pick them up. We have 140 million people a week coming to Walmart stores to shop for their every day essentials such as food, and we believe while they are there doing that they can now save money on everything else not available in the store. Quite frankly, this is a game-changer. 
Q:How do you view the role of stores in retail, particularly when it comes to Walmart?
Lore: Walmart is set up really well because we have lots of different opportunities for both convenience and saving money. This news is a perfect example of that, where we are leveraging the unique assets in our trucks and stores to go and deliver long tail retail products at prices that are well below what we would be able to offer if we were to just ship to someone's home. So, the pricing opportunity is there. 
Also, the stores are super convenient. About 90 percent of the U.S. population lives within 10 miles of a Walmart store, so it's still the most convenient way to get the top 100,000 products. 
Q:How far away is Walmart from doing a same-day delivery service, considering this news and your vast distribution network.
Lore: We can do same-day delivery now, we are actually doing a lot of testing of that. But, it comes at a cost as last mile delivery is very expensive. We have been super focused on how to bring low prices to customers consistent with Walmart's heritage of saving people money so they live better. We think this pickup discount is a big example of that. 
Read more trending news on TheStreet:
Why You Should Put IBM's Stock in the Garbage Can and Then Light It on Fire
Shark Tank Star Kevin O'Leary on Why Tesla Shares Are Headed for an Epic Crash