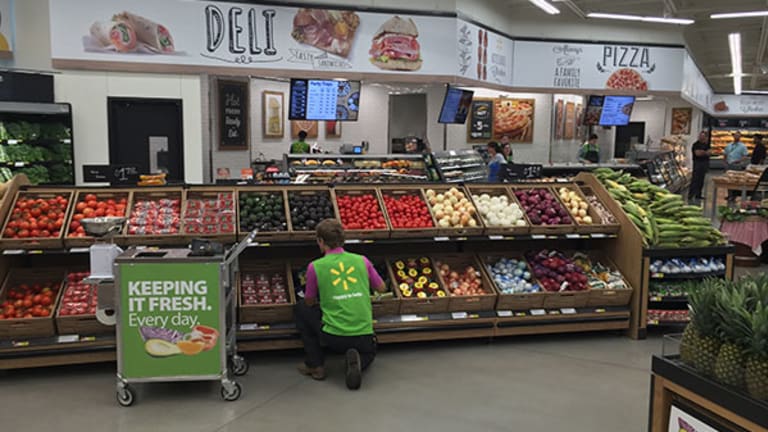 Walmart Plans Full Frontal Assault Against America's Supermarkets
Walmart will make an aggressive push with its new online grocery ordering service going into year's end.
Walmart (WMT) - Get Walmart Inc. Report is about to put the sleepy supermarket industry on notice. 
The world's largest retailer will have its new online grocery ordering option available in 100 U.S. markets, touching 600 stores, by the end of the year, a Walmart exec told reporters at a press briefing Wednesday attended by TheStreet. Walmart's online grocery ordering service launched in October last year, and has since expanded to over 60 markets and 400 stores. 
To use the service, customers place their grocery orders online, choose a time to pick them up and then pull into a designated parking spot when arriving at a Walmart store. From there, a Walmart worker brings the groceries to the person's car.
Judging by the metrics and comments from smiling moms with minivans on social media (as seen below), online grocery ordering has been a nice win for Walmart. About 90% of online grocery users are repeat customers, and more than 90% of the orders include fresh grocery items such as dairy, produce and meat, the company  toldTheStreet in April.
The chain's research shows diapers and baby products are top-sellers among Millennial moms using the service. The likely reason? They are able to get out of the house with the baby, pop their trunk, and have their diapers and other groceries loaded without unbuckling any car seats or seat belts.
Kroger has been slow to roll-out online grocery ordering. 
Several of Walmart's rivals appear to be asleep at the wheel in launching similar online food ordering options.
This past summer, supermarket king Kroger (KR) - Get Kroger Co. Report launched an online grocery ordering service at one store in Columbus, Ohio. It reportedly had plans to roll it out to six other stores in the Central Ohio region within months. 
Meanwhile, the often hard-charging Amazon continues to move relatively slowly with the roll-out of its online grocery business as it likely struggles with the economics -- seeing as it doesn't operate retail stores such as Walmart or Kroger.
AmazonFresh originally debuted in the company's Seattle home market back in 2007. It delivers groceries straight to a person's house within hours. To access the service, a person needs a Prime Fresh subscription that costs a lofty $299 a year. Order minimums are $50.
In the U.S., AmazonFresh is now available in Seattle, Boston, northern California, southern California, New York metro, northern New Jersey, Philadelphia metro, Stamford, Conn. and Baltimore. Amazon has been mum on its intentions with AmazonFresh, but did give investors something to chew on recently. "We have plans with grocery delivery," Amazon's Chief Financial Officer Brian Olsavsky told analysts on a July 28 call.
Amazon didn't return a request for comment on what those plans entail or why it's not moving quicker to expand the reach of AmazonFresh.
But, those plans teased by Amazon may entail thousands of small grocery stores. Amazon reportedly wants to open 2,000 Amazon Fresh grocery stores in the U.S. within the next 10 years, mostly in major metropolitan markets such as New York City and San Francisco. The e-commerce giant will begin by opening 20 stores over the next couple of years as a pilot program, while also playing around with two different store concepts.