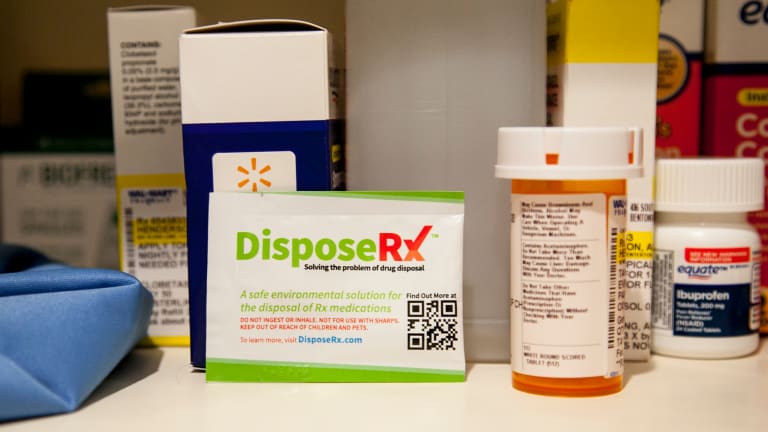 Walmart Now Offers Free Opioid Disposal Solution in All of Its Pharmacies
It's partnering with a startup that targets opioid misuse.
The largest retailer in the world is now the latest champion against America's worsening opioid epidemic.
Wal-Mart Stores Inc. (WMT) - Get Report unveiled Wednesday an opioid disposal system that would safely and entirely dispose of leftover medicine. The retailer cited the statistic that more than 65% of misused prescription opioids come from the users' friends and family.
"DisposeRx provides a virtually effortless way for patients to destroy leftover opioids and a way to do so without ever leaving home," the company said in a press release Wednesday, Jan. 17.
DisposeRX comes in a small packet and is free to Walmart customers at its 4,700 pharmacies nationwide. When the compound's ingredients are emptied into a pill bottle with warm water, the drug dissolves into a biodegradable gel. 
"The health and safety of our patients is a critical priority; that's why we're taking an active role in fighting our nation's opioid issue," said Marybeth Hays, a health and wellness executive vice president of Walmart U.S., in a statement.
Walmart, the country's fourth-largest pharmacy, is the first to offer free opioid disposal at all of its locations. As of September, CVS Health Corp. (CVS) - Get Report  began a prescription drug take-back program that covers 750 U.S. pharmacies, far fewer than Walmart's program. 
DisposeRX is a North Carolina-based startup founded in 2015. Its primary product is the disposal packet, which is used in hospitals and has been on the U.S. market for six months, according to DisposeRX CEO and co-founder John Holaday.
Walmart's announcement comes just days after the announcement that it's raising the minimum wage to $10 and expanding the parental leave program for all of its full-time employees.
The country's opioid epidemic has not made progress, according to officials from four federal health agencies in a Senate hearing in October. Debra Houry, M.D., director of the Centers for Disease Control, said then, "It is one of the few public health problems that is getting worse instead of better." 
More of What's Trending on TheStreet: