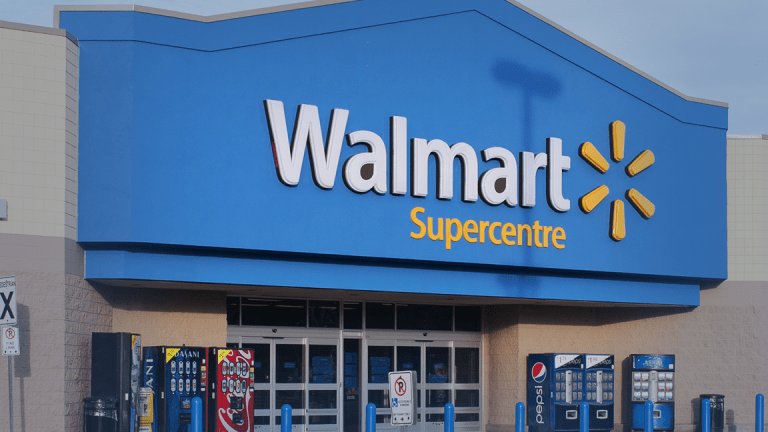 Walmart's E-Commerce Business Is Battling Target and Costco as Much as Amazon
Much of Walmart's recent e-commerce growth involves online purchases of items that are picked up at its stores, and would have otherwise been bought offline.
Is Walmart Stores Inc. (WMT) - Get Walmart Inc. Report a tougher rival to Amazon.com Inc. (AMZN) - Get Amazon.com Inc. Report  than it was 18 months ago? Without a doubt. But that doesn't mean all, or even most, of the gains Wal-Mart is making in the realm of online retail are coming at Amazon's expense.
Indeed, so many of Walmart's e-commerce moves -- including a just-launched service for easily returning Walmart items ordered online at stores -- may ultimately do more damage to bricks-and-mortar rivals with smaller online footprints and technology investments. That's especially true for those rivals that depend heavily on sales of groceries and other low-cost consumer goods.
Walmart has been eager to tout how its online sales have soared after the company bought e-commerce startup Jet.com for $3 billion in the summer of 2016 and put Jet.com CEO and former Amazon exec Marc Lore in charge of Walmart's U.S. e-commerce ops. The company's U.S. e-commerce net sales and gross merchandise volume (GMV)  rose 60% and 67%, respectively, year-over-year in the July quarter, a big improvement from the 11.8% and 13% growth seen a year earlier.
The Jet.com deal, along with a string of smaller e-commerce acquisitions such as the purchase of men's apparel retailer Bonobos and the appropriately-named Shoebuy, have helped. But as Walmart execs like to stress, improved organic growth has been the larger driver. And here, it hasn't hurt that Walmart.com has made millions of items -- two million as of January, and probably more now -- available for free 2-day shipping with a $35 order minimum, and often at competitive prices.
Nonetheless, it looks as if a big chunk of this growth stems from online orders of items that would have otherwise been purchased offline -- quite possibly at a Walmart store. Research firm Slice estimates 26% of Walmart's Q2 U.S. e-commerce sales came via the fast-growing Walmart Grocery service, which provides free same-day pickup of online grocery orders at numerous stores.
It also looks as if Walmart, which in April started providing discounts for many items available online if a shopper opts for in-store pickup, is doing brisk business selling non-grocery items that are picked up at stores. To make this process more convenient, the company has begun rolling out "Pickup Towers" inside stores that let customers grab ordered items by typing in their order number, and is experimenting with large grocery pickup kiosks that are placed outside its stores. It has also made in-store pickup available for Sam's Club orders placed online.
To the extent that they help Walmart undercut Amazon's pricing for online orders, the in-store pickup services threaten Amazon a bit. But it's hard to ignore the fact that they also remove much of the convenience of traditional online shopping, by requiring a shopper to drive to a store. It's also notable that Amazon has been busy itself setting up order-pickup lockers at convenience stores and other locales, for those preferring that option.
From that perspective, Walmart's in-store pickup services are more of a threat to the likes of Target Corp. (TGT) - Get Target Corporation Report , Kroger Co. (KR) - Get Kroger Company (The) Report and Costco Wholesale Corp.  (COST) - Get Costco Wholesale Corporation Report than to Amazon, since they provide a more convenient way to do bricks-and-mortar shopping. Owing to factors such as high shipping costs for many cheap goods (cereal, beverages, laundry detergent, etc.) and the need to keep some groceries frozen or refrigerated, in-store shopping still accounts for the lion's share of sales for many consumer staples.
Target, it should be noted, does offer in-store pickup for some online purchases. But its selection doesn't appear to match Walmart's and it hasn't yet begun providing discounts for in-store pickups.
Walmart, to be fair, does have some other competitive strengths it can lean on in its fight against Amazon. Specifically:
Walmart's purchase volumes for many of the aforementioned consumer staples remain a lot higher than Amazon's, which gives the company more bargaining power with suppliers. Though to be fair, Amazon's purchase volumes for some of those items are now also significant.
The Jet.com deal provided Walmart with algorithms developed by the startup that provide discounts for online orders based on the size of an order and its expected shipping costs. Walmart has said it plans to roll out Jet's technology on its main site; in theory, Amazon could develop something similar, but for now (perhaps out of a fear of making its shopping process more confusing) hasn't signaled any such plans.
Walmart now makes it easy for consumers looking to return online orders to do so at Walmart stores. Amazon, for its part, has long made it fairly easy to return items via UPS stores. But Walmart's solution, by not requiring an item to be repackaged or a shipping label to be printed, might be a little more convenient.
Walmart can leverage both online and offline purchase data to recommend items to consumers and deliver promotions.
Walmart has enlisted Alphabet Inc./Google as a partner. Consumers can now buy Walmart.com items via Google Assistant and the Google Express shopping platform.
Jim Cramer and the AAP team hold a position in Alphabet for their Action Alerts PLUS Charitable Trust Portfolio. Want to be alerted before Cramer buys or sells GOOGL? Learn more now.
But Amazon, which has seen its U.S. e-commerce segment's sales growth accelerate the last two quarters (it hit 27% in Q2), probably isn't sweating just yet. Jeff Bezos' company still retains some giant advantages in this fight, including:
Amazon's fulfillment and logistics infrastructure, unlike Walmart's, has been built from the ground up for e-commerce. This provides major efficiency advantages, and (together with a giant base of third-party sellers) makes it easier for the company to economically make tons of items available for rapid delivery. Over 50 million items were eligible for Amazon Prime's shipping services as of February.
The scale of Amazon's infrastructure also makes it easier to roll out same-day and two-hour delivery services in large metro areas. Walmart still has a ways to go in rolling out rival services, as shown by the fact it recently found it necessary to buy logistics startup Parcel to offer same-day services in the New York City area.
Amazon Prime members -- believed to number over 50 million in the U.S. -- are simply hooked on Prime's convenience and high service quality. Prime members on average spend quite a bit more than other Amazon customers, and it's clear that many aren't worried about whether Amazon offers the lowest price for an item, just as long as it's low enough. And the service isn't replicable, as shown by Walmart, Google and eBay's shuttering of would-be Prime rivals.
The Whole Foods acquisition, together with Amazon's plan to make Prime Whole Foods' customer loyalty program, gives Amazon a chance to battle Walmart and supermarket chains head-on in the grocery market (and just maybe also the pharmacy market). It also gives Amazon hundreds of new spots for offering local order pickup and return services.
To date, Prime's impact on Walmart has been lessened a bit by the fact that the average income of Prime members is well above that of the average Walmart shopper. But Amazon has recently gotten more serious about signing up lower-income consumers, as shown by its decision to offer discounted Prime memberships to consumers on government-assistance programs.
With Lore's help, Walmart has done a pretty good job of turning around its once-stagnant e-commerce operations and establishing itself as the questioned #2 seller of online goods in the U.S.. But to a large extent, its actions have done more to strengthen its physical retail operations than make life tougher for its biggest online rival.
More of What's Trending on TheStreet: