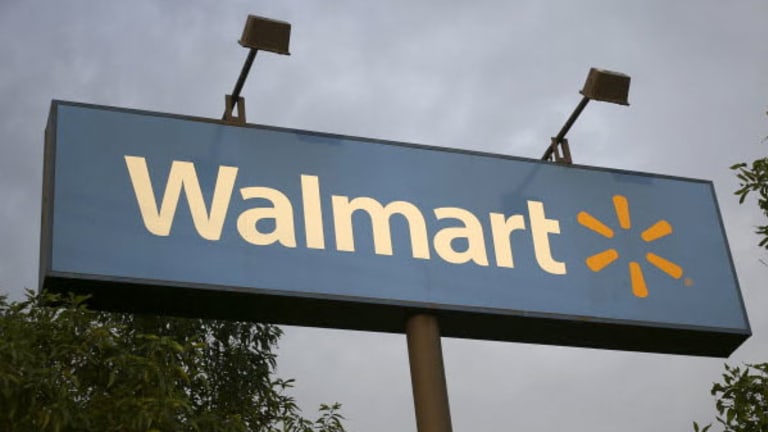 Walmart May Not One-Up Amazon Prime, but Its Stock Is Still a Buy
The mega-retailer has scrapped its ShippingPass program in favor of free two-day shipping with no annual cost. But will it be enough?
A surprise announcement by Walmart (WMT) on Monday not only sent the retailer's stock higher Tuesday but hinted at new strategies to come in the company's continued ecommerce battle with Amazon.
But should investors get in?
By now, investors have had to be living under a rock if they haven't heard about Amazon's uber-successful Prime membership program.
For the price of $99, customers become eligible for special discounts and offers as well as access to services such as grocery delivery and music and video streaming with free, fast shipping. In some markets, Amazon Prime members can receive items in as little as two hours.
Walmart sought to compete with Prime by introducing ShippingPass in the summer of 2015. The program, which originally cost $50, offered free three-day shipping to members on more than 1 million items.
Of course, this paled by comparison with Prime. So Walmart responded last year by trimming the annual fee by $1 to $49 and promising two-day shipping.
On Monday, Walmart said that it is scrapping its original ShippingPass program, offering instead two-day shipping to all customers on an expanded range of 2 million items, including electronics and household staples, which had normally taken three to five days.
The company is also reducing the required minimum amount spent  to $35 from $50, more in line with Prime. Best of all, there will be no annual cost.
The moves were made by Marc Lore, chief executive of Walmart.com, the company's ecommerce unit. He arrived at the company with promises of profits and innovation last year, when the company purchased Jet.com for about $3 billion.
The big shakeup in the company's reportedly successful shipping program helps further its position in the competitive battle with Amazon and places it ahead of other traditionally brick-and-mortar stores such as Target, which has been struggling to catch up.
Walmart has already invested billions of dollars, raised mostly by closing under-performing physical stores, into its ecommerce efforts, including expanding its shipping fleet and even testing drone technology in its warehouses. The company has also begun online grocery delivery programs.
Lore has been "cleaning house," laying off 200 ecommerce employees as part of an effort to focus on "adding the right talent to our team and making sure we're investing in ways that directly improve our customer experience."
Whatever other innovations he has up his sleeve, Walmart will be continuing to take aim at Amazon. And, though it is unlikely that the company will ever catch up with the ecommerce juggernaut's astounding growth, it still makes a decent, solid long-term retail play.
As department stores such as Macy's and Sears Holdings fall by the wayside due to their too-little-too-late approach to ecommerce, Walmart will continue to be a major player in retail. Continue to hold the stock for long-term profits.
---
But what if I told you I know a way you can see a $67,548 per year - or more - in profitable trades starting today just by following this simple step-by-step process? The trader who is sharing this secret has been right more than 8 out of 10 times, turning $5,000 into more than $5 million for himself. Click here to see how easy it is to follow his lead and collect thousands of dollars in "Free Money" every month.
The author is an independent contributor who at the time of publication owned none of the stocks mentioned.