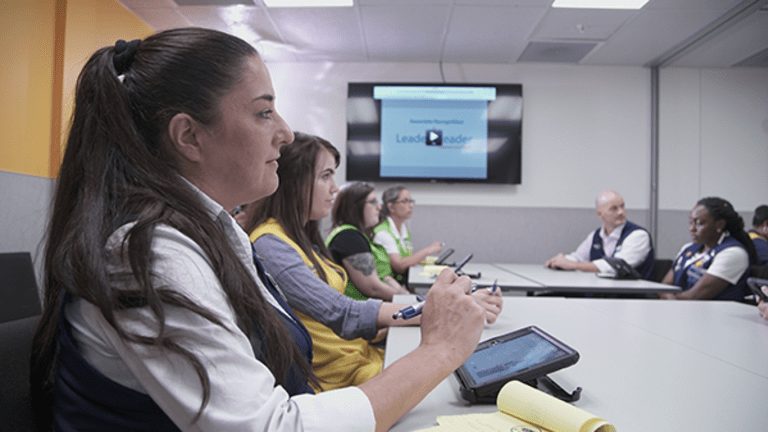 Walmart Is Working on These Cool Things to Reinvent Retail and Slap Down Amazon
It's clear Walmart is planning for the future.
Walmart (WMT) - Get Walmart Inc. Report may soon be no match for Amazon (AMZN) - Get Amazon.com, Inc. Report , within the retail space, anyway.
"Today, together, we're building a new Walmart," Doug McMillon, Walmart president and CEO, said at the company's annual shareholders meeting in June.
At the meeting, McMillon revealed some more of the futuristic inventions Walmart is beginning to test at its stores, and it's almost daunting how progressive some of them are.
First, Walmart is testing an automated pickup tower at several stores in Arkansas, Detroit, Houston, Atlanta and North Carolina. The tower allows customers, who choose to order something online and have it sent to a store, to pickup their purchase seamlessly, company spokeswoman Anne Hatfield told TheStreet.
Hatfield said the 16-foot tower can hold up to 300 small to mid-size packages and all customers have to do is walk up to it (its doors automatically open when it senses a person approach), use the screen to scan their mobile receipt's bar code and the tower disburses the package.
"It's pretty darn cool," Hatfield said. The tower is loaded by employees and is used for packages that generally are around the size of a microwave. For larger items, customers still have to go to the pickup counter to get their package.
McMillon also revealed that he envisions a Walmart that will eliminate the checkout process altogether. That shift would likely see checkout counters replaced by Scan and Go technology.
"We have started to invent the future of shopping again," McMillon said.
Plus, Marc Lore, chief executive of Walmart eCommerce U.S., reiterated that Walmart is testing same-day shipping at the meeting. He had previously revealed this to TheStreet in an exclusive interview.
"I'm looking forward to shaping the future of retail," Lore said.
In what seemed to be an obvious jab at Amazon, Lore said Walmart is "empowering our customers to shop smarter" by offering various ways they can get discounts when they shop online and that its own shipping service carries "no membership fee."
To get next-day shipping at Amazon, users have to pay for the Prime membership which costs $99 annually.
Under Lore's leadership, which came with Walmart's August acquisition of his e-commerce company Jet.com, Walmart saw its online sales spike 63% in the first quarter.
Walmart has also announced that it started testing a new delivery method that uses employees to deliver online purchases to customers' homes. The move expands on the retailer's Pickup Discount, announced in April, which offers customers the option to get a discount on certain items they buy online if they pick it up at a local store. Customers can still take advantage of Walmart's free two-day shipping, of course.
Editor's Pick: Originally published June 2.
More of What's Trending on TheStreet: