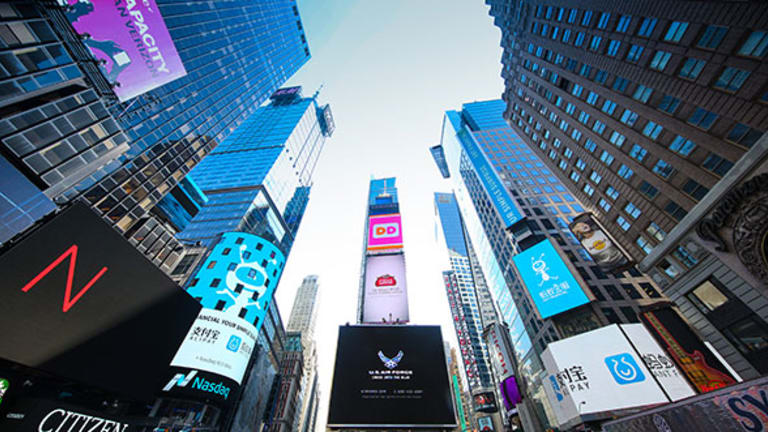 Publish date:
Walmart Is Still Being Banned From One of the World's Biggest Cities, but Oddly Target Isn't
The world's largest retailer still gets no love from New York City, not from the mayor, the unions or some consumers.
The world's largest retailer still gets no love from New York City, not from the mayor, the unions or some consumers.
New York City is brimming with big box stores, Target (TGT) - Get Report  , Sears' (SHLD) Kmart and Best Buy (BBY) - Get Report , to name a few. But Walmart (WMT) - Get Report , the world's biggest retailer, still can't get traction in New York City, which is welcoming its third Target store to Manhattan this October.
Seemingly, there's no love for Walmart in the Big Apple: Mayor Bill De Blasio, the United Food & Commercial Workers (UFCW), the union covering grocery workers, and some local residents continue to oppose having a Walmart in their neighborhoods.
"Walmart, Target and Kmart all have the same basic [business] model. Historically, there have been differences around the edges—primarily in marketing and branding," said Michael J. Berne, president of MJB Consulting.
"[But] Walmart is seen as a 'big bad corporate,' a sweatshop," by some consumers, added Berne, even though both Walmart and Target have some of the same vendors. Walmart's poor labor relations through the years—some of them self-inflicted—have gotten a lot of negative attention, he said. Target also has blemishes in its treatment of employees, but its cases haven't been as high-profile as Walmart's.
This is the kind of reputation that sticks, said Berne, even when a company makes positive changes to address it. For example, late last year Walmart announced pay raises to at least $10 an hour for those hired before Jan. 1, 2017, while those making more than that will realize increases of about 2%. The company has also started to open training academies for store employees to improve their skill levels. 
Target has cultivated its hip good guy image through smart advertising, positioning and alliances. It donates a set percentage annually to philanthropic causes and has a better reputation with consumers, some of whom are in cities like New York and San Francisco, who prefer to shop at companies that they perceive treat their employees and others well, added Berne. Target's partnerships in the past with such designers as Michael Graves and Isaac Mizrahi have fed into its cutting-edge image, too.
Walmart faces a long road ahead in trying to open stores in New York City
"It's a a discount department store, but for the well-educated and affluent shopper. These are shoppers who would never be caught dead in a Walmart, or admit to it if they did -- Target knows that," Berne said.
Walmart needs to advertise its positive measures better, said Laura Kennedy, director of retail insights at Kantar Retail, in the areas of sustainability, corporate giving, supporting veterans and women-owned business, whose products they highlight and sell at the stores. She said because of Walmart's size, its moves in those areas can have a big impact. "I give them credit. They are making an effort."
Kennedy acknowledged that it's tough for a company such as Walmart to get a foothold in coastal locations like New York. The company did move into Chicago and Washington, D.C., by making a case that it could provide solutions to food deserts in those metro regions, she added.
Walmart worked long and hard for several years to land the golden goose that is New York City, one of the nation's largest centers of consumerism. The retailer had plans for locations on Staten Island, Queens and Brooklyn. In 2013, however, the headwinds it faced from Bill Di Blasio, who was then the city's public advocate running for mayor and maintained a Walmart location would lead to job loss, and the union, took their toll.
Walmart subsequently withdrew its store opening plans. 
"While we don't currently have plans for a store in New York City, we are excited about the growth, investments and innovations in our business that allow us to better serve existing customers from the five boroughs who shop our many area stores, as well as reach new customers throughout the state," a Walmart spokesman told TheStreet via email. Walmart has 110 stores in New York state. 
Throughout the country, Walmart has faced opposition in various communities. But it isn't the only company to incur the wrath of locals. Starbucks (SBUX) - Get Report , Home Depot (HD) - Get Report  , Target and McDonald's (MCD) - Get Report have all had to battle resistance to big corporations. Two years ago in New York City, for instance, the UFCW fought the debut of Wegmans, a popular upstate grocery store chain. The UFCW cited the privately held company's lack of "familiarity or understanding of providing good jobs and healthy food in New York City," according to a union press release. In spite of the push-back, a Wegmans is scheduled to open in the Brooklyn Navy Yard next year.
As for Walmart, it's forced to sit back and watch Target ring up big sales from its invasion into the city that never sleeps.
The UFCW and City Hall didn't return a request for comment.  
Jim Cramer and the AAP team hold a position in Starbucks for their Action Alerts PLUS Charitable Trust Portfolio. Want to be alerted before Cramer buys or sells SBUX? Learn more now.
RELATED:
Editors' pick: Originally published March 21.