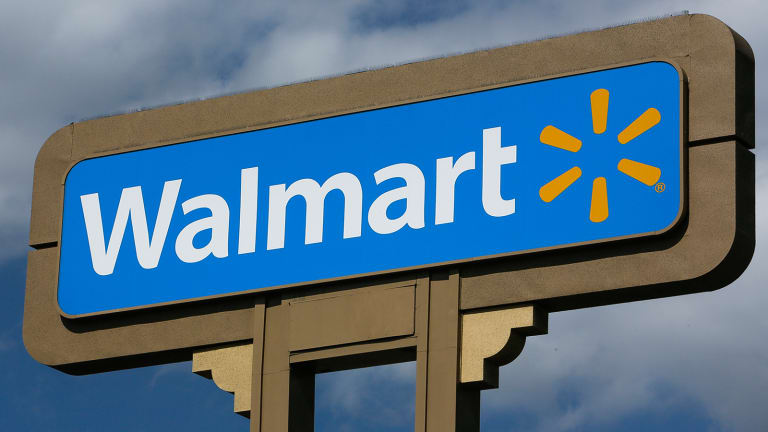 Walmart Is Blowing Minds on Wall Street While Best Buy Gets Blown to Pieces
Two retail heavyweights reported their third-quarter earnings on Thursday: Walmart delivered the goods and then some, while Best Buy pretty much laid a big fat egg.
What the headline writers will miss inside Walmart's earnings report: The easiest headline to slap on Walmart's (WMT) - Get Free Report earnings is "Walmart's E-commerce Sales Explode a Mind-Blowing 50% and Amazon Should Be Absurdly Terrified." Apologies in advance if that's not SEO-friendly, but it's simply the truth. Unfortunately, that incredibly clickable headline does nothing to explain HOW Walmart achieved 50% e-commerce sales growth in the third quarter and WHY the stock of a 55-year-old retailer is pushing to new highs while Amazon (AMZN) - Get Free Reportbrings the hurt online each day. These comments from Walmart CEO Doug McMillon explain how Walmart is pulling off a feat not many expected, and set the tone that the company will not be beaten during the holidays or in 2018: "Curiosity, creativity, decisiveness and speed are priorities. There's a lot of innovation today in the business and we enjoyed sharing some of the initiatives with you." 
... and it's worth adding: Walmart now has online grocery in more than 1,100 stores, with plans to expand that to another 1,000 locations in 2018. Be worried, Kroger (KR) - Get Free Report (and Whole Foods and Target (TGT) - Get Free Report ). Speaking of Whole Foods, TheStreet's Cat Chen looked at the challenges Amazon is having winning right out of the gate with Whole Foods. 
Best Buy - what to make of this one: Two ways to look at Best Buy's (BBY) - Get Free Report third quarter. First, let's take it from a management and communications team perspective. Same-store sales were up 4.5%. Online sales gained 22.3%. Sales increased in all the major product categories Best Buy discloses. And this is without Apple's (AAPL) - Get Free Report iPhone X. Clearly some good things to report. But Wall Street is sending the stock down sharply in response, and it's probably right to do so. Digging deeper, the quarter would have been worse if not for cost-cutting and another round of massive share repurchases. The third quarter may go down as the one where Wall Street wonders whether the two-year growth miracle that has been Best Buy's stock is over. It's too hard determine how Best Buy will sustainably drive profit margin expansion in a land of electronics price deflation and the race to an on-demand world. I wish Best Buy luck. 
What's Hot
Stock Prices of IPOs This Year = Hot
I have no clue what the company taking over the New York Stock Exchange on Thursday (see below) actually does to make money. Nor do I care at this point in the week -- the giant inflatables did their marketing job judging by my tweet below. What the bizarre air-filled creatures made me think of is how well IPOs have done this year. Investors are looking to hitch their ride on the next hottest story, and perhaps not doing the due diligence they should do given the hot trading environment. Nevertheless, how can you not be impressed by the Roku (ROKU) - Get Free Report IPO?
The Renaissance IPO ETF has surged 28% in 2017, whipping the S&P 500, which is up 13%, and the 19% gain for the Dow Jones Industrial Average. Uber should have opened its books to the public this year, that much is sure ...
Apple is a holding in Jim Cramer'sAction Alerts PLUS Charitable Trust Portfolio.Want to be alerted before Cramer buys or sells AAPL? Learn more now.
To receive the FREE "Morning Jolt" daily newsletter, click here.
More of What's Trending on TheStreet:
Is Amazon Flubbing Its Whole Foods Deal?