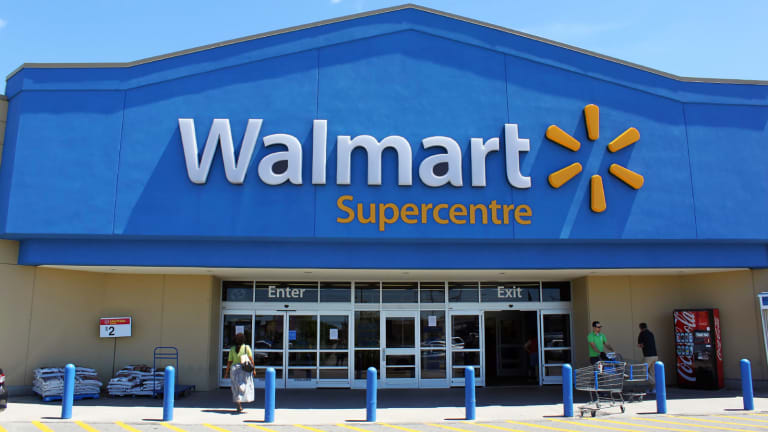 Walmart Hopes to Ride Patti Labelle's Big Hot Cakes One More Time
Walmart moves to cash in on singer Patti Labelle's knack for baking.
About a year removed from Walmart (WMT) - Get Free Report seeing a mad dash in its stores for Patti Labelle's divine sweet potato pie, the world's largest retailer has teamed up with the singer to launch a mini baked goods franchise.
Walmart has just debuted five new desserts in concert with the Grammy-winning artist: berry cobbler, apple cobbler, peach cobbler, apple pecan cake and sweet potato loaf. At first blush, the cost for the sugary treats may cause sticker shock for some as they are anything but the rock-bottom prices synonymous with Walmart. While the sweet potato pie costs a reasonable $3.98, the cobblers are $6.98, and the apple pecan cake weighs in a hefty $9.98.
But, as TheStreet could attest to after conducting a review (video below), if a mom on a budget were looking for a dessert splurge for the family, it should be Labelle's various baked cakes. Not only are they free of artificial colors and flavors -- a real difference in a dessert aisle riddled with high fructose corn syrup- and artificial ingredient-laden pies and cakes -- the desserts are so packed with filling and taste it's almost illegal. This writer's first thought when putting a forkful of Patti's peach cobbler to his mouth: "Patti just baked this specially for me 30 minutes ago, love her -- let me go download a few of her songs from iTunes."
In short, the entire franchise is a must for the holiday season dinner table, provided they are in stock.
The viral video that started it all for Patti Labelle's baked goods.
Walmart certainly had good reason for working closer with Labelle this year. 
LaBelle's sweet potato pie arrived in stores last August with little fanfare, but then found big-time success when YouTube star James Wright Chanel sang its praises in an expletive-laced video that quickly went viral. For all of November 2015, the Patti Sweet Potato Pie was the most requested item on Walmart Wish Lists, a spokesman tells TheStreet, as well as the most visited food page on the company's website. It was the second-most searched food term during Thanksgiving last year, second only to turkey.
Chanel's video has now been viewed over 5 million times on YouTube. The YouTube star and Labelle joined forces in December to promote the singer's pies. No word on whether the two will be working together again this year to sell cobblers, but Chanel hasn't yet reviewed the latest round of baked goods according to his YouTube channel.
Better stocking of its shelves with products that offer good value such as Labelle's latest pies and new private label offerings has helped drive a revival for Walmart's U.S. business of late.
Walmart U.S. notched its eighth straight same-store sales increase with a gain of 1.6% during the second quarter. All three of Walmart's product categories -- grocery, health and wellness, and general merchandise -- saw sales growth. Earnings came in at $1.07 a share against the $1.02 a share estimate of analysts. The company lifted its full-year profit forecast to between $4.15 a share and $4.35 a share from its previous outlook of $4 a share to $4.30 a share.
Labelle may not know it, but she has done her small part in sending the Dow Jones Industrial Average component's shares up about 16% this year. The Dow has gained roughly 7.3%. Maybe tech-savvy Walmart CEO Doug McMillon should beat James Wright Chanel to the punch and put out an Instagram video singing Patti's praises.