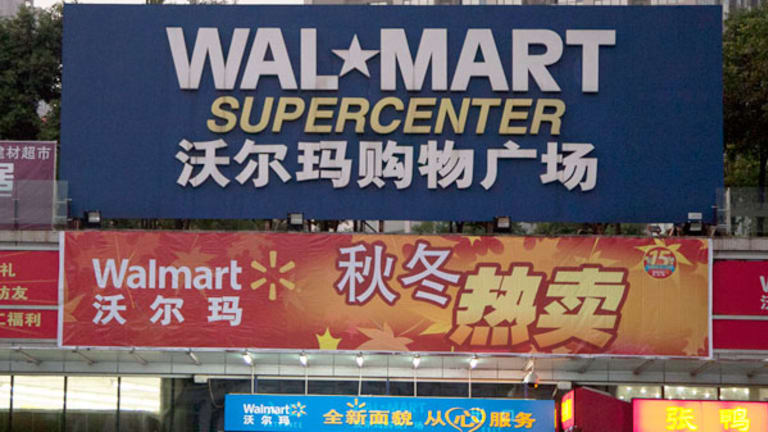 Amazon Should Be Terrified by This New Service Walmart Is Quietly Testing in China
If it can bring this to the U.S., there may be no stopping the discount king.
Walmart (WMT) is getting pretty fancy with its e-commerce initiatives. 
Through its partnership with Chinese online direct sales company JD.com (JD) , Walmart CEO Doug McMillon revealed on an earnings call Thursday that the retailer was able to launch one-hour delivery from 80 stores in China, faster than the two-hour service it provided last year.
"China continues to be on fast-forward as it relates to all things digital including e-commerce," McMillon said. "We can see the benefits of omni-channel retail even more clearly in China than any other country where we operate. Given the urban density and automobile traffic challenges, stores serve the triple purpose of in-store shopping, pickup and delivery most effectively."
Walmart operates 433 stores in China, including 15 of its members-only warehouse format Sam's Club.
Last June, Walmart announced its deal with JD, China's second-largest online retailer after Alibaba (BABA) , under which JD took control of Walmart's Chinese e-commerce business, although the U.S. retailer still operates all of its direct-to-consumer sales. The partnership was anticipated to better position Walmart in China, where historically it had trouble driving sales. Walmart opened its first store in China in 1996.
If Walmart can eventually bring one-hour shipping to the U.S., Amazon (AMZN) better watch out. Recently, Walmart started offering its online customers in the U.S. the option of having their purchases sent to a local store instead of to their homes for a discounted price. Moreover, Walmart's online grocery service, in which customers can buy food online and pickup in a Walmart parking lot, has expanded to 670 of its 4,177 U.S. stores.
Click here for the latest business headlines.
Read More Trending Articles:
Cisco Could Be Looking to Acquisitions to Help Solve Its Biggest Challenge
We Quickly Learned Why Ford's New Truck Named After a Killer Dinosaur Is a Beast
Editor's Pick: Originally published May 18.