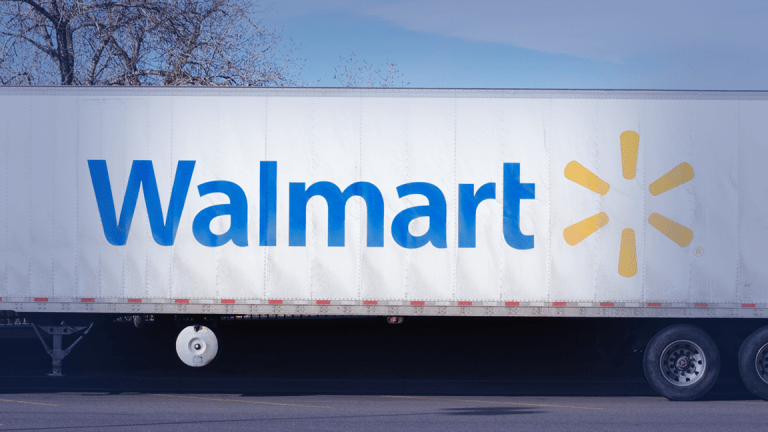 Why Walmart's Grocery Business Won't Get Destroyed by Its New European Rivals
Investors may be afraid of the German competitors' U.S. push, but Walmart has beaten their price-cutting prowess while focusing on e-commerce and delivery.
Will cut-rate German grocers Aldi and Lidl destroy Walmart Stores Inc. (WMT) - Get Walmart Inc. Report as they rapidly expand their U.S. presence? Probably not.
Aldi said in June that it would add 400 new stores through 2018 to its current U.S. store count of 1,600, spending $1.6 billion to remodel 1,300 of those locations. By 2022, Aldi's U.S. store base is expected to hit 2,500, with Aldi spending $3.4 billion to open the new locations, for a total U.S. investment of $5 billion.
While Aldi has had a presence in the U.S. since 1976 and holds a roughly 3% edible grocery market share there, rival Lidl is only now entering the country, opening 15 new stores in June, primarily in the southeast. Bernstein analyst Brandon Fletcher expects Lidl to build between 100 and 200 new U.S. locations per year, with a total of about 600 U.S. stores by 2022, when, combined, he expects the German stores' U.S. market share to hit 7%.
Walmart is primed for the challenge, while Lidl struggles to gain enough customers.
Lidl pursued a different model in the United States than that it perfected in Europe: attracting more affluent customers, with higher squares per square foot than Aldi to run profitable stores. Yet with lower prices comes a quirk, noted Bernstein analyst Bruno Monteyne; affluent U.S. customers still believe that lower prices spell lower quality.
"Lidl's objective to appeal to a more affluent customer base isn't working. It's still a limited-assortment retailer, lacking key brands, for which there is currently limited appeal in the US," he wrote. "Instead of attracting Trader Joe's- and Whole Foods-style customers, they are fighting for the same customers as Aldi and Walmart," with failing results.
The German rivals' focus on low-cost in-store shopping also runs contrary to trends in retail, where "we've seen this tremendous march toward what it means to be multichannel or omnichannel," said J. Neely, the Global M&A Strategy practice lead at consultancy Accenture plc (ACN) - Get Accenture Plc Class A Report . "The notion of pure-play is almost beginning to disappear. At one level or another, every player out there is starting to get a foot in some digital channels." The particular challenge in the grocery industry is mastering the correct mix of channel offerings, including online, subscription, brick-and-mortar, delivery and so on, he added.
Online Grocery Is Where It's At 
At Walmart's recent investor day presentation, a third of the slideshow focused online grocery, suggesting it's a key priority for CEO Doug McMillon.
Walmart's prices are about the same as Lidl's, while Aldi's are even lower, giving consumers little recent to pick Lidl. Further, Aldi and Walmart have managed to lower prices at their locations close to Lidl stores, a "fierce and pre-emptive response...[which] seems focused on hurting the Lidl entry, and it is working," wrote Monteyne.
Aldi has mastered keeping costs low, stocking 90% private label products, charging for shopping bags and carts, displaying products in their shipping boxes and not publicizing the local stores' phone numbers so employees aren't on the phone, Fletcher noted. The 1,400 stock-keeping units (SKUs) per Aldi store is a fraction of Walmart's 90,000 SKUs, and Aldi's items are "almost exclusively...low-profit grocery."
At both Aldi and Lidl, it's "nearly impossible to do a complete grocery trip," with 94% of the stores' U.K. customers visiting one of their major competitors at least once a month. U.S. consumers aren't embracing this
"Therefore even if the hard discounters manage to take sales from the large grocers, the share they take will be on the least-profitable items, and large grocers will still be needed to sell the items where they make the most money," Fletcher said.
Walmart Is At the Ready
Walmart is pumped to go after the new competition; although it's "one of the most efficient retailers in the world," Fletcher pointed out that its grocery operating margins are just 3% and they've already been "pre-emptively brought down" by over 1% since 2015, in contrast to the larger margin declines at U.K. retailers like Tesco.
The tech-heavy investments that create an omnichannel experience are expensive, and the likes of Aldi and Lidl may be unwilling to abandon their cost-cutting focus. Walmart, for example, recently unveiled mobile returns, on top of existing capabilities like mobile pharmacy and money transfers.
Walmart's $3.3 billion acquisition, closing September 2016, of e-commerce company Jet.com, followed by more recent e-commerce acquisitions-startups like Modcloth, Moosejaw and Bonobos are now part of the Walmart e-commerce stable, and have "dramatically" improved Walmart's brand perception, said Gordon Haskett analyst Chuck Grom, which leaves Walmart well situated to attract more millennial customers in the years to come.
Walmart is also expanding its private label offerings, announcing at its investor day on Oct. 10 that Jet.com will also have its own private label brand, Uniquely J, a "more premium" brand across categories. Walmart is no stranger to the category: Jet founder Marc Lore noted that Walmart owns three of the top five largest private label brands in the country, along with "many [other] billion-dollar private label brands."
The overall size of Walmart's U.S. e-commerce business is undervalued, according to Barclays analyst Karen Short, who noted that if the segment were valued at 3 times its sales like other companies focused on e-commerce, Walmart's market capitalization would add about $100 billion. Since the business isn't profitable, and Walmart investors focus on earnings rather than shares, the size and growth of the e-commerce operation is unappreciated by the market, said Short.
Lore is also changing how Walmart sources its products, which will no doubt help keep costs down and compete with the likes of Aldi. He touted a "cost of goods reduction program called cost analytics, which was essentially a much more fact-based approach to our negotiations with both vendors, whether they're big branded vendors or private label vendors," which has been successful.
Vendor Negotiations Falter
Campbell Soup Co. (CPB) - Get Campbell Soup Company Report is one victim of recent vendor negotiations. CEO Denise Morrison said in August that the company had failed to "reach an agreement with a large customer on a promotional program for soup." The customer is widely believed to be Walmart, which accounts for about a fifth of Campbell's soup sales.
"Shifting demographics, changing consumer preferences for food with a focus on fresh and health and well-being, increased snacking behavior, a range of socioeconomic forces and technology advancements" are among the many changes food companies are grappling with, Morrison told analysts. The food industry is "hyper-competitive," she added, due to "value players expanding their presence in the U.S., the growth of store brands and the explosion of e-commerce and meal delivery services disrupting the market."
Echoing Morrison, one grocery veteran said that Walmart, never a shrinking violet when it comes to pricing, is much more combative with vendors than it's been in recent years.
Walmart is also experimenting with new in-store experience. In March, the retailer launched a tech startup incubator, Store No. 8, which has partnered with Arianna Huffington's Thrive Global and Accenture to initially focus on virtual reality in the grocery space. Walmart is already using virtual reality to train employees, for instance. 
Ultimately, Store No. 8 will allow Walmart to "redefine the physical store experience of the future," according to Cowen analyst Oliver Chen. With Lidl struggling to find the right identity and Aldi caught off-guard by the speed of Walmart's response, Bentonville can be assured that its billions in digital innovation will stave off the competition.
Lastly, Walmart's vast scale makes any attempt to fight it a slog. The company says 99% of Americans live within 10 miles of a Walmart, and it can deliver to 87% of Americans with next-day ground shipping and 99% with two-day. That's hard to beat.
If you do decide to head over to Aldi, don't go unprepared: 
More of What's Trending on TheStreet:
Editors' pick: Originally published Oct. 18.