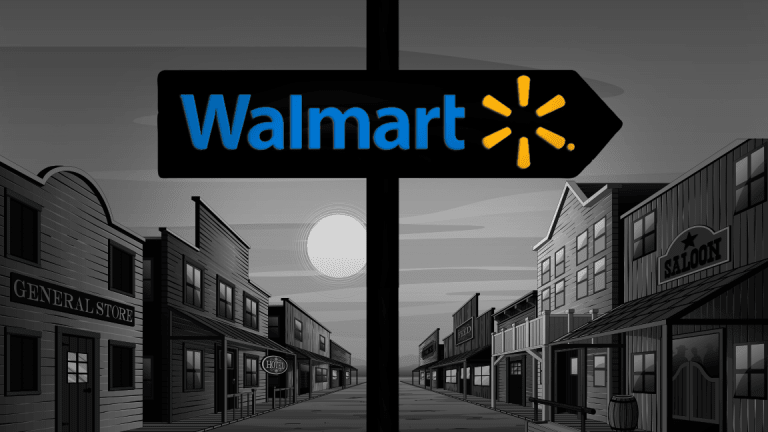 Walmart Fudged E-Commerce Sales, Lawsuit Alleges
A whistleblower is suing the chain, claiming that it inflated e-commerce revenue to better compete with Amazon.
Jeff Bezos must be amused.
A former Walmart Inc. (WMT) executive is suing his ex-employer, alleging that it engaged in deceptive practices to inflate e-commerce growth to compete with Amazon.com Inc. (AMZN) .
Former director of business development at Walmart, Tri Huynh claimed in a lawsuit filed Thursday, March 15, in U.S. District Court, Northern District of California, that the company abruptly fired him in early 2017 after he repeatedly complained about its e-commerce reporting protocol.
In the complaint, Huynh outlined Walmart's various alleged ethical wrongdoing, including charging excessive commissions to boost sales figures and failing to process more than $7 million customer returns between September 2015 to March 2016, which also jacked up total sales.
The complaint also stated that in Walmart's financial results, first-party and third-party sales are not differentiated, therefore overstating Walmart's true e-commerce operational growth to investors and analysts.
Walmart charged sales commissions of up to 15% from third-party sellers, versus the 6% to 8% norm, the lawsuit claims. The suit claims that the high rates bolstered revenue, and after Huynh complained that internal controls had not detected the problem multiple times, the company fired him under "false pretenses" of restructuring and performance issues. The plaintiff is seeking punitive damages under the whistleblower law the Sarbanes-Oxley Act of 2002.
To make up for market share lost to Amazon, Walmart "embarked on an overly aggressive push to show meteoric growth in its e-commerce business by any means possible — even illegitimate ones," the complaint reads. "Throughout approximately March through May of 2016, Mr. Huynh continued to raise concerns and make disclosures about the above issues, pressing his superiors to address the bigger picture systemic flaws including the overall lack of effective internal controls regarding these issues."
Among his gripes with the retailer is that Walmart recruited third-party sellers so aggressively that it compromised the quality and delivery of the products. The complaint cited offensive products such as the "Tranny Granny" Halloween costume and the "Got Hitler" logo mug.
Huynh's superiors, in turn, first told him to stop reporting his concerns, the complaint goes on, and when he refused, he began to be isolated from projects and meetings. In October 2016, when Walmart acquired Jet.com and recruited its CEO Marc Lore to lead its e-commerce business, Huynh harbored hopes that his new boss would be more receptive, according to the complaint, but to no avail. After submitting a formal report to Walmart's Global Ethics department as well as to Lore directly in late 2016, he was fired days later, as detailed by the complaint. 
Walmart has denied the allegations and said they were made by a "disgruntled former associate, who was let go as part of an overall restructuring," according to company spokesperson Randy Hargrove.
"We take allegations like this seriously and looked into them when they were brought to our attention," he said in a statement to TheStreet. "The investigation found nothing to suggest that the company acted improperly. We intend to vigorously defend the company against these claims."
According to Huynh's LinkedIn profile, he worked at Walmart between 2014 and 2017. Between 2011 and 2014, he was  a category leader in consumer electronics at Amazon. Huynh could not be reached for comment. His attorney, David deRubertis of the deRubertis Law Firm, APC, based in Studio City, Calif., declined to immediately comment beyond details provided in the complaint. 
Walmart Might Have a Mind-Blowing 2018
Walmart shares are unaffected by the news, trading up nearly 2% at Friday's close, at $89.17. In its latest quarterly report, the Bentonville, Ark.-based retailer posted online sales growth of 23%, down from its 50% uptick in the third quarter. In full fiscal 2017, e-commerce rose 44% overall. 
Amazon is a holding in Jim Cramer's Action Alerts PLUS Charitable Trust Portfolio. Want to be alerted before Cramer buys or sells AMZN? Learn more now.