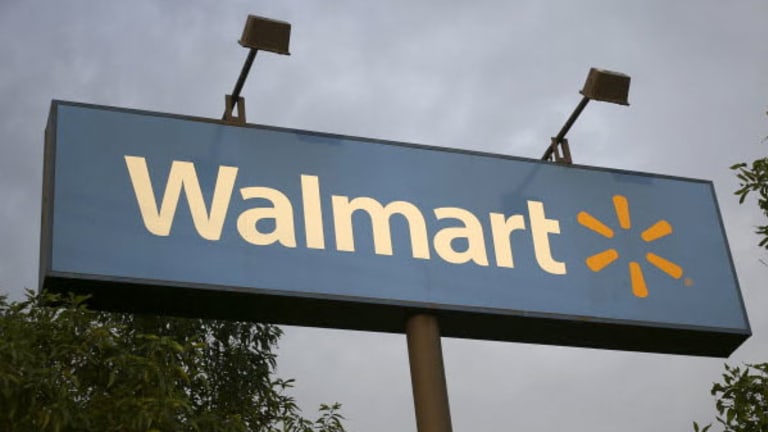 Walmart Faces a Steep Uphill Battle Against Amazon, Even With Jet.com
Jet.com's innovative approach to online retail could give Walmart's e-commerce business a boost. But Amazon will still have some big competitive advantages.
Of the many, many bricks-and-mortar retailers whose businesses have been seriously threatened by Amazon.com (AMZN) - Get Amazon.com, Inc. Report, Walmart (WMT) - Get Walmart Inc. Reportmight be unique in terms of having the resources to try to battle Amazon head-on. That doesn't necessarily mean the company will succeed, however.
The Wall Street Journal reported yesterday Walmart is in talks to buy Jet at a valuation of up to $3 billion, or more than twice what Jet was valued at in a late-2015 funding round. Buying Jet, which launched last summer and reached a $1 billion per year sales run rate in May, would strengthen a Walmart e-commerce operation that produced $13.7 billion in revenue in fiscal 2016 (ended in January), but which also delivered just 12% growth on a constant currency basis, and saw growth fall to 7% in Q1 of fiscal 2017.
Moreover, Walmart's total revenue rose a paltry 0.9% in Q1 (4% excluding forex), and its consensus fiscal 2017 analyst sales estimate calls for just 0.8% growth. Stiff competition from Amazon and others is clearly taking a toll.
By contrast, Amazon's North American segment saw revenue rise 25% in 2015 to $63.7 billion; its International segment saw revenue grow 6% in dollars, and 21% on a constant currency basis, to $35.4 billion. And with the help of rapid Amazon Prime subscriber growth and diminishing forex pressures, both segments delivered 27% growth in the first half of 2016.
Acquiring Jet wouldn't merely boost the size and growth rate of Walmart's e-commerce operations. It would give Walmart an online retailer with a fairly unique business model: Instead of having fixed prices for goods, Jet uses an algorithm to adjust prices based on factors such as order size (adding more items to an order yields discounts), shipping distance, marketing e-mail sign-ups and a customer's willingness to forego the right to return an item.
Jet, which only ships within the continental U.S. for now, also typically doesn't fulfill orders through its own warehouses, but rather has merchant partners handle fulfillment. And instead of having consumers decide which merchant to buy from, an algorithm is used to decide which merchant(s) provide "the best overall economics at the basket level." Two-day delivery is promised for many items, and $35-plus orders ship for free.
It's an innovative way of taking on a goliath such as Amazon without having anything resembling Amazon's scale or resources. And it's easy to see how Walmart, with its merchandise selection and fulfillment infrastructure, could make Jet a more formidable rival. Walmart could also have items offered by Jet supported by its Prime-like ShippingPass service, which provides free 2-day delivery for a $49 annual fee.
Jet and its pricing/fulfillment approach could be particularly helpful for Walmart's attempts to fend off Amazon's increasingly aggressive moves to grow its sales of groceries and other consumables. In spite of the shipping cost challenges presented by their bulk and weight, Amazon's sales of such items appear to be growing quickly with the help of its Prime Pantry service, which lets Prime subscribers buy up to 45 pounds of groceries and household items for a $5.99 flat shipping fee.
The company has also been rolling out its AmazonFresh grocery delivery service in major metro areas, and has started selling private-label food items. Walmart can add many popular household items to Jet's catalog, and lower shipping costs by making them available closer to buyers.
But all of this doesn't eliminate the cost benefits that Amazon's superior economies of scale provide -- Jet's early growth is believed to have come at the cost of major losses -- or the cost and delivery-speed benefits that come from having a massive and integrated fulfillment infrastructure encompassing dozens of warehouses and much else.
And Amazon, aided by its millions of marketplace sellers, offers 260 million items to Walmart's 11 million. These marketplace sellers, meanwhile, will often try hard to undercut each other in order to get top billing on an Amazon product page.
In addition, Amazon at this point isn't competing solely on price. The company's Prime subscribers, recently estimated at 63 million in the U.S. alone and believed to be renewing at very high rates, are spending heavily on Amazon because of the convenience provided by its free two-day (if not same-day) shipping for over 30 million items, regardless of order size. And many of them remain loyal to Prime partly because of media services such as Prime Video and Prime Music.
Buying Jet.com would be an encouraging sign that Walmart realizes its current efforts to fight off Amazon aren't cutting it. However, combining Jet's strengths with Walmart's will probably only narrow some of Amazon's competitive advantages, while leaving others untouched.