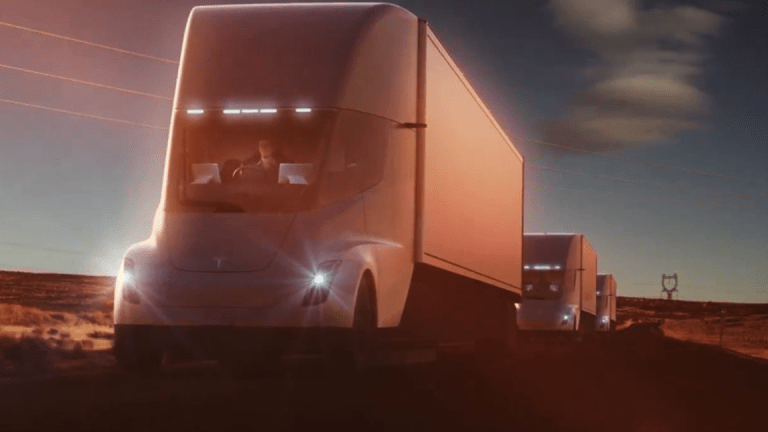 Why Walmart's CEO Is Excited About His Order of New Tesla Semi Trucks
Walmart has a bunch of new semi trucks from Elon Musk's Tesla on order. CEO Doug McMillon tells TheStreet why the world's largest retailer placed the order. Indeed, it's related to protecting Mother Earth.
Walmart's (WMT) vast fleet of tractor trailers will soon have some new additions to the family. 
The world's largest retailer has placed orders for 15 of Tesla's (TSLA) new electric semi trucks. To Walmart CEO Doug McMillon, placing the order was almost a no-brainer. 
"I am excited about that [the trucks]," McMillon told TheStreet when asked about the decision to order Tesla's headline-grabbing rides. McMillon explained the trucks will help Walmart's overall sustainability efforts. "Hopefully we can make this Tesla thing work so we can achieve that goal [sustainability]."
Judging by the nifty spec sheet below, we would be excited about receiving this delivery as well. 
As TheStreet's Eric Jhonsa points out, just like the Model 3, S and X, the interior for Tesla's semi truck differs markedly from that of its main rivals. The cab has full standing room, and the driver's seat is placed in the middle. There are touchscreens on either side of the seat, and an "armor glass" windshield declared to be able to withstand a thermonuclear explosion.
Tesla also designed the truck to have a supercar-like drag coefficient, and says its diagnostics features can detect when maintenance is needed long before something goes wrong. Impressive stuff, no doubt about it. 
DHL and Fortigo Freight Services Inc, one of Canada's biggest fleet management operations, said it has placed an order for Tesla's trucks as well.
Check out TheStreet's Other Influencer Interviews
Editors' pick: Originally published Nov. 21.