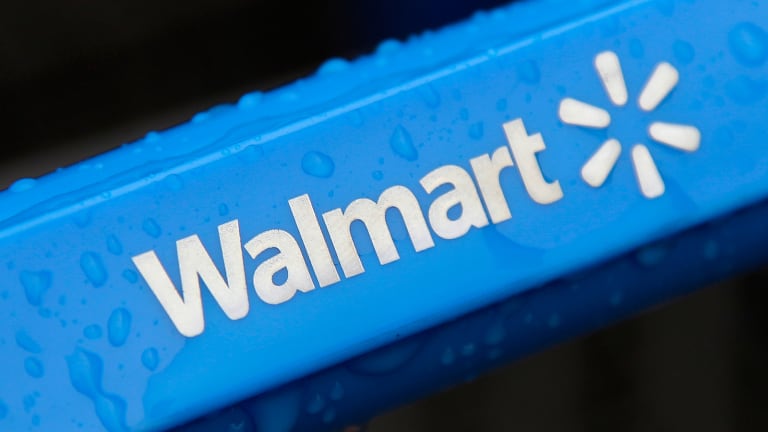 Basically, Goldman Sachs Thinks Amazon Won't Crush Walmart
A more favorable corporate tax rate is great, but a consumer with a lower personal rate and more money to spend is even better for Walmart.
Walmart Stores Inc. (WMT) - Get Report could be a big retail winner from tax reform, Goldman Sachs analysts wrote in a Jan. 18 note.
Walmart has carved itself a strong strategic position in selling consumables to middle-income buyers in small markets, Goldman said. That strategy suggests Walmart will remain "very much in control of its own destiny" even in a retail landscape subject to "significant disruption."
Its mass market appeal will grow even larger as income growth strengthens and personal tax reform works in consumers' favor. Tax reform will offer an average benefit of $1,018 per tax payer filing, Goldman wrote. Tax relief as a percentage of income for the $40,000 to $200,000 bracket will be between 1% and 1.8%.
Given that, Goldman expects modest same-store sales growth and an increase in earnings to $5.40 a share for 2018 and $5.73 for 2019, each up 5 cents on stronger sales and a more favorable foreign exchange environment. Walmart's earnings are expected to experience a 12% impact from tax reform compared to an average of 19% for Goldman's coverage.
Tax reform means major savings for Walmart, Goldman wrote, to the tune of 10% to price/margin above Walmart's 15% allocated to wage growth. "We expect a meaningful dividend hike as the firm redeploys cash from tax savings, and repatriated overseas cash," analysts added.
Since Goldman downgraded Walmart in November, it has "underperformed the retail group meaningfully," Goldman wrote. "The stock has underperformed our coverage since the downgrade by 12.5%, such that ~6 ppts of the underperformance vs. coverage reflects consolidation of the stock's multiple after adjusting for taxes."
But in light of new beneficial developments, Goldman analysts upgraded Walmart stock to "buy" from "neutral," adding to it the Americas Conviction List. Analysts also increased their price target to $117 from $115, up 14% from the stock's current levels.
The only key risks for Goldman's thesis? The potential risk for incremental competition from Amazon.com Inc. (AMZN) - Get Report , proposed entitlement reform weighing on lower-income customers and a valuation that remains elevated compared to Walmart's history.
What Walmart CEO Doug McMillon told TheStreet's Executive Editor Brian Sozzi about its future. 
More of What's Trending on TheStreet: