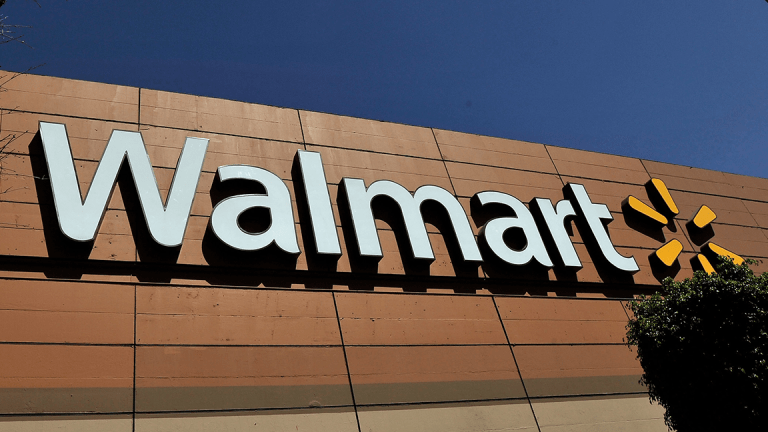 Walmart's Assault on Amazon Looks as if It's Starting to Pay Off in a Big Way
Retail earnings are in full swing with results from Walmart and J.C. Penney. All eyes still on the cannabis space. Big day for tool king Stanley Black & Decker.
Big day for Walmart.
First thought when Walmart's (WMT) - Get Report second-quarter earnings hit the wires: Are they selling cannabis products in 50% of the store? But seriously, given Walmart's size and how competitive it is in retail it shouldn't be posting 7-cent earnings beats and a 4.5% U.S. same-store sales increase. It's all abnormal.
But it goes a long way in showing how Walmart's efforts to slash prices and integrate online with physical stores are starting to pay off in a big way. In short, Walmart's second quarter is a shot across the bow at Amazon (AMZN) - Get Report as we head into the holiday shopping season. Walmart shares are up 10% in response. 
Walmart is Real Money's 'Stock of the Day' so stay tuned for coverage throughout the day. 
Continuing Coverage
Corona maker Constellation Brands' (STZ) - Get Report $4 billion splurge on Canopy Growth (CGC) - Get Report has put the pot trade back on. And it couldn't come at a more opportune time. Before the splashy news on Wednesday, the 22 cannabis companies tracked by industry expert Echelon Wealth Partners traded on an enterprise value to 2019 projected EBITDA of 14.4 times. That's well off the sector peak multiple of 22.4 times notched in October 2017 as investors questioned valuations and ongoing regulatory battles in the U.S.
But with Constellation plunking down a 51% premium to raise its stake to 38% from 10% in Canopy Growth, cannabis stocks have good reason to retest peak valuation levels. Next deal: Conservative old school companies Coca-Cola (KO) - Get Report , PepsiCo (PEP) - Get Report and Pfizer (PFE) - Get Report in a bidding war to buy all of newly minted cannabis play Tilray (TLRY) - Get Report . Coke with a dose of CBD at work? Why not ...
Around TheStreet
Stay on the lookout for our exclusive interview with Stanley Black & Decker (SWK) - Get Report CEO James Loree Thursday morning. Today marks a big day for the tool-making giant: The Craftsman brand it bought off dying Sears in 2017 is officially re-launched. Loree tells me the brand was in "sad" shape when Stanley got it from Sears. Stanley has brought a good chunk of the brand's manufacturing back to the United States (40% of the tools now made here, with a goal of reaching 70%) and will make a push into Lowe's (LOW) - Get Report .
Full disclosure: The expansion of Craftsman into non-Sears stores could be one of the final nails in the coffin for Sears. Buying Craftsman tools at Sears was the lone reason many people still wandered into the tired, dusty department stores. For more on Sears' struggles, re-read our 'Morning Jolt' from Wednesday.
A thank you to the JPMorgan (JPM) - Get Report team for having myself and @JulieIannuzzi by their HQ Wednesday afternoon. Seeing the first $1 bill ever created was great fun, as was our overall chat.
Crunch CEO told @KatherineRoss he wants to gym chain to be the Starbucks (SBUX) - Get Report of fitness. Very SEO-friendly marketing there Mr. Crunch CEO. Hopefully Crunch doesn't churn out any of Starbucks new pea protein shakes -- they are awful. I tried one on Wednesday for the first time and they speak to everything wrong with Starbucks. The company has created a $6.25 grande sized drink that took nearly 10 minutes to make during a non-peak time. Too expensive, too labor intensive. And it tasted terrible (and I love protein shakes and coffee).
If Starbucks wants to solve its problems, it should follow these three steps.