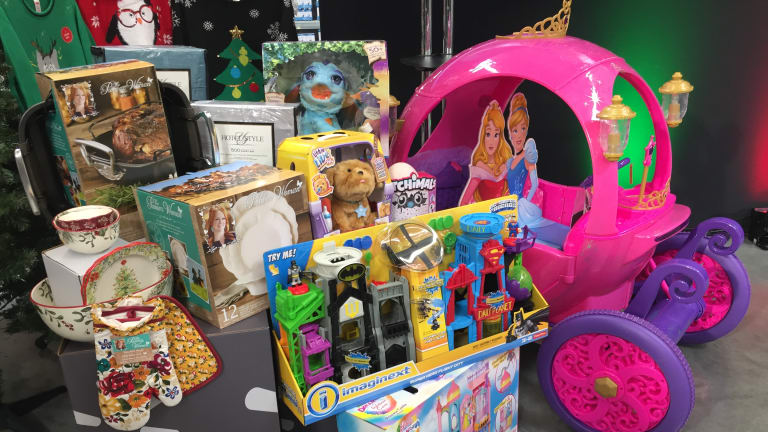 Publish date:
Walmart and Target Blitz Amazon With Dizzying Number of Holiday Exclusives
To beat back hard-charging Amazon this holiday season, Walmart and Target will unleash tons of new product exclusives.
To beat back hard-charging Amazon this holiday season, Walmart and Target will unleash tons of new product exclusives.
Bricks-and-mortar store kings Target (TGT) - Get Report  and Walmart (WMT) - Get Report have found a clever way to better compete with the likes of digital foe Amazon (AMZN) - Get Report in several important categories this holiday season: unleash the power of the product exclusive.
Minneapolis-based Target will have have 1,800 new and exclusive toys this holiday season alone, Target executives said at an event on Tuesday. 
"Toys are a real big part of the show. We have to win in this category. So we will have a record-setting number of toy exclusives this holiday season," said Target Chairman and CEO Brian Cornell.
Target estimates that it gets about 50% of its annual toy sales during the fourth-quarter holiday shopping season alone, so stuffing shelves with products unavailable at competing retailers and online is critical to winning the battle for customers.
The company has also increased the number of product exclusives in categories such as food and electronics, which were also showcased at the event.
The world's largest retailer Walmart has brought its A-game with product exclusives for holiday shoppers, too. 
Walmart said Thursday that it will have 400 exclusive toys available this holiday shopping season, about in line with last year. The list of toy exclusives will be headlined by a pricey $398 Disney (DIS) - Get Report battery-powered car for children to ride around in. In electronics, the number of product exclusives will be slightly greater compared to a year ago.
"[Product exclusives] gives us a way to compete with online," Steve Bratspies, Walmart's U.S. chief merchant told TheStreet in an interview.
Here are the various product exclusives of interest that will be on the shelves at Walmart and Target starting real soon. 
Target Bets Big On Dolls
Target is doubling the number of dolls it offers this holiday season, with a particular emphasis on selling more ethnically diverse dolls with more skin tones, eye colors and so on that can't be found elsewhere.
That exclusive brown horse would be a great friend for any doll.
Walmart's Massive Disney Car
Say hello to Walmart's exclusive battery-powered Disney Princess Carriage Ride-On car (in bright pink on right). It is priced at $398.
Walmart says it took over a year of working with the supplier to get the car to market. The retailer is already seeing strong demand for the car despite its lofty sticker price, says Bratspies. 
The pink car is much bigger than it seems here.
Target's Superhero Toys
With all the hype around the release of Star Wars: Rogue One in theaters in December, Target is once again betting big on the popular franchise with numerous exclusives.
And yes, that is an exclusive Wonder Woman toy set in the bottom right-hand corner. A new Wonder Woman movie is scheduled for release in June 2017.
Spotted: Star Wars drone.
Walmart's Virtual Reality Drone
We have no idea how this thing works, but it's a drone that comes with a pair of virtual reality goggles and is priced at a very reasonable $148. Sounds like a potential win for Walmart.
Target's Retro Board Games
Target is going after families who want to stay home to play board games -- notably retro games -- a trend that has fueled the results for Hasbro (HAS) - Get Report this year.
Below, Target shows off an exclusive board game based on 1980s computer classic Oregon Trail.
What Millennial didn't play any of these board games while a kid?
Everyone Wants to Sell Food for Your Holiday Table
Walmart will have numerous holiday food exclusives, none more popular than its Patti Labelle cakes. It will also feature new private-label cheeses and breads, which are also product exclusives. 
A Walmart employee shows off an exclusive holiday cake.
Food is also getting attention at Target. From an exclusive bag of Hershey's (HSY) - Get Report chocolate, using Target's red and white colors, to holiday-themed coffee cups, the retailer has it covered for the dinner table.
These Hershey's Kisses are candy cane-flavored.