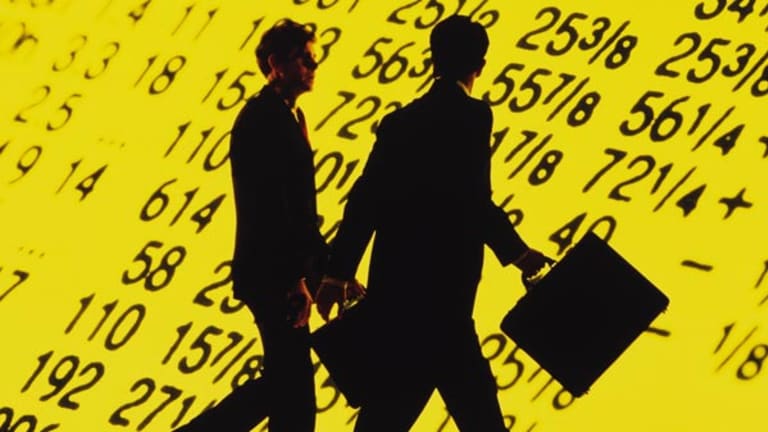 Wall Street Whispers: Hedge Funds Get Boring
The majority of hedge fund assets now come from the "big and boring" contingent of institutional investors.
NEW YORK (
) -- For an industry that spent years building a reputation as a niche profit-center for the elite, hedge funds are starting to look a whole lot like everybody else.
In fact, the majority of hedge fund assets now come from the "big and boring" contingent of pension funds, endowments and other institutional clients - forcing dramatic changes in the way funds operate and how they interact with clients.
"The industry is in the early stages of a massive reallocation of capital, one that is occurring on a scale that could redefine the competitive landscape," say Louis Lebedin and Andrea Angelone, co-heads of
JPMorgan Chase's
(JPM) - Get JPMorgan Chase & Co. Report
prime brokerage unit, who surveyed institutional investors about hedge funds earlier this month.
Andrew Baker, CEO of Alternative Investment Management Association, a global industry trade group, says institutional investors now account for about two-thirds of the industry's $1.6 trillion in hedge fund assets, from around half a year ago. That compares with 40% of industry's $2 trillion in assets at the height of the market in 2007, according to Preqin, a firm that tracks hedge-fund data.
"In a period where hedge fund assets have fallen as a result of investment losses and redemptions (predominately by high net worth individuals), the total amount of institutional capital invested in hedge funds has increased," says Amy Bensted, Preqin's hedge fund manager.
The trend line isn't likely to stop here.
JPMorgan found that institutional investors indicated in "overwhelming numbers" that they would pledge more capital to the industry in coming months. Another survey by
Credit Suisse
(CS) - Get Credit Suisse Group AG Report
found that pension and insurance funds planned to increase hedge-fund allocations by 20%, on average - more than twice the 9% level of the average respondent. Private-bank clients said 10%, family offices 7% and endowments and foundations said just 3%.
"There's no doubt that there's a migration of assets taking place within the hedge fund space," says David Bailin, head of global managed investments at
Citigroup's
(C) - Get Citigroup Inc. Report
Citi Private Bank. "The growth of the industry hasn't been that great, but there is movement within the industry."
Jack McDonald, president and CEO of Conifer Group, which services the hedge-fund industry predicts that, "if you were to look out at the pie of money that will be invested in hedge funds and ask, 'What will be different five years from today? Invariably, most would agree that institutions are going to make up a larger percentage than they do today, and that will come at the expense of high net worth and family offices."
The trend is remarkable for a few reasons.
Hedge funds had been the hottest investment strategy for wealthy individuals during the decade leading up to the financial crisis. They were alternately portrayed as a guarantee against risk (after the dot-com bubble) or a guaranteed return above the broader market (during the subprime bubble).
Thousands of small firms set up shop during the mid-90s to mid-00s. They used prescient investment strategies and leverage to boost returns on multi-million-dollar investments and demanded outsize fees for that performance. The typical fund would charge a 2% management fee, plus a 20% cut of profits - vs. fees of less than 1%, on average, for mutual funds. Hedge fund managers were compensated quite handsomely for their performance and invested their own money along with clients'.
The crisis led to a sharp turn in fate: Thousands of overleveraged funds went under, wiping out an array of investors. During that rocky period of redemptions, liquidations and fund collapses, institutional investors certainly got burned. There have been tales of devastating hedge-fund-related losses at big pension funds and endowments over the past few years -
San Diego's pension fund,
CALPERS, and
Ivy League endowments at Yale and Harvard, to name a few.
But generally speaking, the best hedge funds have still outperformed the broader market by a wide margin. The JPMorgan survey found that while most institutional investors had taken some type of redemption in 2009, they've become bullish on the sector once again because they "recognized that hedge fund managers delivered superior performance across the cycles in 2008 and 2009."
The new clientele have prompted hedge funds to adopt a whole new mantra regarding client relations. They've been providing more information about performance and trading strategies, accommodating customers with lower fees and moving in from the fringes of the risk spectrum.
For instance, the Credit Suisse survey showed that all types of investors are working far more closely with hedge funds - doing more due diligence, asking more detailed questions, demanding more transparency and more flexibility on liquidity and fees. It comes along with dealing with clients who have fiduciary responsibilities and infrastructure requirements that a private bank customer or family office does not.
"None of these changes are going away soon," asserted the Credit Suisse report, citing the "tougher procedures and greater risk aversion," of institutional clients, as well as a newfound "'one more strike and you're out' policy."
While the term "hedge fund" may still make pensioners queasy, their investment gurus have been active in the space for quite some time.
"If an individual investor were ever fearful of a quality hedge fund, they should be reminded that: Wait a minute - probably all of the companies that you invest in through your stock portfolio have large pension funds that are placing that money with quality hedge funds," says Jim Hansberger, a managing director at
Morgan Stanley
(MS) - Get Morgan Stanley Report
Smith Barney, who has been following the industry for decades. "The vast majority of large 401(k) plans that aren't individually controlled probably have investments in hedge funds, the same way they do mutual funds and bond funds and so on."
Still, the hedge fund world has gone through an almost shocking transformation over the past few years. Its edge has been softened. Clients have a different face. The "2 & 20" fee structure is no longer assumed. And its air of mystical profit-power in the shadows of the market has been dragged further into the light.
Says Credit Suisse: "No matter how much demand may return, some things are gone forever."
--Written by Lauren Tara LaCapra in New York.
>To contact the writer of this article, click here:
Lauren Tara LaCapra
.
>To follow the writer on Twitter, go to
http://twitter.com/laurenlacapra
.
>To submit a news tip, send an email to:
.
Disclosure: TheStreet's editorial policy prohibits staff editors, reporters and analysts from holding positions in any individual stocks.