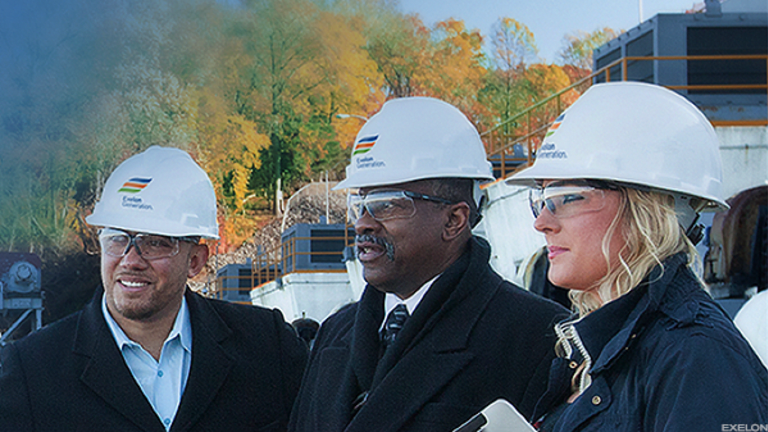 Wall Street Was Wrong -- Why It's Time to Buy These 5 Utilities
Utility stocks are taking a turn for the better, contrary to most investors' rate hike assumptions. Now, these five utility trades are breaking out in 2017.
It was a simple enough thesis: Higher interest rates from the Federal Reserve would be a bad thing for dividend-centric stocks such as utilities. But Wall Street got it wrong. Just a month after Janet Yellen and company's latest round of rate hikes, the utility sector is emerging as one of the best-performing corners of the market.
Since the rate hike announcement hit in December, the Utility Select Sector SPDR ETF (XLU) - Get Free Report has handed investors total returns of about 2%. That might not sound like much, but the rest of the S&P 500 is actually down over that same timeframe. Extrapolating XLU's bump higher over the course of a full year implies about a 20% annualized return. Put simply, the opposite of what 99% of Wall Street analysts thought would happen is what's happening here.
And that outperformance in utilities looks likely to keep widening in the weeks ahead.
That's because a handful of big utility stocks are teetering on the verge of breakout territory as I write. Buying these breakout moves could add some serious energy to your stock portfolio in 2017. To figure out which utility stocks to buy, we're turning to the charts for a technical look.
For the unfamiliar, technical analysis is a way for investors to quantify qualitative factors, such as investor psychology, based on a stock's price action and trends. Once the domain of cloistered trading teams on Wall Street, technicals can help top traders make consistently profitable trades and can aid fundamental investors in better planning their stock execution.
Without further ado, let's take a look at five technical setups worth trading now.
Exelon 
Up first on our list of bullish utility trades is $32 billion utility holding company Exelon  (EXC) - Get Free Report. Exelon has been a major beneficiary of the Trump rally, shooting almost 18% higher since bottoming in the middle of November. But don't worry if you've missed out on that recent rally -- Exelon looks primed for a second leg higher this winter.
Exelon is currently forming an ascending triangle pattern, a bullish continuation setup that's formed by horizontal resistance up above shares at $36, and uptrending support to the downside. Basically, as Exelon has pinballed in between those two technically important price levels since December, shares have been getting squeezed closer and closer to a breakout through $36 resistance. When that breakout happens, we've got a buy signal.
Relative strength, which measures Exelon's price performance versus the rest of the broad market, is an important side-indicator to watch here. Exelon's relative strength line had been in a downtrend for much of the latter half of 2016, but that reversed in December, when shares started outperforming the S&P again. As long as that new uptrend in EXC stays intact, this stock is primed to outperform. That said, wait for shares to push through $36 before you click "buy".
OGE Energy 
Electric utility OGE Energy (OGE) - Get Free Reportis showing off the exact same price setup this week. Just like Exelon, OGE is forming an ascending triangle pattern after a solid run of outperformance since this past fall. For OGE, the breakout level to watch closely is resistance up at $34.
What makes that $34 level so important for this stock? It all boils down to buyers and sellers. Price patterns, like this ascending triangle setup, are a good quick way to identify what's going on in the price action, but they're not the ultimate reason shares look attractive here. Instead, the "why" is driven by basic supply and demand for OGE Energy's shares themselves.
The $34 resistance level is a price where there has been an excess of supply of shares; in other words, it's a spot where sellers have previously been more eager to step in and take gains than buyers have been to buy. That's what makes a breakout above $34 so significant - the move means that buyers are finally strong enough to absorb all of the excess supply above that price level. Wait for shares to push above that $34 price ceiling before you pull the trigger on this trade.
Pattern Energy
Pattern Energy (PEGI) - Get Free Report, meanwhile, hasn't been a particularly attractive stock to own lately. Shares of this $1.7 billion independent power company have shed more than 22% of their market value since peaking back in September, underperforming the rest of the market in a meaningful way during that stretch. The good news for long-suffering Pattern Energy shareholders is that this stock is finally looking "bottomy." Here's why.
Pattern Energy is currently forming a rounding bottom pattern, a bullish reversal setup that looks just like it sounds. The rounding bottom in Pattern Energy indicates a gradual shift in control of shares from sellers to buyers - and in this stock's case, it triggers a buy signal on a push through $20.
Price momentum, measured by 14-day RSI, is the side-indicator to look at in Pattern Energy. Our momentum gauge has kicked off an uptrend as PEGI's price carved out its rounding bottom, a bullish divergence that indicates buyers are stepping in behind the scenes. Momentum is still secondary to price, however. Wait for shares to push through $20 before you click "buy" on this stock.
California Water Service 
Many investors ignore water utilities when they think about the broader utility sector -- but that's a mistake. Case in point: California Water Service  (CWT) - Get Free Report, a $1.6 billion water utility based in the Western U.S. that's rallied more than 44% on a total returns basis over the course of the last year. California Water Service Group is still a "buy the dips stock" this winter.
Price patterns don't get much more straightforward than the setup we're seeing in CWT right now. That's because this stock is currently forming an uptrending channel, a simple price pattern that's formed by a pair of parallel trendlines that buoy shares higher. In CWT's case, shares have successfully bounced higher off of trendline support on their last eight tests of that lower bound to the price channel - and as shares move up this week, it makes sense to buy that latest bounce.
Actually waiting for that bounce is important for two key reasons: it's the spot where shares have the most room to move up before they hit resistance, and it's the spot where the risk is the least (because shares have the least room to move lower before the channel breaks, invalidating the upside trade). Remember, all trend lines do eventually break, but by actually waiting for the bounce to happen first, you're ensuring California Water Services Group can actually still catch a bid along that line before you put your money on shares.
American Electric Power
Last, but certainly not least, on our list of utility sector breakout trades is $31 billion public utility American Electric Power (AEP) - Get Free Report. American Electric Power, a holding in Jim Cramer's Action Alerts PLUS portfolio, is another stock that's starting to look "bottomy" following a recent correction. Shares are 12% off from their peak back in July, but they're finally back within grabbing distance of a buy signal this week.
AEP is currently forming an inverse head and shoulders pattern, a bullish reversal setup that signals exhaustion among sellers. The pattern is formed by two swing lows that bottom out at approximately the same level (the shoulders), separated by a lower low (the head). The buy signal comes on a move through AEP's neckline at the $64 level.
This is another stock where RSI adds some extra evidence for an upside breakout: our momentum gauge made a series of higher lows at the same time the pattern was forming, signaling accumulation at AEP's price lows. That adds some extra credence to the breakout above $64 when it happens. If you decide to buy that move, it's good risk management to park a
on the other side of the
. That's because, if the 50-day gets violated, the inverse head and shoulders in American Electric Power becomes invalidated and you don't want to own this stock anymore. Until then, this setup looks ready to break higher.
At the time of publication, author had no positions in the stocks mentioned.