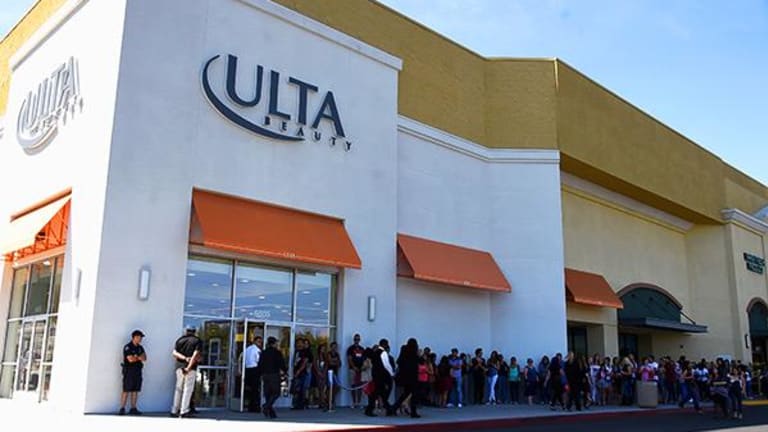 Ulta Beauty Is Tanking Because It Couldn't Live Up to Everyone's Expectations
Wall Street wanted more than a tepid beat.
Ulta Beauty Inc. (ULTA) - Get Report just dropped a glistening earnings report, but Wall Street appears to have uncovered the blemishes within.
After the market close on Thursday, the cosmetics retailer reported second-quarter earnings of $1.83 a share, above Wall Street's estimates for earnings of $1.78 a share. In the second quarter of last year, Ulta posted earnings of $1.43 a share.
Ulta reported second-quarter revenue rose 20.6%, to $1.29 billion, from the year-ago period's revenue of $1.07 billion. Revenue came in only slightly higher than the $1.28 billion analysts surveyed at Factset were looking for, which is likely why shares of Ulta fell 9.2% in midday trading on Friday.
Despite consumers' increasingly shifting shopping habits to online from bricks and mortar, Ulta CEO Mary Dillon said on an earnings call with analysts that she is confident in its ability to stay afloat, pointing to the company's 23.2% e-commerce sales boost in the second quarter. For the full year, Ulta expects online sales to gain 50% to 60%.
"The rapidly evolving retail environment is not new and we have never been complacent," Dillon said.
Plus, not many retailers can report new store openings, but Ulta did; it said it will open 100 new stores this year and remodel 11 locations, part of its plan announced last year to double the number of stores.
Same-store sales, across bricks and mortar and e-commerce, increased 11.7% in the period, compared to 14.4% last year. Ulta's gross profit gained 40 basis points, to 36.4%, in the quarter "due to improvements in merchandise margins and leverage in fixed store costs," the company said in a statement.
Dillon said on the call that hair products drove sales in the quarter. Its hair styling salons, in certain stores, saw positive results and the company plans to roll out more in additional locations.
"While only 6% of our customers are salon shoppers, they are our best guests," Dillon said on the call.
Ulta also raised its full-year guidance, now anticipating earnings per share growth in the "high-20s percentage range, compared to previous guidance of mid-20s percentage range." The company expects a same-store sales growth of 10% to 11%, versus 9% to 11% previously.
Not everyone on Wall Street is now bearish on Ulta. 
"We believe that, retail-disillusionment aside, Ulta's share [price] decline represents an opportunity to buy one of the best growth stories in consumer," said Nomura analyst Simeon Siegel. 
Ulta's tepid earnings beat comes after earlier this month, on Aug. 9, cosmetics company e.l.f. Beauty Inc. (ELF) - Get Report reported a massive second-quarter earnings beat and a revenue increase of 27%. In June, Tarang Amin, chairman and CEO of e.l.f., told TheStreet founder Jim Cramer, who also manages the Action Alerts PLUS charitable trust portfolio, that Ulta has been a strong driver of its sales growth.
More of What's Trending on TheStreet:
Apple's Newest Products That Will Pummel Your Wallet Are About to Be Revealed
Where to Buy and Sell Apple Stock Once Correction Rocks the Stock Market