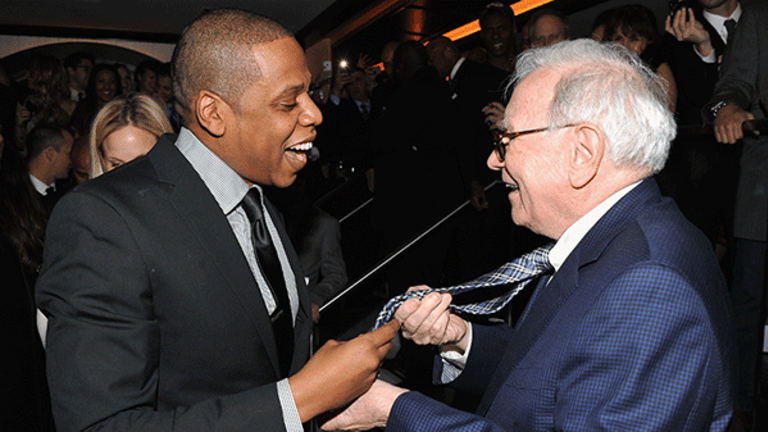 This Is Why the New Bank Stress Tests Could Mean a Financial Windfall for Warren Buffett
The Oracle of Omaha isn't the only investor likely to benefit from Federal Reserve stress-test results, but his gains have the advantage of scale.
The Federal Reserve's stress tests of major Wall Street firms last week didn't determine how much they can increase dividends and stock buybacks over the next 12 months. But they did produce some good omens for a review due today that does.
All of the institutions met the central bank's minimum capital standards on the first stage of the two-part evaluation, which measured their stability after the past year's payouts if the economy suffered a downturn with unemployment of 10% and a stock-market decline of 50%.
The results indicate the Fed is more likely to approve the firms' dividend and stock-buyback plans during the second stage -- a forward-looking review that measures what their strength would be after the expenses, using the same recession scenario. On a net basis, the median payout ratio may rise to 85% of net earnings from 73% last year for the large banks tracked by Credit Suisse, analyst Susan Roth Katzke said in a note to clients.
Since the Fed reiterated that it would still scrutinize dividend ratios higher than 30% more closely, the mix of announced payouts is likely to favor stock buybacks at the biggest banks, which are still subject to a qualitative review that includes the strength of risk-planning practices, Katzke said. 
"This is clearly the Fed's stated preference, given the flexibility afforded by buybacks," she added. Markets typically expect corporations to maintain or increase quarterly dividends once they're announced, while buyback plans give executives the option of spending a specified amount on a company's shares without requiring them to do so.
The yearly reviews were established as the government worked to prevent a repeat of the 2008 financial crisis, when many large banks required billions of dollars in government bailouts. Some had increased their dividends even as defaults mounted in the $15 trillion U.S. mortgage market and analysts and economists counseled caution.
Since then, the banks have worked to improve the quality of their loan portfolios and curb risk factors to convince both regulators and investors of their safety. That, in turn, enables them to return more capital to stockholders rather than keep it on their balance sheets as a buffer against economic shock.
The prospects for this year's payouts have helped push the KBW Bank Index up 1.3% since the Fed reported results on the first round of stress tests on Thursday, June 22 -- a period in which the S&P 500 declined by a small amount.
More of What's Trending on TheStreet:
Apple's iPhone Triggered Mind-Blowing Changes to How Investors Trade Stocks
Amazon Could Easily Own Whole Foods and Rite Aid or Express Scripts, This Top Analyst Says
A few banks may be able to push their payout ratios to 100% this year, Julie Solar of Fitch Ratings said in a note to clients on Friday, June 23.  And all of the six biggest U.S. lenders, from JPMorgan Chase & Co. (JPM) - Get Report to Citigroup Inc.  (C) - Get Report are expected to at least post increases, according to brokerage Keefe, Bruyette & Woods. 
EXCLUSIVE LOOK INSIDE: Citigroup is a holding in Jim Cramer's Action Alerts PLUS charitable trust portfolio. Want to be alerted before Cramer and the AAP team buy or sell the stock? Learn more now.
Goldman Sachs (GS) - Get Report may deliver the biggest, with a 25-point gain that would take its ratio to 100% while Wells Fargo's number may climb just 7 points to 72%, according to Keefe Bruyette analysts including Brian Kleinhanzl.
Goldman has historically not disclosed how large a capital return the Fed approved, Kleinhanzl noted, "so it may be a quarter or two before we see" how the return is progressing.
At Bank of America (BAC) - Get Report , which won approval to boost its dividend 25% to 30 cents a year in 2016, an increase of 14 cents now might prompt Berkshire Hathaway CEO Warren Buffett to convert his $5 billion in preferred stock to common shares. 
The preferred stake carries a dividend of $300 million a year and a warrant allowing Berkshire to purchase 700 million shares of common stock, worth $16.7 billion at today's prices, for just $5 billion.
The Omaha, Neb.-based insurer has the option of using its preferred shares as payment, Buffett noted in his February letter to investors, and would probably do so if the dividend reaches 44 cents a year.
That would mean a payout of $308 million annually for Berkshire, outstripping the preferred dividend it receives now.
This article, originally published at 1:07 p.m. on Friday, June 23, 2017, has been updated with market data and investor comment.
Visit here for the latest business headlines.