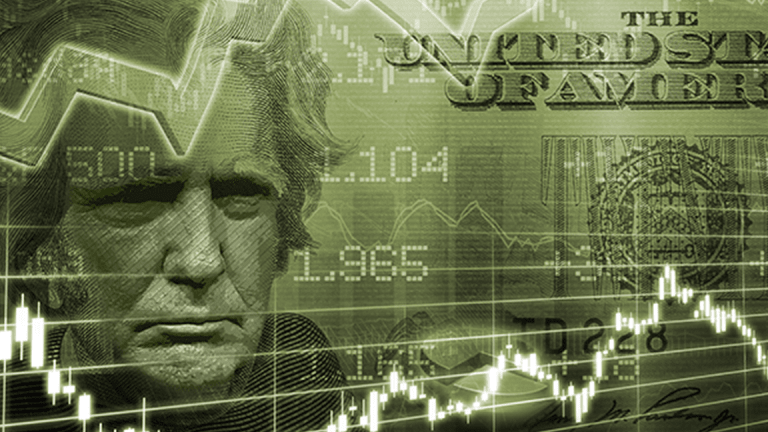 How Wall Street Has Taken a Page From Trump's Playbook
Wall Street's 'Trump bump' is still based more on the hope of looser regulations and tax cuts than accomplishments on either of those goals. Continuing the surge in finance stocks will, at some point, require that to change.
Wall Street's 'Trump bump' is still based more on the hope of looser regulations and tax cuts than accomplishments on either of those goals. Continuing the surge in finance stocks will, at some point, require that to change.
Donald Trump has long understood the power of a personal brand and how to take advantage of it.
Countering a string of corporate bankruptcies with best-selling books and his reality-television role as a corporate mastermind, he convinced enough voters that he had the know-how to "Make America Great Again" to beat Hillary Clinton in the U.S. presidential election.
It was a victory that sent stock in Wall Street banks soaring, with heady speculation that the real estate mogul and his erstwhile Republican allies in Congress would loosen the stringent regulations imposed after the 2008 financial crisis and slash corporate taxes in short order.
One year after Trump's victory, much of that has yet to become reality. But in a scenario straight from the president's playbook, the 'Trump bump' -- based largely on perception of future change rather than current change -- has delivered lavish gains for Wall Street despite the White House making only incremental progress.
"The whole industry will be a winner, but some will win more than others," said Richard Schaberg, head of the U.S. financial institutions group at the global law firm Hogan Lovells. While the largest banks will see fewer changes than smaller ones, they would still benefit from less frequent stress testing and repeal or modification of the Volcker rule, which barred firms including JPMorgan Chase & Co. (JPM) - Get Report , Bank of America Corp. (BAC) - Get Report and Morgan Stanley (MS) - Get Report from trading on their own accounts.
The White House's initial efforts to loosen rules have already effected something of a climate change, according to some. Trump ordered the Treasury Department early this year to compile reports outlining industry rules that could be modified to buoy the economy, and has appointed regulators who are widely viewed as friendlier to banks than their predecessors in the administration of Barack Obama.
The five biggest U.S. banks have each garnered double-digit growth in their share prices, and even the group's laggard, Goldman Sachs Group Inc. (GS) - Get Report , is up 31% -- 10 points ahead of the S&P 500. While the portion of that rally based on optimism that the GOP will eventually deliver legislative victories may fade if the party is unsuccessful, some of the growth is based on the lower-profile changes the Trump administration is able to make on its own.
"You're not going to see huge amounts of expense relief because deregulation is going to roll back the burden they've got," Schaberg said in a telephone interview. "What they will welcome is it being static on a going-forward basis, not the additional ramping up of regulations, which is what they've experienced since the crisis.
'Broken Windows'
Under the leadership of Jay Clayton, who took office in May, for example, the Securities and Exchange Commission has signaled that it's backing away from the "broken windows" policy of aggressively pursuing small regulatory infractions, which was championed by his predecessor.
The program was modeled after policing strategies that crack down on minor offenses to show potential lawbreakers that officers are paying such close attention that attempting bigger crimes would be futile.
The SEC is now looking at a strategy that involves selecting a few cases that have higher impact, enforcement co-director Steven Peikin said at a late October conference.
"It's frankly a positive development for the industry and for investors to have the SEC focus on serious instances of misconduct rather than these tiny and, frankly, relatively insignificant instances of noncompliance," Matthew Rossi, an attorney with Mayer Brown, said in an interview. 
Although many of Trump's other selections for key posts have been slow and Senate confirmation tortuous after Majority Leader Mitch McConnell's refusal to consider Barack Obama's nomination of a Supreme Court justice during the last year of his presidency, lower-level regulators have already adopted a less combative attitude.
"There's been a sense of a change of tone," said Hogan Lovells' Schaberg. "Clients are seeing regulators have more of a posture of, rather than slamming you at every turn, finding a way to work with you." 
While regulators are still doing their jobs, he said, "there's more of a dialogue than just, 'Here's your enforcement order.'"
The industry has also benefited from more tangible, and in some cases highly partisan, wins such as American International Group Inc. (AIG) - Get Report convincing the Financial Stability Oversight Council to lift its designation as a systemically important financial institution.
The council, chaired by Trump Treasury Secretary Steve Mnuchin, took that action in a hastily convened meeting in late September. Without detailing the logic behind its decision, the panel determined that the New York-based insurer -- which received a $182 billion bailout during the financial crisis -- would no longer threaten the U.S. economy if it collapsed.
Tie-Breaker
Then, in October, Vice President Mike Pence cast a tie-breaking vote in the Senate to block a Consumer Financial Protection Bureau rule that would have prevented banks such as Wells Fargo & Co. (WFC) - Get Report from forcing customers to address complaints in private arbitration hearings rather than lawsuits.
The San Francisco-based firm, though chastised by lawmakers for attempts to push customers into arbitration even when the lender's own employees had set up unauthorized accounts for them, had steadfastly refused to drop the arbitration clauses in customer agreements.
CEO Timothy Sloan did, however, tell the Senate Banking Committee in October that the company was so committed to "making it right" for customers with fraudulent accounts that there would be no reason to even discuss arbitration.
Despite public criticism, blocking companies from using such clauses would have hurt financial institutions "by increasing litigation expenses and compliance costs," the White House said, and the companies would probably have passed those charges on to their clients.
Indeed, "the rule was always going to harm consumers and not help them," said Rob Nichols, president of the American Bankers Association, which backed Congress's decision.
A lobbying group for the the $17 trillion U.S. banking industry, the association
also supports
a proposal by the House GOP to cut the corporate tax rate to 20% from the current top rate of 35%. Speculation that some form of corporate tax relief would be enacted under a Republican-controlled government is one of the major factors fueling the surge in finance stocks this year.
Full-Freight Taxpayers
"Banks are full-freight corporate taxpayers, in large measure, unlike the energy sector, which has a variety of ways of reducing corporate tax rates in the existing tax code," said Hogan Lovells' Schaberg. "If you look at the effective corporate tax rate for financial institutions, it's right at the top."
Indeed, JPMorgan's income tax rate in the three months through September was 29.6% while Citigroup Inc.'s (C) - Get Report was 31%. General Electric Co.'s (GE) - Get Report tax rate, by contrast, was negative 4%, thanks to low taxes on the sale of its water business; excluding restructuring and gains, the rate would have been in the mid-teens.
For banks, a rate cut to even 25% "would be a massive boost to the industry from an earnings," standpoint, Schaberg said.
Broader economic benefits from the reductions would still take a significant amount of time to manifest, however, JPMorgan CEO Jamie Dimon told reporters in mid-October.
"Had we had a competitive tax system going back several years ago," thousands more companies would still be owned and headquarters in the U.S., "there'd be more capital to invest here and there'd be trillions of dollar that would have remained in this country," he said.  "Had we done it right five years ago, by this point in time, we'd be growing a lot faster."
Trump is convinced that lost ground can be regained. 
"We're going to make America globally competitive, again," he said in a meeting with Republican House leaders on Nov. 2. "Our corporate tax rate is 60% higher than our average competition."
Slashing it 15 points to 20% is "truly one of the big things in the bill," he added. "What that's going to do is create tremendous success for companies and jobs. It's about jobs."
TheStreet's feature series "Inside Trump's First Year" looks at the biggest stories in business over the past year, fueled by one of the most unpredictable presidents in history. Most importantly, TheStreet offers a glimpse into what could happen in 2018 on a range of issues -- and stocks -- in what will probably be an equally chaotic second year for Trump. Read more by tapping the photo below.
Citigroup and General Electric are holdings in Jim Cramer's Action Alerts PLUS charitable trust portfolio. Want to be alerted before Cramer and the AAP team buy or sell the stocks? Learn more now.
More of What's Trending on TheStreet:
Editors' pick: Originally published Nov. 8.