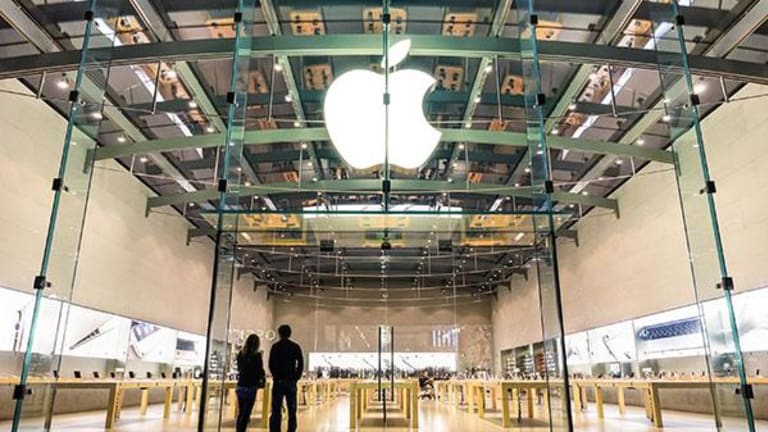 Apple Gets Slapped With $14.5 Billion Tax Bill From the EC: What Wall Street's Saying
The big decision by the European Commission to demand billions in back taxes from Apple appears to have been greeted by analysts with a collective shrug.
Updated with additional analyst comments.
Apple (AAPL) has been hit with a retroactive tax bill of over $14 billion by the European Commission, but Wall Street analysts, as well as investors, appeared to greet the news witha collective shrug.
The European Commission is demanding Apple pay €13 billion ($14.5 billion) to Ireland for "selective tax treatment" between 2003 and 2014. The regulatory division of the European Union said Tuesday that the tax benefits Apple has enjoyed in Ireland are "illegal," asserting that Apple's tax rate went from 1% of its European profits in 2003 to 0.005% in 2014.
The order comes after the European Commission launched an investigation in June 2014. Ireland and Apple both plan to appeal the ruling, and Apple CEO Tim Cook wrote a letter on Apple's website asserting that the Commission's move is unprecedented with "serious, wide-reaching implications."
Shares of Apple inched down 0.8% Tuesday morning to $105.95.
Apple is aholding in Jim Cramer's Action Alerts PLUS Charitable Trust Portfolio. Want to be alerted before Cramer buys or sells AAPL? Learn more now.
So far, Wall Street seems unruffled by the ruling, citing the fact that the penalty is actually fairly small relative to Apple's size and profits, and that an appeal of the decision could take years to resolve. For some, the development even represents a buying opportunity.
Here are some of the most significant analyst comments:
Gene Munster, Piper Jaffray (Overweight, $151 Price Target)
"The key takeaway is that we believe investors are unconcerned on a relative basis in relation to the stock. While the penalty is large in absolute terms, it represents a small portion of AAPL's overall valuation. Bigger picture, the story for AAPL remains the return to growth via the iPhone 7 (announcement next week) or the iPhone 7S/8 next year."
Maynard Um, Wells Fargo (Outperform, $115-$125 PT)
"We do not expect a retroactive impact on historical financials and expect Apple's tax rate to remain unchanged going forward. The ruling is disappointing and, while Apple is confident in an appeal, the process may take several years and may have a near-term sentiment overhang on the stock."
"We maintain our Outperform on our expectation for improving gross margin on iPhone mix, solid iPhone 7 units in the December quarter based on our units/carrier analysis as well the extra week in the quarter, and potential for upside to September if iPhone 7 launches earlier than usual."
Brian White, Drexel Hamilton (Buy, $185 PT)
"We believe this morning's weakness on the EU decision represents another buying opportunity especially ahead of next week's iPhone 7 event and a new iPhone cycle."
"Although the EU decision is a headline grabber and would represent a large tax penalty for most companies, Apple exited 3Q:FY16 with $231.5 billion in cash (93% overseas) and $84.9 billion in debt. In FY:15, Apple generated $81.3 billion in operating cash flow and $70 billion in free cash flow."
"Similar to the summer of 2013, we believe this summer will prove to be a bottoming process for Apple's stock with our estimates indicating that the sales and profit cycle bottomed in 3Q:FY16."
Amit Daryanani, RBC Capital Markets (Outperform, $117 PT)
"We think the $14.5B ruling came in worse than expected, however AAPL in addition to Ireland (AAPL's EU subsidiary tax jurisdiction) has confirmed it will appeal today's unfavorable ruling. ... In addition, we highlight that AAPL should have ample capacity to absorb a broad range of negative outcomes with ~$150B in net cash on its balance sheet." 
"Today's negative ruling is similar to other tax investigations conducted by the European Commission on other multi-national companies including McDonald's, Starbucks, Anheuser-Busch InBev and Amazon, among others. Ultimately, we think today's result should have a minimal impact on AAPL's EU operations."
Steven Milunovich, UBS (Buy, $115 PT)
"While we expect Apple may record an accrual in the financials relating to this matter, it's too soon to make any adjustments to our valuation. Taking out $14bn of net cash on a DCF has a $3-5 impact on share price."
"It's important to note the case does not call into question Ireland's tax rate or whether Apple violated any law. It's simply a matter of whether the tax treatment should be allowed."
Brian Colello, Morningstar (Buy, N/A)
"The European Commission considered Apple's tax structure within Ireland, which was in compliance with Irish and international laws, as anticompetitive, as Apple received tax breaks (presumably in exchange for creating jobs in the region) that allowed the company to pay a tax rate as low as 1% in 2003 and 0.005% by 2014 on all revenue from the European Union, not just sales within Ireland. We estimate that Apple earned roughly $71 billion in cumulative operating income in Europe over the time frame in question (2003-14)."
"We anticipate that a host of U.S. and international tax issues may need to be sorted out in the years ahead. Apple is not the only firm to use existing tax laws to its advantage to minimize its tax bill, nor is it the only firm with a massive cash balance trapped overseas, which is unavailable for U.S. dividends or investments without paying a hefty repatriation tax bill to the U.S. government. Nonetheless, heavy is the head that wears the crown, and as the world's largest company, Apple is likely to remain at the forefront of these types of issues and inquiries."