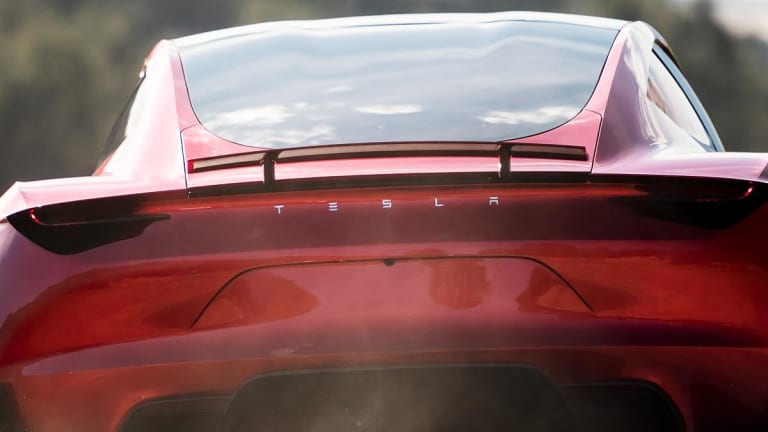 Wall Street Is Petrified About Being Burned by Tesla and Elon Musk
Thanks for nothing, Wall Street. It's clear Wall Street doesn't want to get caught on the wrong side of the trade in response to Tesla's second quarter earnings.
If Wall Street's job is to provide guidance before key moments for companies, then they are falling asleep at the wheel on the volatile Tesla (TSLA) - Get Report . 
Who can blame many analysts for being non-commital on Tesla's stock into earnings on Wednesday. One outrageous comment by Tesla CEO Elon Musk on the earnings call (like he made on the first quarter call) could send the stock in the toilet come Thursday morning. That would be in addition to the inevitable concerns from the report about Tesla's cash position.
Why bother going out on the limb with a Tesla call a mere months removed from holiday bonus season? 
Here's a great example of some last-minute mixed research on Tesla into earnings via CFRA:
"With the shares below our 12-month target price of $300, we raise our opinion to Hold. We will update our perspective on TSLA after their expected report on 8/1 after the close. Regardless of Q2 results, we expect ongoing share price volatility, as the bulls and bears battle. We expect to see production rates progress in Q3 beyond the 5,000 per week rate hit at Q2-end, as the company moves towards projected sustained non-GAAP profitability as early as 2019. We think Elon Musk's short-term goal of Q3 and Q4 GAAP profitability is neither sustainable nor necessary, but a distraction from what is really important - steadily rising production Model 3 volume with improving profit margins and self-supporting cash flow. Meanwhile, we still forecast a capital raise in Q1 2019 to support existing operations and growth initiatives."
Among the 34 analysts on Wall Street that cover the money-losing Tesla, 10 rate the stock a buy despite the prospect for endless losses and cash burn. The rest are divided equally among sell and hold ratings.
Thanks for nothing, Wall Street. 
More on Tesla's future from TheStreet here.