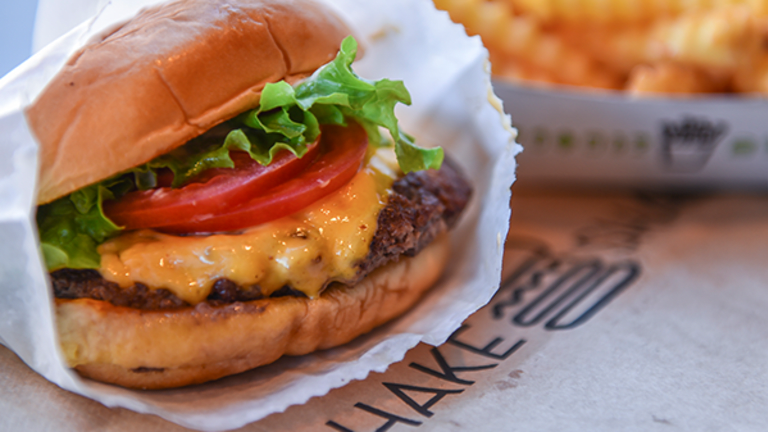 Before You Light the Barbecue on Memorial Day, Go Inside Shake Shack's Burger Success Story
Shake Shack, the next generation burger joint.
Shake Shack (SHAK) has certainly done its part to please investors.
But since the better burger chain's sizzling IPO on January 30, 2015, when the stock just about doubled to nearly $46, shares have fallen about 22% despite several quarters of strong sales and profits. Wall Street, as it typically does, has pushed Shake Shack to pick up the pace on opening restaurants and bringing new food on the menu to boost sales. But, the company has resisted the urge to go too fast and risk losing sight of its identity.
"Look at any great entrepreneurial story, when you veer away from what got you there things change real fast -- we aren't going to do that," explained Shake Shack CEO Randy Garutti in an interview with TheStreet. "You have to remember that Wall Street has an insatiable appetite that will never be fully satisfied -- we go to bed every night knowing that, and most importantly we know who we are."
Wall Street may want to take a read of Garutti's new book if they have any doubt on what Shake Shack could become over time. Garutti and Culinary Director Mark Rosati are fresh off writingShake Shack: Recipes & Stories, which takes a look back at Shake Shack's founding and a glimpse into its future.
The company began as a single hot dog cart in a park in New York City back in 2001 (which was run by Garutti and others), with the food coming from two nearby restaurants owned by noted restaurateur and Shake Shack founder Danny Meyer. After three years of serving food to increasingly long lines, Meyer hatched an idea to turn the cart into a permanent restaurant concept, sketching his idea of what it would look like on a paper napkin.
Since that first official Shake Shack opened in 2004, the company has developed a core menu of burgers, sides and frozen custards, all made with higher quality ingredients than found at other fast food places like McDonald's (MCD) . More recently, Shake Shack has ventured into fried chicken with its ChickenShack sandwich, which has quickly become quickly become one of its best-selling items. It also continues to slowly expand the number of restaurants serving breakfast, while at the same time launching a well-received mobile ordering app.
Said Garutti, "I really believe it when I say we have only just gotten started with this journey -- what Shake Shack can be some day has barely been birthed."
Watch More: Shake Shack CEO on Leadership
Watch More: Shake Shack CEO on New Book
Click here for the latest business headlines.
Editor's Pick: Originally published May 18.