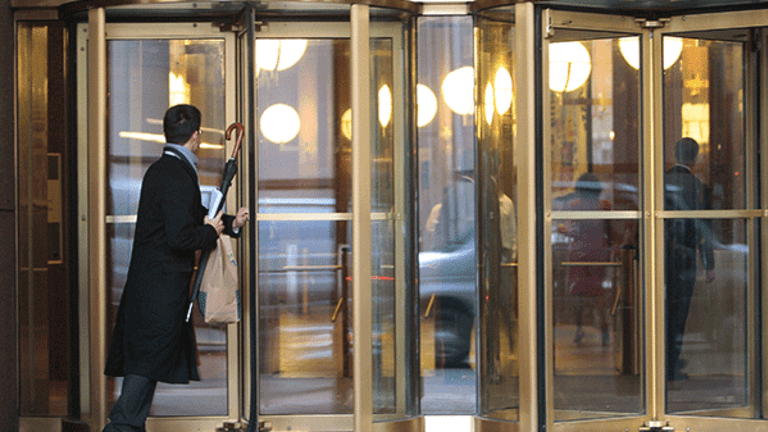 Publish date:
Wall Street Giants Scramble to Help Staff Snared in Trump Travel Ban
In memos to employees, companies from Goldman Sachs to GE emphasized the importance of a diverse workforce and promised to work with the Trump administration to minimize disruption.
In memos to employees, companies from Goldman Sachs to GE emphasized the importance of a diverse workforce and promised to work with the Trump administration to minimize disruption.
Behind the scenes, Wall Street's most prominent firms are working to help staffers snared in the Trump administration's ban on travel from select Muslim countries in the Mideast and Africa, while some of their leaders warn the policy may hurt businesses that have spread far beyond U.S. borders.
The executive order by President Donald Trump, billed as an effort to safeguard the U.S. by blocking people from countries deemed to have a higher risk of terrorist infiltration, was announced Friday evening, just as some of the agencies expected to enforce the rule learned of it for the first time.
Over the weekend, protests erupted in urban centers from New York to San Francisco as travelers who already held visas, some of them permanent, were detained at airports. Federal courts subsequently blocked portions of the directive, the newly inaugurated president fired his acting attorney general when she refused to enforce it, and the New York Times reported that hundreds of career diplomats have signed a so-called dissent cable warning that the policy will harm international relations without accomplishing its stated goals.
Major financial indexes, meanwhile, gave up some of the gains posted in the wake of Trump's November victory, which had been driven by speculation that his pro-business policies would boost growth. 
"As a U.S. company and the world's most global financial institution, we are concerned about the message the executive order sends, as well as the impact immigration policies could have on our ability to serve our clients and contribute to growth," Citigroup (C) - Get Citigroup Inc. Report CEO Michael Corbat said in a memo to employees obtained by TheStreet.
The New York-based bank, which garnered $69.9 billion in revenue last year, has offices scattered across the Middle East and Africa. Citi has been "advising colleagues who could be affected and will continue to support them and their families," Corbat said in the memo.
No employees at Morgan Stanley (MS) - Get Morgan Stanley (MS) Report or JPMorgan Chase (JPM) - Get JPMorgan Chase & Co. (JPM) Report appeared to be affected in the immediate aftermath of the order, though both banks provided staffers with contacts who could assist them if problems arose. 
"We value immensely the contribution of all our employees from all over the world," Morgan Stanley CEO James Gorman said in a note to employees obtained by TheStreet. "Continuing to draw on talent from across the globe is a key element of Morgan Stanley's culture and ultimately to our success in serving our clients."
Goldman Sachs (GS) - Get Goldman Sachs Group, Inc. (GS) Report sent a note to staffers who might be affected on Sunday morning and followed up with individual phone calls in the afternoon, according to a person familiar with the bank's response. 
"This is not a policy we support," CEO Lloyd Blankfein said in a voicemail message to the bank's staff. "I recognize that there is potential for disruption to the firm, and especially to some of our people and their families. I want to assure all of you that we will work to minimize such disruption to the extent we can within the law."
Both Bank of America (BAC) - Get Bank of America Corp Report and Wells Fargo (WFC) - Get Wells Fargo & Company Report , whose businesses are predominantly in the U.S., are reviewing whether and how the order might affect their workers. 
"We know that it may have deeply personal implications for team members who may have friends or family affected by it," said Wells Fargo Chief Administrative Officer Hope Hardison.
At General Electric (GE) - Get General Electric Company (GE) Report , which has sold the majority of a once-sprawling lending business over the past two years while making a push into digital manufacturing, CEO Jeffrey Immelt said in a memo Sunday that employees and customers from the affected region are critical to the conglomerate's success. 
"They are our friends and partners," he wrote. "We stand with them and will work with the U.S. administration to strive to find the balance between the need for security and the movement of law-abiding people."
GE, which had a staff of more than 300,000 at the end of 2015, has many workers from the countries identified in the order: Libya, Somalia, Yemen, Iran, Iraq, Sudan and Syria. Islam is the official religion in six of the nations, and the dominant faith in all seven.
They were first subjected to stricter eligibility requirements for visa waivers on limited travel under the Obama administration, when Congress passed a bill designed to strengthen security by restricting travelers from countries where political instability had attracted foreign fighters. 
Rather than barring people from the affected countries, the bill required many to undergo heightened screening and obtain visas even for limited stays in the United States. The Trump administration has said its ban would remain in place for 90 days, while officials work to set up more thorough vetting.
"Deteriorating conditions in certain countries due to war, strife, disaster, and civil unrest increase the likelihood that terrorists will use any means possible to enter the United States," Trump said in the order. "The United States must be vigilant during the visa-issuance process to ensure that those approved for admission do not intend to harm Americans."
EXCLUSIVE LOOK INSIDE: Wells Fargo, Citigroup and GE are holdings in Jim Cramer's Action Alerts PLUS charitable trust portfolio. Want to be alerted before Cramer buys or sells the stocks? Learn more now.