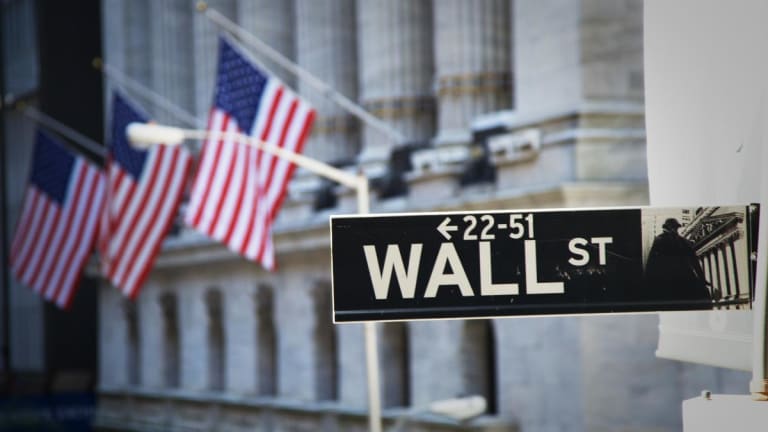 Dow Futures Extend Declines on Weak Retail Sales as Trade War Bites Sentiment
Global stocks slipped lower Wednesday, setting up Wall Street for modest opening bell declines, even as investors reacted to a softening of rhetoric from President Donald Trump in the U.S. China trade war and suggestions that talks could resume in the coming weeks.
The Wednesday Market Minute
Global stocks add to gains, taking Asia markets from a three-and-a-half month low, amid signs of progress in the U.S.-China trade war that could lead to a resumption in talks.
President Donald Trump suggests the "little squabble" with China can be resolved with a deal, while Treasury Secretary Steve Mnuchin is set to travel to Beijing soon to resume dialogue with Chinese officials.
European stocks weaken amid deepening concerns over Italy's budget, offsetting
stronger-than-expected annual German GDP.
Global oil prices drift lower following a bigger-than-expected build in U.S. crude inventories yesterday, with markets now keying on EIA data later in the session.
Wall Street futures suggest a weaker open for the Dow following weaker-than-expected April retail sales and industrial data.
Market Snapshot
Global stocks slipped lower Wednesday, setting up Wall Street for steeper opening bell declines, as weaker-than-expected April retail sales data snuff out optimism linked to a softening of rhetoric from President Donald Trump in the U.S. China trade war and suggestions that talks could resume in the coming weeks.
U.S. retail sales fell 0.2% on the month in April, the Commerce Department said, against Street forecasts of a 2% gain. Excluding the auto sector, sales rose 0.1% against a consensus of a 0.7% gain. Industrial output also slumped 0.5% in April, according to Federal Reserve Board data, taking 2-year U.S. Treasury bond yields to a 15-month low of 2.141%. 
U.S. equity futures extended declines into the start of the trading day on Wall Street, with contracts tied to the Dow Jones Industrial Average indicating a 140 point dip at the opening bell while those linked to the S&P 500 are guiding to a 17 point pullback for the broader benchmark.
Macy's Inc. (M) - Get Macy's, Inc. Report posted stronger-than-expected first quarter earnings, and reaffirmed its full-year guidance, as the struggling retailer notched a surprise uptick in same-store sales growth, sending shares 2.1% higher in pre-market trading.
Alibaba was another notable mover, rising 3% and it posted stronger-than-expected fourth quarter earnings as consumer growth on its online marketplace surged and its tie-up with Starbucks (SBUX) - Get Starbucks Corporation Report , the world's biggest coffee chain, helped boost revenues and its cloud computing sales surged.
Overnight in Asia, markets were also soothed by weaker-than-expected economic data from China, where retail sales, industrial output and fixed asset investment for the month of April all fell short of analysts' forecasts, suggesting not only slowing growth in the world's second-largest economy but also a weakening bargaining position in the trade stand-off with Washington.
A further signal of potential co-operation from Beijing, which retaliated with tariffs on $60 billion worth of U.S. imports on Monday following Trump's move to apply levies to $200 billion worth of China-made goods last week, came from the currency markets, where the Chinese yuan was fixed at a higher-than-expected level against the dollar, a move some analysts said was an attempt to both discourse short-sellers and signal to U.S. officials that it won't use the yuan as a weapon on the ongoing trade dispute.
With President Trump describing that dispute as "a little squabble" to reporters outside the White House yesterday, as well as confirmation from the U.S. Treasury that Secretary Steve Mnuchin will soon travel to Beijing to resume trade talks, markets were happy to add risk following both last night's rally on Wall Street and the three-and-a-half month lows that were hit in Asia markets yesterday.
Japan's Nikkei 225 was the first to respond, rising for the first day in six to close 0.58% higher at 21,186.56 points, while China's Shanghai Composite rose 1.9% on hopes of faster stimulus and deeper tax cuts following the weakest retail sales in sixteen years. 
European stocks edged higher at the start of trading in Frankfurt, but quickly gave back gains with the region-wide Stoxx 600 falling 0.4% and Germany's DAX performance index retreating 0.46% after first quarter GDP growth was pegged at a faster-than-expected 0.7% clip, suggesting solid underlying strength in Europe's biggest economy.
However, ongoing concerns over Italy's budget deficit after Deputy Prime Minister Matteo Salvini said his country was ready to break EU budget and debt limit rules in order to stimulate growth in the flagging Italian economy, the third largest in Europe.
Global oil prices were modestly weaker in the overnight session, however, as traders reacted to a bigger-than-expected build of 8.9 million barrels in U.S. crude inventories yesterday, according to data from the American Petroleum Institute, although declines were held in check by ongoing tensions in and around the Gulf region, where Saudi Arabia has alleged a series of attacks on its tankers traveling through the Strait of Hormuz.
Prices were also impacted by the International Energy Agency's monthly oil market report, which trimmed its 2019 forecast for global crude demand by 90,000 barrels per day to 1.3 million.
Brent crude contracts for July delivery, the global benchmark for oil prices, were marked 43 cents lower from their Tuesday close in New York and changing hands at $70.81 per barrel while WTI contracts for June delivery were seen 55 cents lower at $61.23 per barrel.