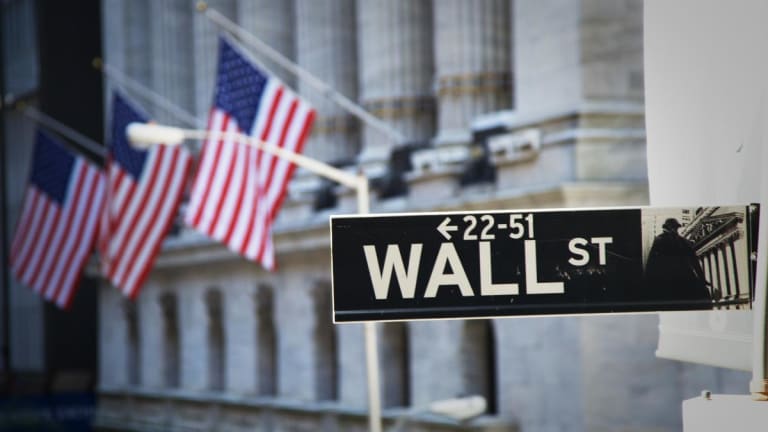 Wall Street Futures Edge Higher on U.S.-China Trade Talk Progress
U.S. equity futures edged higher Friday, following solid gains in Europe, on reports that officials from both the U.S. and China will continue trade talks next week in Washington, raising hopes of a near-term deal between the world's two biggest economies.
The Friday Market Minute
U.S. equity futures suggest modest gains on Wall Street following earnings from Deere & Co., PepsiCo, Moody's and Newell Brands and reports of significant progress in U.S. China trade talks
Global stocks traded mixed following weakening inflation data from China and the biggest decline in U.S. retail sales since 2009.
European stocks stocks test three-months highs as the euro remains wedded to a multi-month low amid concerns over regional growth prospects and further monetary loosening from the European Central Bank.
Global oil prices rise for a fourth session as reports suggest a key Saudi oil filed was shut down this week as the Kingdom signals deeper output cuts to balance world markets.
Market Snapshot
U.S. equity futures edged higher Friday, following solid gains in Europe, on reports that officials from both the U.S. and China will continue trade talks next week in Washington, raising hopes of a near-term deal between the world's two biggest economies.
China's state television said President Xi Jinping declared the week-long talks, which included two days of high-level negotiations between U.S. Treasury Secretary Steven Mnuchin and Vice Premier Liu He, had made "important step-by-step progress".
"Next week, both sides will meet again in Washington. I hope you will continue efforts to advance reaching a mutually beneficial, win-win agreement," Xi was reported to have said.
The reports helped European stocks print fresh three-month highs and reversed earlier declines for U.S. equity futures, with contracts tied to the Dow Jones Industrial Average I:DJI  now indicating a 40 point gain and those linked to the S&P 500 undefined   guiding to a 7 point bump for the broader benchmark.
Nvidia Corp. (NVDA) - Get NVIDIA Corporation Report shares were an early mark mover and indicated sharply higher in pre-market trading Friday after the chip designer posted stronger-than-expected fourth quarter earnings and said sales for its current financial year would top Wall Street forecasts as key markets in China recover from their current slump.
Oracle Corp. (ORCL) - Get Oracle Corporation Report shares, meanwhile, fell after Securities and Exchange Commission filings showed that Warren Buffett's Berkshire Hathaway's (BRK.A) - Get BRK.A Report investment fund dumped its entire stake in the software group only months after revealing its $2 billion investment.
Deere & Co. (DE) - Get Deere & Company Report posted weaker-than-expected first quarter earnings, citing"unsettled" conditions in key markets, but noted that easing cost pressures would allow it to be "cautiously optimistic" on profits for the 2019 year.
PepsiCo Inc. (PEP) - Get PepsiCo, Inc. Report  matched analysts's forecasts for its fourth quarter earnings print, but said 2019 earnings would fall as the company boosts investments in some of its key consumer products.
European stocks were notably higher by mid-day trading Friday, despite weakening data from the world's two biggest economies could signal a deeper growth slowdown. Investors were also eyeing the market impact of President Donald Trump's decision to declare a national emergency after failing to win border wall funding from U.S. lawmakers.
The Stoxx 600 was marked 1% higher in Frankfurt while Britain' FTSE 100 added 0.6% by mid-day in London.
A twin set of inflation data from China underscored both export and domestic demand weakness in the world's second largest economy Friday, with factory gate inflation slowing for the seventh consecutive month in January -- to a 2016 low -- and consumer prices rising at the weakest pace in a year. The figures, published by the National Bureau of Statistics, suggest China will struggle to reverse last year's broader economic slowdown, which was the worst in a decade.
The weakness in China followed data from the United States Thursday that indicated the biggest fall in December retail sales since 2009, a surprise reading that triggered significant markdowns in U.S. economic growth forecasts and pushed Wall Street to its biggest decline in a week.
The figures also added further pressure to U.S.-China trade talks, which concluded today at the Diaoyutai state guest house near Beijing. U.S. Treasury Secretary Steve Mnuchin said the negotiations had been "productive", but markets remain concerned that significant progress might not be made prior to the March 2 deadline, which White House Economic Adviser Larry Kudlow said Thursday would remain in place.
Senate Majority Leader Mitch McConnell told lawmakers Thursday that President Trump President Trump will declare a national emergency to free up funds to construct a border wall with Mexico, but will sign funding legislation that would avoid another government shutdown.
Overnight in Asia, a modestly weaker U.S. dollar boosted regional currencies and clipped gains for regional benchmarks, pushing the MSCI Asia ex-Japan index 1.18% lower from its recent four-month highs while the Nikkei 225 in Tokyo closed 1.13% lower at 20,90.63 points.
Global oil prices extended gains for a fourth consecutive session Friday amid reports of the shutdown of Saudi Arabia's key Safaniyah oil field, which produces around 1 million barrels per day, which could be linked to the Kingdom's signals on slowing output to support the OPEC+ cartel's broader production cuts.
Brent crude contracts for April delivery, the global benchmark, were marked 54 cents higher from their Thursday close in New York and changing hands at $65.11 per barrel, the highest since November 21 and a move that extends gains from the December 24 trough past 25%.
WTI contracts for March delivery were seen 48 cents higher at $54.89 per barrel, the highest since February 4.