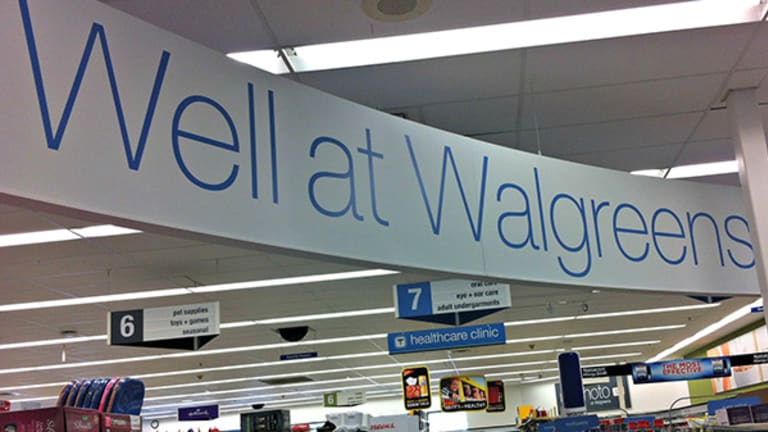 Walgreens Misses Revenue but Beats Earnings Target -- Slightly
Walgreens has delivered earnings per share beats in eight out of the last nine quarters.
Pharmacy retail giant Walgreens Boots Alliance (WBA) - Get Report reported in-line first-quarter earnings and a revenue miss Thursday morning ahead of market's open. 
The Deerfield, Ill.-based company reported earnings of $1.10 per share, which was a penny higher than street consensus. The company's sales fell 1.8% to $28.5 billion, falling short of estimates of $29.2 billion. 
Walgreens also raised the lower end of its guidance for the year by five cents to a range of $4.90 to $5.20. This move the company attributed to its previously announced partnerships with pharmacy benefit managers like Prime Therapeutics. Prime is owned by Blue Cross Blue Shield healthcare insurance plans, which will make Walgreens the preferred low cost pharmacy for those plans this year. 
"We continue to anticipate that growth in the second half of fiscal 2017 will reflect the new strategic pharmacy partnerships we announced last year," Walgreens CEO Stefano Pessina said.
Walgreens' stock fell nearly 3% Thursday morning, hitting $80.63 per share. 
The quarter was busy for Walgreens, with the announcement of a proposed divestiture of 865 Rite Aid (RAD) - Get Report stores to Fred's Pharmacy (FRED) for $950 million in cash. The deal is an attempt to help Walgreens' $9.5 billion acquisition of Rite Aid, announced last October, pass antitrust muster with the federal government. 
During the company's Thursday conference call, Pessina said Walgreens expects the acquisition of Rite Aid to close in the first half of 2017. The company didn't provide much further detail on these deals. 
Rite Aid announced poor third-quarter earnings on Dec. 22. The pharmacy reported earnings of 2 cents per share and revenue of $8.1 billion, compared to 8 cents and $8.2 billion in the year-ago period. Analysts had forecast EPS of 4 cents and revenue of $8.2 billion. 
"Walgreens' management team now has delivered EPS beats in eight out of the last nine quarters," said TheStreet's Jim Cramer. "The consistency is a testament to management's commitment to and focus on continued cost improvements and self-help initiatives exclusive of the Rite Aid merger."
Jim Cramer, is TheStreet's founder and manager of the Action Alerts PLUS portfolio, which owns WBA .