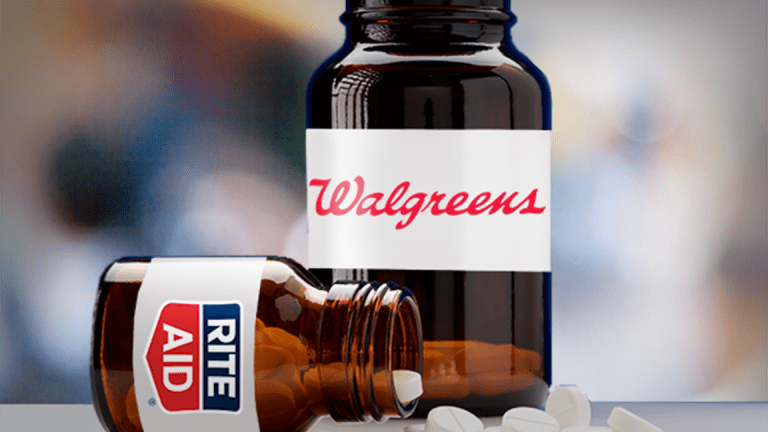 Walgreens Is Primed to Rally, With or Without Rite Aid
Walgreens Boots Alliance is reportedly amending its deal with Rite Aid to secure the FTC's blessing -- but shares are already in rally-mode this September.
Drugstore chain Walgreens Boots Alliance Inc. (WBA) is getting attention Monday, after word hit that the firm was planning to revise its deal to buy Rite Aid Corp. (RAD) by changing the number of Rite Aid stores it would keep in hopes to gain the blessing of regulators.
Walgreens has been in pursuit of Rite Aid for years now.
The two firms first announced the plan to combine back in late 2015, but the merger fell apart almost two years later, at the end of June, and was replaced with an asset sale. At present, Walgreens is set to buy 2,186 stores and related assets for $5.2 billion -- but the FTC's antitrust concerns remain a major black cloud for investors who want the deal to succeed.
Now, sources are anticipating that a revised deal could be made public as soon as Monday.
Thing is, Walgreens' technical trajectory is already set, at this point. Shares are in rally-mode this September, charging higher in a clearly defined price pattern whether Rite Aid comes along for the ride.
So, to figure out how to trade it, we're turning to the charts for a technical look.
Walgreens Boots Alliance hasn't exactly been a rocket stock this year. Shares are basically at breakeven as I write, dragging sideways for a good chunk of 2017. But, more recently, Walgreen Boost Alliance has managed to establish itself in a well-defined uptrend, catching a bid on every test of trendline support on the way.
You don't need to be an expert trader to decipher the uptrend that's been in play in shares of Walgreens since mid-June. Now, as shares test trendline support again in September, it makes sense to pull the trigger on the next bounce higher.
Actually waiting for that bounce is important for two key reasons: It's the spot where shares have the most room to move up before they hit resistance, and it's the spot where the risk is the least (because shares have the least room to move lower before the channel breaks, invalidating the upside trade). Remember, all trend lines do eventually break, but by actually waiting for the bounce to happen first, you're ensuring WBA can still catch a bid along that line before you put your money on shares.
Relative strength, the indicator down at the bottom of WBA's price chart, adds some extra evidence to the upside potential in shares now. Relative strength has been in an uptrend of its own since the about-face in WBA's price trend started, signaling that this drugstore giant isn't just moving higher here -- it's also outperforming the rest of the broad market.
Rite Aid deal or not, WBA is primed to make it to higher ground in the final stretch of 2017.
More of What's Trending on TheStreet:
This article is commentary by an independent contributor. At the time of publication, the author held no positions in the stocks mentioned.