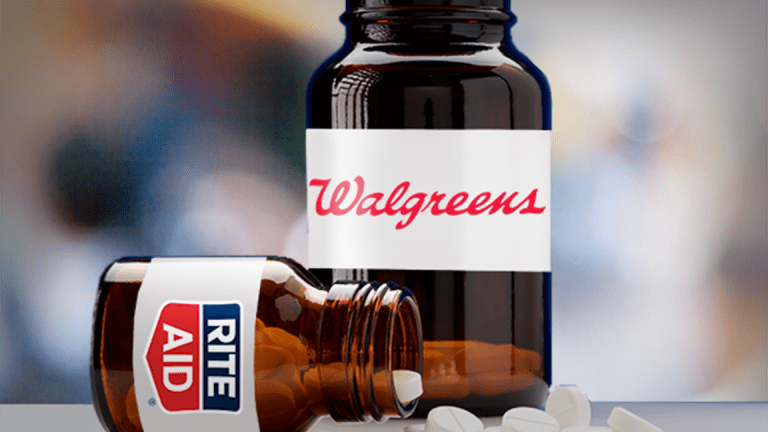 Walgreens Better Watch Its Back With Amazon Lurking
A deal with Rite Aid that hasn't performed and pressures from Amazon and CVS are continuing to mount.
What a difference a few months makes.
Just months after some investors were touting Walgreen Boots Alliance Inc. (WBA) - Get Walgreens Boots Alliance Inc Report as a solid buy and its revamped deal for Rite Aid Corp. (RAD) - Get Rite Aid Corporation Report stores seemed like a slam dunk, the company is feeling the pressure from both Wall Street and intensifying competition on a number of fronts.
"The headwinds in the pharmacy retail industry are intensifying, and we do not see any relief in the medium term," wrote Leerink Partners David Larsen in a note Wednesday, who downgraded and lowered his price target on the pharmacy chain on Wednesday. "We believe [Amazon.com Inc. (AMZN) - Get Amazon.com, Inc. Report ] will be entering into the market within the next few years, and we believe WBA is most exposed to share loss."
At the same time, CVS Health Corp (CVS) - Get CVS Health Corporation Report , which is rumored to eyeing a $66 billion deal for health insurer Aetna Inc. (AET) to sure up its healthcare and referral business, is also threatening Walgreens. Oh yeh, lets not forget that Walgreens wasn't able to acquire all of Rite Aid and the company still had about 2,600 stores out there that will also compete with Walgreens and CVS.
"WBA, CVS, and RAD are seeking to capture share by accepting lower reimbursement rates from plans and PBMs, thereby putting downward pressure on WBA's gross margin," Larsen wrote, adding that CVS has recently signed deals with Anthem Inc.  (ANTM) - Get Anthem, Inc. Report , United Health's  (UNH) - Get UnitedHealth Group Incorporated Report Optum platform, Cigna Corp. (CI) - Get Cigna Corporation Report , and Aetna capture Medicare preferred network patients.
"We believe that CVS is taking the right steps to capture volumes, after a difficult 2017. In 2018 and beyond we would expect these deals to cause WBA's retail prescription volume growth rate to slow, and we would expect WBA's response to be to continue to lower reimbursement rates in an effort to capture volumes."
Leerink downgraded Walgreens to Market Perform and lowered their per share price target to $72.00 from $86.00. The firm, however, did increase its fiscal 2018 earnings estimate to $5.50 per share from $5.40 per share to reflect Walgreens' updated guidance in its recent quarterly earnings.
Shares of Walgreens traded at $66 per share on Wednesday leaving some more for the company to run barring further set-backs. Shares closed Thursday at $66.78 apiece.
The downgrade from Leerink, one of the top healthcare investment banks both from an advisory and research perspective, comes after Walgreen's reported fourth-quarter earnings on Oct. 25.
The Deerfield, Ill.-based pharmacy chain posted earnings of $1.31 per share Wednesday morning, Oct. 25, beating Wall Street estimates of $1.21. It posted a 5.3% increase in sales, to $30.1 billion in the same period, also exceeding Wall Street's projection of $29.9 billion.

Walgreens also posted adjusted total earnings of $1.4 billion and operating income of $1.9 billion, as well as a $1 billion addition to its recently completed $5 billion shares buyback. Walgreens also said it would pay a regular quarterly dividend of 40 cents per share-a 6.7% uptick from the same period last year.
While Walgreens' earnings beat estimates and the companies U.S. retail business held up, for now, better than expected in the quarter (they only fell 3.9% percent),  Wall Street pondered issues in international markets and wholesale operations. 
To integrate the new Rite Aid stores into Walgreens' network of over 13,200 stores, Walgreens said it will spend an estimated $750 million over the next three years. The pharmacy chain will pour another $500 million in capital on store conversions and relation activities.
More of What's Trending on TheStreet:
Editors' pick: Originally published Nov. 1.