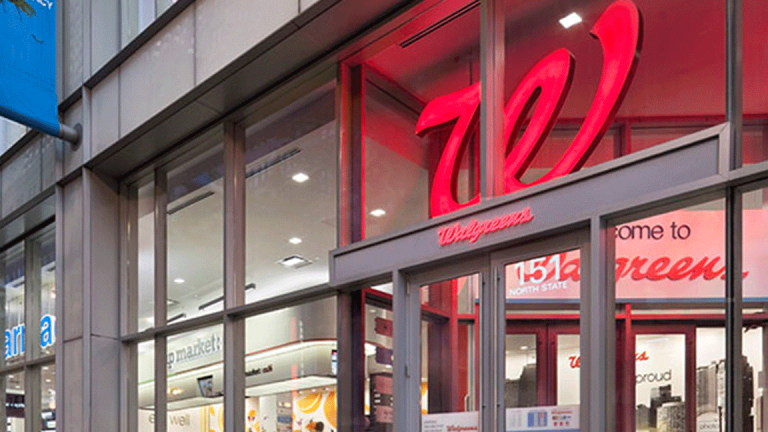 Walgreens Is Said in Talks With Private-Equity Firms to Go Private
A report says the Deerfield, Ill., chain has held informal talks with private-equity firms. Such a deal would be the largest leveraged buyout to date.
Walgreens Boots Alliance (WBA) - Get Free Report , the giant drugstore and healthcare chain, is looking into the prospect of going private, a deal that would be the largest leveraged buyout in history, reports said Tuesday
People familiar with the matter told Reuters and Bloomberg that the Deerfield, Ill., chain has held informal talks with private-equity firms.
Walgreens stock closed 2.6% higher at $61.21. The company's market capitalization exceeds $53 billion. The stock traded past $86 last December.
Mizuho Securities analyst Ann Hynes affirmed Walgreens Boots Alliance at neutral and raised her target price to $59 from $56, Bloomberg reported.
The company couldn't immediately be reached for comment. Chief Executive Stefano Pessina is Walgreens' largest holder with about 16%, the reports said.
The people who spoke with Reuters said the chain has retained the investment bank Evercore to explore whether a take-private is feasible.
Both reports didn't identify the private-equity firms involved. And both news services' sources said that some firms are hesitating to join the deal and that the company might decide not to go private.
The largest leveraged buyout to date, Bloomberg reported, was the 2007 sale of utility TXU to Kohlberg Kravis Roberts and TPG. That deal was valued at about $45 billion including debt.
For fiscal 2019 ended Aug. 31, Walgreens' net income fell to $4.31 a share from $5.05. Shares outstanding fell 7.2% to 923.5 million. Adjusted earnings were $5.99 versus $6.02.
Revenue rose 4.1% to $136.9 billion. The increase was 5.8% based on constant currencies.
Notably, Walgreens guided analysts and investors toward "roughly flat growth in fiscal 2020 adjusted earnings" at constant currencies, plus or minus 3%. "Excluding the impact of lower fiscal 2019 bonus payout," those numbers indicate a rise in the mid-single digits from fiscal 2019, the company said.
As of Aug. 31, Walgreens' operated nearly 9,300 drugstores in the 50 U.S. states and Washington, D.C., Puerto Rico and the U.S. Virgin Islands. 
The Walgreen chain was founded in 1901. Walgreens Boots Alliance was formed at the end of 2014 when Walgreen merged with Boots of the U.K. and Switzerland. The chain operates Walgreen's and Duane Reade drugstores in the U.S. as well as Boots outlets in the U.K.
Strategically, The Wall Street Journal has reported, Walgreens and rival CVS Health (CVS) - Get Free Report have aimed to build their healthcare businesses to help offset slowing revenue from prescription drugs.
Walgreens in October 2015 made a run at buying the Rite Aid drugstore chain. That deal was scrapped in June 2017, in the face of U.S. regulators' opposition, which reflected the possibility that the deal would hurt competition.
Instead, Walgreens in March 2018 closed the purchase of more than 1,900 Rite Aid stores plus three distribution centers for more than $4 billion.
Meanwhile, CVS in October 2018 closed the $70 billion purchase of insurer Aetna.
Walgreens also owns 27% of drug wholesaler AmerisourceBergen (ABC) - Get Free Report . Early in 2018 the Journal reported that Walgreens had approached AmerisourceBergen about a takeover. But ultimately the drugstore chain did not go that route.