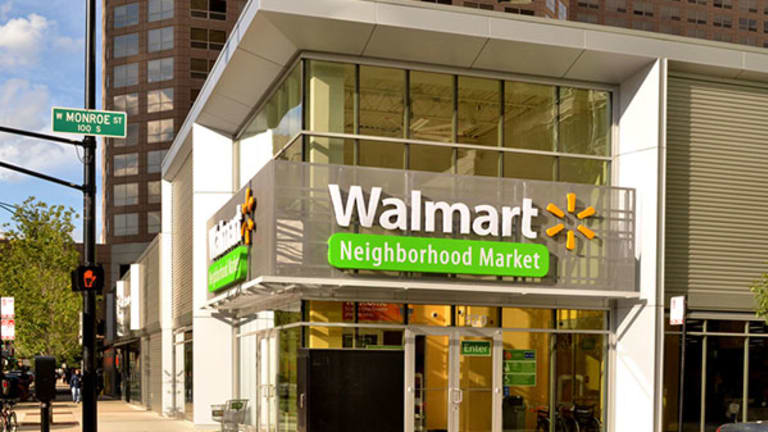 Wal-Mart's New CEO Gets a Vote of Confidence
Wal-Mart's new CEO Doug McMillon, set to step into his new role on Feb. 1, got a vote of confidence on Wednesday from Credit Suisse analyst who upgraded the stock to "outperform."
NEW YORK (TheStreet) - Wal-Mart's (WMT) - Get Walmart Inc. Report new CEO Doug McMillon, set to step into his new role on Feb. 1, got a vote of confidence on Wednesday before he even starts.
Credit Suisse analyst Michael Exstein upgraded the stock to "outperform" from "neutral," and jacked up his 12-month price target by $7 to $87. Exstein believes McMillon, 47, could be the missing link Wal-Mart needs to once again return to industry leader.
"We believe McMillon has a long runway ahead of him, which positions him to take measures to alter WMT's long-term strategies, rather than focusing on repairing short-term issues," Exstein wrote in a note to investors. "In turn, we think he will be instrumental in developing a deliberately sustainable strategy with consistent execution over time. This will benefit WMT in particular given that retail investors have more recently transitioned their focus from an event-driven mindset to companies with sustainable strategies."
Shares were rising 0.13% to $74.77 on Wednesday.
Wal-Mart announced in November McMillon would succeed current CEO Mike Duke following his retirement. McMillon is currently the head of its international business, which at the time was thought to send a clear signal about the global retailer's growth plans.
However in the U.S., Wal-Mart has been losing ground over the past few years as the face of retail quickly changes and becomes more competitive. It also has been dealing with company-wide issues "related to the merchandising, technological and operational aspects of its business. As Mike Duke successfully tackled these issues during his tenure, Doug McMillon is now in a position to make more strategic changes," Exstein penned in the note.
To Exstein, that means focusing on its domestic business.
Specifically, he sees opportunity for Wal-Mart in e-commerce, to accelerate the roll out of more small-store formats, recommitting to general merchandise, "where business is increasingly up for grabs as some big box retailers continue to close stores," all while "rationalizing" its lower-return international operations, the note says.
Wal-Mart plans to increase the number of so-called "Neighborhood Market" stores, its smaller concept store, by several hundred, up from the roughly 300 it currently has. It's doing so as it looks to reach more customers in areas where larger stores don't fit. It's also planning to expand its "Walmart Express" format, the smallest of the four stores that are meant to compete directly with grocery stores, discount/dollar stores and drug stores.
According to a TechCrunch, Wal-Mart is beginning to test online grocery shopping to include local store pickup options under Walmart To Go, with the first testing market being Denver.
Exstein says it should be an "early priority to decide on a small store format to complete for the 'fill-in' trip, which remains a growth avenue for mass merchants," according to the note.
The analyst also points to the opportunity that Wal-Mart has as more big-box retailers close stores, particularly J.C. Penney (JCP) - Get J. C. Penney Company, Inc. Report. "Further dislocation at some of the major U.S. retailers resulting from the increase in store closures should have positive traffic and margin mix implications for WMT going forward, and a serious recommitment to general merchandise will facilitate WMT's ability to benefit," the note said.
Expanding the international business doesn't fall under Exstein's list of potential opportunities for Wal-Mart. In fact, he says, given McMillon's leadership role there, he is qualified to actually "rationalize" the segment, given its lower returns.
"Rightsizing the segment would enable WMT to reallocate incremental capital toward higher-return initiatives domestically including refocusing on general merchandise and coming up with an integrated gasoline strategy.".
--Written by Laurie Kulikowski in New York.
Disclosure: TheStreet's editorial policy prohibits staff editors, reporters and analysts from holding positions in any individual stocks.