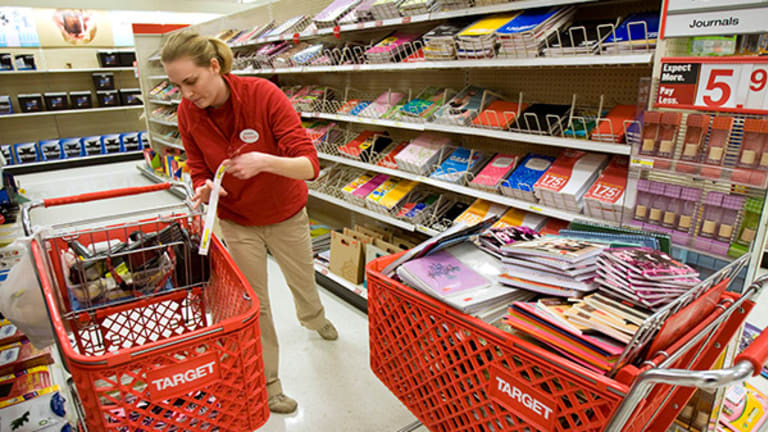 Publish date:
Walmart Stores vs. Target: Which Is the Better Stock Investment?
Walmart Stores and Target are both dominant discount retailers. Both have 40-plus year histories of dividend increases. But which is the better investment now?
Walmart Stores and Target are both dominant discount retailers. Both have 40-plus year histories of dividend increases. But which is the better investment now?
The discount retail industry is dominated by Walmart Stores (WMT) - Get Walmart Inc. Report and Target (TGT) - Get Target Corporation Report . Together, these companies have a market capitalization in excess of $260 billion and generate more than $550 billion in annual sales.
It may be easy for investors to lump these two companies together. They are extremely similar businesses and have long histories of raising their dividends ever year. In fact, both are Dividend Aristocrats, stocks that have increased their annual dividend payment every year for 25 or more years. You can see all 50 Dividend Aristocrats here.
But right now, Target appears to be the more stable company as Walmart Stores, which runs the Walmart chain, is seeing declining earnings as it spends significant resources to engineer a turnaround.
Make no mistake: Both are high-quality dividend growth stocks that have high rankings according to The 8 Rules of Dividend Investing. But investors are bound to ask which is the better stock to buy right now, and we'll explore the answer to that question below. 
Walmart Stores is going through a difficult and prolonged turnaround. In recent years, Walmart's brand image with consumers suffered, particularly in the U.S., because of the condition of its stores and the low wages it paid many workers.
This resulted in stagnating sales and profit for Walmart for several years. For example, in its most recent fiscal year, Walmart Stores' total sales declined 0.7% year over year.
Since Walmart Stores' net income hit $17.00 billion in fiscal 2013, which ended on Jan. 31, 2013, the company hasn't been able to report annual net income near that level, according to data at Morningstar. In fiscal 2014, net income was $16.02 billion. In fiscal 2015, it was $16.36 billion. And in fiscal 2016, it dropped to $14.69 billion.
In an effort to turn around its prospects, Walmart Stores announced a significant round of internal investment, to improve its reputation with consumers and bring them back to its stores. This spending is likely the right course of action over the long term, but the company has advised investors that it does not foresee a return to meaningful earnings growth until fiscal 2019, which concludes in January 2019.
The good news is that Walmart Stores' efforts are already starting to pay off. In the latest quarter (the second quarter of fiscal 2017), comparable sales at Walmart locations in the U.S. increased 1.6%, thanks to 1.2% growth in customer traffic. This was the eighth straight quarter of comparable sales growth at U.S. Walmart locations. 
Nevertheless, the additional spending weighs on Walmart Stores' bottom line. In fiscal 2016, diluted EPS fell 9.5% from the previous fiscal year. This is expected to continue in fiscal 2017. When the company reported its latest quarterly results, it forecast fiscal 2017 adjusted EPS of $4.15 to $4.35. The midpoint of that range is 7.4% less than the $4.59 in adjusted EPS Walmart Stores reported for fiscal 2016.
Walmart Stores' strategic initiatives likely will work, but they will take some time. For such a massive company as Walmart Stores, the largest retailer in the world, a significant turnaround is a lengthy process. Walmart Stores investors will need to be patient, but the company is doing the right things for the long term.
Still, Target could be the better buy of the two, at least right now. It is growing at a higher rate. For its 2015 fiscal year, which ended in January of this year, Target reported same-store sales growth of 2.1% from the previous year. Adjusted EPS increased 11.3% to $4.69.
Target is off to a good start this year as well. Although comparable sales fell 1.1% in the fiscal second quarter, adjusted EPS grew 0.5% year over year, after a 16% increase in the first quarter.
Target seems to be the nimbler of the two, perhaps due to its smaller size. It has responded more effectively to customer demands, particularly when it comes to e-commerce. Target's e-commerce sales rose 16% year over year in the latest quarter, while Walmart Stores' e-commerce sales increased 12% in its most recent quarter.
Walmart Stores is hoping its $3.3 billion planned acquisition of Jet.com will help it close the gap with Target. More broadly, Walmart has its sights set on the e-commerce behemoth Amazon.com (AMZN) - Get Amazon.com, Inc. Report .
For decades, Walmart Stores has been the leader in bricks-and-mortar retail. But now, it seeks to take on the leader in internet sales. Walmart Stores is late to the e-commerce party, but it plans to quickly make up ground on its competitors by buying growth and leveraging its massive scale.
One thing Walmart Stores and Target have in common is a long dividend history. But here again, Target may have an advantage over Walmart Stores. Because Walmart Stores does not envision returning to earnings growth for a few more years, it has chosen to increase its dividend only modestly each year.
Walmart has increased its dividend for 41 years in a row, but its increase for calendar year 2015 was a paltry 2.1%, according to Dividend.com, while Target's annual dividend rose 13.7% for calendar 2015. Also, Target has an even longer streak of increasing annual dividend payments: 48 years. That means Target is just two years away from becoming a rare Dividend King.
When it comes to future dividend growth, investors should expect Target to outpace Walmart, given Target's stronger growth prospects. Another advantage Target has over Walmart in the dividend realm is its yield, which is 3.5%. Walmart Stores' shares currently yield 2.8%.
Lastly, Target stock is cheaper than Walmart. Target's trailing 12-month price-to-earnings ratio is 13.3, vs. 15.5 for Walmart Stores.
These factors help Target to outrank Walmart using The 8 Rules of Dividend Investing.
Target stock is cheaper than Walmart Stores and it has a higher dividend yield, even though Target has higher dividend growth and Walmart's earnings have been declining. Investors appear to be pricing in a speedy turnaround for Walmart Stores, but Target may turn out to be the better investment of the two.
This article is commentary by an independent contributor. At the time of publication, the author held positions in WMT and TGT.