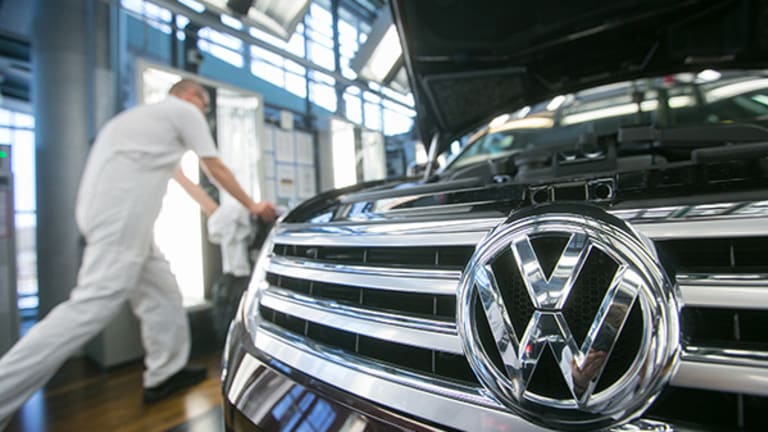 VW to Pay $1.2 Billion to Dealers in Settlement, Promises Broader Offerings
The latest settlement brings to $16.5 billion the amount that Volkswagen has spent to resolve charges.
Volkswagen  (VLKAY) , the German automaker ensnared in a diesel emissions controversy since last September, agreed to pay its 652 franchised dealers in the U.S. $1.2 billion.
The automaker also has promised dealers to broaden its offering of vehicles and lower prices in order to help restore the franchised stores to financial viability. The settlement averages about $1.8 million per dealer, though no distribution formula has been announced.
The latest settlement, disclosed late Thursday, brings to $16.5 billion the amount that VW has spent to resolve charges, damages and fines that have resulted since the U.S. Environmental Agency charged it with faking diesel emission tests. More troubles lie ahead, with the U.S. Justice Department weighing criminal actions and civil actions likely.
"We believe this agreement in principle with Volkswagen dealers is a very important step in our commitment to making things right for all our stakeholders in the United States," Hinrich J. Woebcken, CEO of VW's North American region, said in a statement.
The settlement with VW dealers is critical because the automaker needs a healthy and motivated retail distribution outlet in the U.S., the world's most profitable automotive market. Since the EPA charges were announced, VW shares have fallen nearly 28%. They rose 2.2% in Europe on news of the U.S. dealer settlement.
Because VW cars powered by 2.0-liter diesel engines made up a major portion of vehicles sold by dealers, retail commerce at VW stores was severely reduced following last September's news and the federal prohibition against selling the affected vehicles. VW eventually agreed to buy back 475,000 cars from owners at a cost of $10.3 billion.
The U.S. District Court in Northern California has ordered talks between VW and regulators toward resolving the fate of another 85,000 3.0-liter diesels in VW, Porsche and Audi automobiles.
"Volkswagen is facing an uphill battle to revive the brand in the U.S.," Ferdinand Dudenhoeffer, director of the Center for Automotive Research at the University of Duisburg-Essen, told Bloomberg. "Volkswagen is struggling with the loser image of the past, and now in the present the brand is burned. They need a good story that assures people it's really a new start. Just adding another SUV won't do it."
Although VW contends against Toyota (TM) - Get Free Report and General Motors (GM) - Get Free Report for top billing as the world's leader in terms of unit sales, its performance in the U.S. has chronically lagged. The construction of a new assembly plant in Chattanooga, Tenn., in 2011 was part of a strategy to attract more U.S. consumers by tailoring vehicle models to local tastes.
Doron Levin is the host of "In the Driver Seat," broadcast on SiriusXM Insight 121, Saturday at noon, encore Sunday at 9 a.m.
This article is commentary by an independent contributor. At the time of publication, the author held no positions in the stocks mentioned.