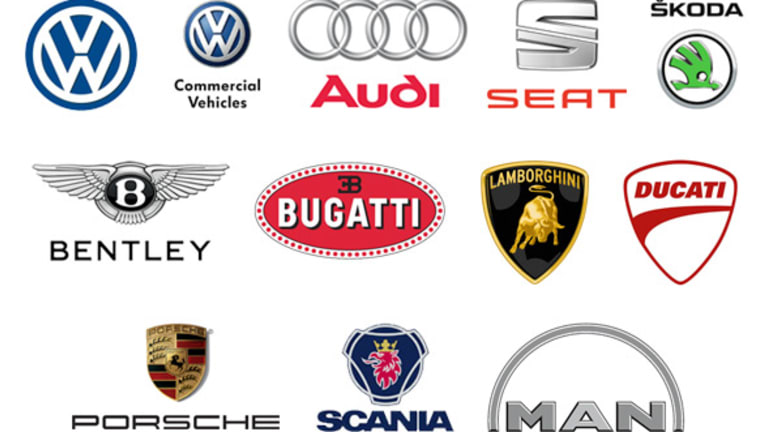 Volkswagen Motors Ahead Despite Diesel Scandal Woes
The German auto maker sees a rise in operating profits and overall sales, although it has set aside additional cash to pay for legal costs.
Not even Volkswagen (VLKAF) , (VLKAY) , (VLKPF) , (VLKPY) could quite believe its own success this morning, as the German car and truck maker announced healthy first-half results and a robust performance in its passenger car division.
"The Volkswagen Group finished the first half of the current fiscal year in a much better position than anticipated," the Frankfurt-listed company said in the announcement today although its share skidded down in early trading.
"The figures show that our operating business is sound," said Matthias Muller, VW's chief executive. "With our brands the group is built on many strong pillars."
By mid-morning, the stock was down 1.68% at €133.70 ($148.38)
Operating profit, before special items such as additional legal provisions for its diesel cheating scandal, came to €7.5 billion in the period from January to June 2016, up from €7.0 billion in the same period last year.
However, after those special items, including €1.6 billion in legal provisions among other negatives, operating profit was still €5.3 billion. Group sales in the first six months were €107.9 billion, "slightly short" of the prior year figure of €108 billion, before the cheating scandal broke last September.
Global passenger car sales were up 1.2% at 4.79 million units, with growth in the key Western European market of 2.5% and particularly good sales of the Audi Q7, Audi R8 Coupe, Skoda Superb and VW's own new models Touran and Tiguan also well-received.
"The Bentley Bentayga was the group's first luxury SUV to celebrate its market debut," Volkswagen said.
Where the pain has been felt is in passenger car sales in the U.S., where volumes plummeted 7.2% year-on-year to 273,843 units and in Canada, which was also down 7.0% to 50,797 units. But those poor figures were in any case overshadowed by the 34.2% fall in recession hit Brazil, where unit sales fell from 193,934 in the first half of 2015 to just 127,575 this year.
Despite reaching multibillion dollar settlements last month with the U.S. Department of Justice and various national and state-level regulators, Volkswagen still faces additional civil claims as well as possible, unrelated anti-trust proceedings against truck maker Scania.
Moreover, as the company pointed out this morning there are risks in connection with the Brexit decision by the U.K. to leave the European Union. "In the light of this, we are monitoring potential consequences for macroeconomic growth , effects on exchange rates and reduced demand for group products.," Volkswagen said.