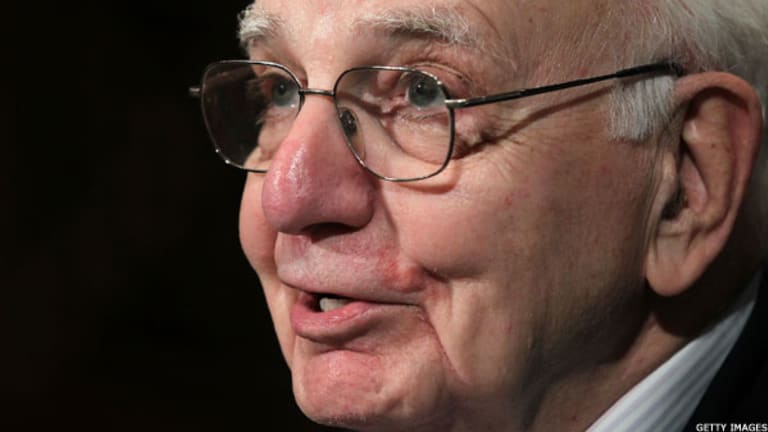 Volcker Rule Could Trigger Big-Bank Breakup
The largest U.S. banks may look to separate their investment banking businesses after the Volcker Rule's ban on "proprietary trading" is finalized.
NEW YORK (TheStreet) -- It's almost time for the Volker Rule to be finalized, possibly forcing earth-shattering changes at the largest U.S. banks.
The Federal Reserve, along with the U.S. Treasury, the Office of the Comptroller of the Currency and the Federal Deposit Insurance Corp. are expected to complete their rule changes next week to implement banning "proprietary trading," as required under the "Volcker Rule," which was named after former Federal Reserve chairman Paul Volcker and included in the Dodd-Frank banking reform legislation signed into law by President Obama in 2010.
The regulators rolled out their proposed rules to implement Volcker way back in October 2011. The rules aim to prohibit bank holding companies from engaging in most forms of proprietary trading while severely limiting their ability to invest in private equity funds and hedge funds. The rule includes "exemptions" to the short-term trading ban will be the scene of a major battle between the large banks, the regulators and members of Congress.
The Volcker Rule is meant to include "exemptions" from the ban on short-term proprietary trading, in order to allow banks to hold sufficient inventories of securities to fulfill their roles as market makers, however, a major problem with the proposed rules was the lack of a definition on what "short-term" actually means. Definitions of "hedging" and "market making" were also vague.
The Federal Reserve in April 2012 announced that banks would need to be in full compliance with the Volker Rule by July 2014. Even before that announcement, many of the largest banks, including JPMorgan Chase (JPM) - Get JPMorgan Chase & Co. (JPM) Report, Bank of America (BAC) - Get Bank of America Corp Report and Morgan Stanley (MS) - Get Morgan Stanley (MS) Report began to shut down their proprietary trading operations.
But the finalized Volcker Rule will still be very important to the big banks.
"A broad definition of prop trading (with narrow exemptions) that is aggressively enforced could be the worst outcome for the largest banks," according to KBW Washington analyst Brian Gardner.
In a note to clients on Wednesday, Gardner wrote that the finalized rules could "accelerate the dis-intermediation of the Global SIFIs, pushing business to PE firms such as BlackRock, the shadow banking systems and to smaller brokers such as Jeffries."
SIFI stands for Systemically Important Financial Institution. These are the banks that are subject to Volcker as well as the higher capital requirements under Basel III. In addition to the three banks mentioned above, U.S. SIFIs include Citigroup (C) - Get Citigroup Inc. Report, Goldman Sachs (GS) - Get Goldman Sachs Group, Inc. (GS) Report, Bank of New York Mellon (BK) - Get Bank of New York Mellon Corporation Report and State Street (STT) - Get State Street Corporation Report of Boston. These banks have large prime brokerage operations and/or large asset management and custody operations.
KBW's analyst team believes a significant portions of SIFIs' business could be pushed to "PE firms such as BlackRock (BLK) - Get BlackRock, Inc. Report, the shadow banking systems and to smaller brokers such as Jeffries."
Companies designated non-bank SIFIs, are not subject to the Volcker Rule, although they could be forced by the Fed to increase their levels of capital.
Gardner wrote that "Goldman Sachs would be most affected, followed by JP Morgan, Bank of America, and Citigroup."
Paul Hastings Global Banking chair and partner V. Gerard Comizio believes large U.S. banks could decide to significantly transform their businesses. "One potential impact of this rule may be a new strategy to push proprietary trading offshore in joint ventures and spin-offs; you may even have large banking entities exploring the legal possibilities of spinning off their investment banking operations outside the reach of the Volcker Rule," he says.
"The battle for those opposed to the rule may well shift to an ongoing interpretive skirmish over the Volcker rule exceptions for market making, hedging and private equity deals," he adds.
RELATED STORIES:
Goldman Downgrades Citi, Calls USB 'Conviction Buy'
EU Slaps Big Banks With $2.3B in Rate Manipulation Fines
Will Warren Buffett's Berkshire Join Fannie, Freddie Privatization Effort?
Ex-Fannie CFO Howard on Fairholme's $52 Billion GSE Proposal
Citigroup and Wells Have 25% Upside: Guggenheim
Fed Accepts Revised Capital Plans From JPMorgan, Goldman Sachs
-- Written by Philip van Doorn in Jupiter, Fla.
>Contact by Email.
Philip W. van Doorn is a member of TheStreet's banking and finance team, commenting on industry and regulatory trends. He previously served as the senior analyst for TheStreet.com Ratings, responsible for assigning financial strength ratings to banks and savings and loan institutions. Mr. van Doorn previously served as a loan operations officer at Riverside National Bank in Fort Pierce, Fla., and as a credit analyst at the Federal Home Loan Bank of New York, where he monitored banks in New York, New Jersey and Puerto Rico. Mr. van Doorn has additional experience in the mutual fund and computer software industries. He holds a bachelor of science in business administration from Long Island University.