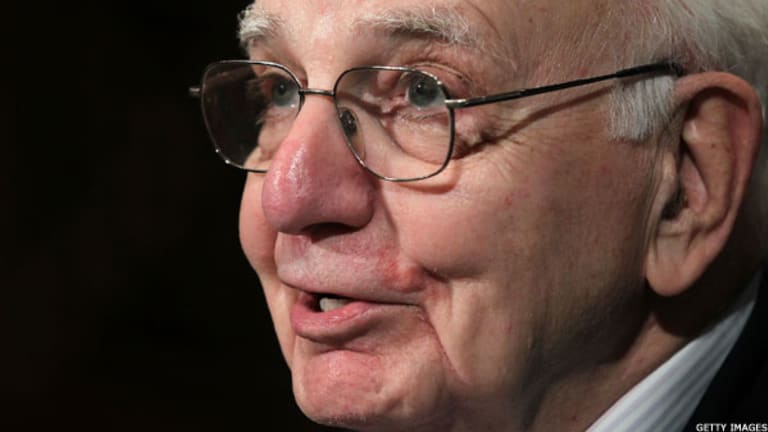 Volcker Rule Could Hurt These Community Banks
Along with Zions Bancorporation, these community banks could see relatively large losses from he ban on proprietary trading, says KBW.
Along with Zions Bancorporation, these community banks could see relatively large losses from he ban on proprietary trading, says KBW.
NEW YORK (TheStreet) -- Following the announcement by Zions Bancorporation (ZION) - Get Report of a large fourth-quarter charge springing from the Volcker Rule, KBW later on Monday identified the two community banks "with the most earnings at risk" from the new regulations, along with another bank that seems likely to report an extraordinary gain.
The Volcker Rule -- named after former Federal Reserve chairman Paul Volcker -- was included in the the landmark Dodd-Frank bank reform legislation signed into law by President Obama in July 2010.  The rule, was finalized last week and bans proprietary trading by U.S. banks, with some exceptions to allow banks with broker/dealer subsidiaries to maintain inventories of securities and to make hedge trades to protect from losses on those securities. 
The idea of Volcker is that banks shouldn't be "gambling" while enjoying the advantage of gathering deposits insured by the Federal Deposit Insurance Corp.
Zions of Salt Lake City on Monday said it had determined that "substantially all" of its investments in trust preferred collateralized debit oblations (CDOs) would be disallowed under Volcker.  The company said it would record a fourth-quarter other-than-temporary impairment charge of $629 million on the transfer of disallowed held-to-maturity securities to held-for-sale.  The bank also said it had until July 21, 2015 to sell the trust preferred CDOs, "unless, upon application, the Federal Reserve grants extensions to July 21, 2017."
KBW analyst Collyn Gilbert wrote that for banks under KBW's coverage, "we did a deeper dive into the implications for the companies in our universe, and found that there will likely be more noise and earnings distortions, versus true economic implications for the majority."
But Sun Bancorp (SNBC) of Vineland, N.J. and First Commonwealth Financial (FCF) - Get Report of Indiana, Pa., could also see relatively large losses springing from the Volcker Rule.
According to KBW's data, structured investments banned by Volcker made up 7.4% of Sun Bancorp's total securities portfolio as of Sept. 30, with unrealized losses totaling $5.0. million.  That may not seem like much for a bank with $3.2 billion in total assets, however, the loss would come to 6 cents a share, which exceeds KBW's 2015 earnings estimate for Sun Bancorp, which is only 5 cents a share.
First Commonwealth Financial had $6.2 billion in total assets as of Sept. 30, with investments banned by Volcker making up 1.97% of total assets, according to KBW, with unrealized losses totaling $23.4 million.  The unrealized losses come to 26 cents a share, which is 39% of KBW's EPS 2015 EPS estimate of 66 cents.
On a more positive note, Gilbert noted that Investors Bancorp (ISBC) - Get Report of Short Hills, N.J,. has unrealized gains of $18.1 million on its portfolio of securities banned under Volcker, which make up 2.15% of its total assets.  Investors Bancorp had $13.8 billion in total assets as of Sept. 30.  KBW estimates the company's unrealized gains on securities that may have to be transferred to held-for-sale come to 13 cents a share, or 12% of KBW's 2015 EPS estimate of $1.13.
Shares of Sun Bancorp were down 0.5% in midday trading Tuesday to $3.67, while First Commonwealth was down 0.9% to $8.74 and Investors Bancorp was down 0.9% to $23.87.


RELATED STORIES:
Bank Stocks Have 'Further Room to Climb' in 2014
KKR Rolls Up Specialty Finance Arm in $2.6B Stock Deal
Bloomberg Boosts Messaging Oversight as Change Looms
Big Banks May Still Face $50B-Plus Legal Tab on Mortgages
Banks Optimistic on Economy Still Keep Cutting Expenses
Market Applauds AIG's Second Attempt to Sell ILFC
-- Written by Philip van Doorn in Jupiter, Fla.
>Contact by Email.
Philip W. van Doorn is a member of TheStreet's banking and finance team, commenting on industry and regulatory trends. He previously served as the senior analyst for TheStreet.com Ratings, responsible for assigning financial strength ratings to banks and savings and loan institutions. Mr. van Doorn previously served as a loan operations officer at Riverside National Bank in Fort Pierce, Fla., and as a credit analyst at the Federal Home Loan Bank of New York, where he monitored banks in New York, New Jersey and Puerto Rico. Mr. van Doorn has additional experience in the mutual fund and computer software industries. He holds a bachelor of science in business administration from Long Island University.