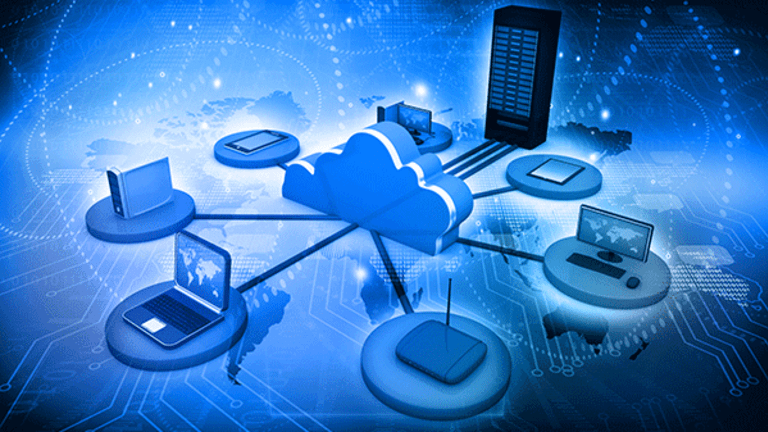 VMWare's Strong Earnings, Guidance Point to Bright Prospects
The company's three divisions, licensing, software maintenance and professional services, all showed healthy gains in the most recent quarter.
Network virtualization and cloud infrastructure company VMware (VMW) - Get Free Report exceeded analysts' earnings expectations last Friday after reporting solid fourth quarter results. The company offers a compelling investment proposition with its strong financial profile, robust earnings outlook and reasonable price. 
Following the report, Morgan Stanley moved its target price up from $98 to $100 a share, although on Monday, VMWare shares fell slightly. Morgan Stanley has an overweight rating on the stock, which is currently trading just above $87 a share. 
As one of the first movers in virtual computing services, VMware has become a well-recognized brand, allowing companies to integrate and manage their cloud infrastructure.
VMWare's parent company, data storage provider EMC, was recently acquired by Dell for more than $67 billion, the largest tech merger in history. Two byproducts of the deal: VMWare has been able to diversify and to accelerate VMWare's earnings growth. (The combined Dell-EMC entity is privately held but VMWare continues to be traded on the New York Stock Exchange. 
The company's fourth quarter scorecard showed exactly how efficient of an earnings machine VMWare has become.
The 8.6% increase in revenues trumped analysts' estimates. All three of the company's divisions, licensing, software maintenance and professional services saw healthy gains.
What's most promising is how VMWare has prudently aligned itself with bigger players. Public cloud partnerships with Amazon Web Services and IBM could drive phenomenal demand and value for VMWare, leading to increased earnings.
Additionally, tie-ups with these tech-giants should fortify VMWare's existing strengths like license bookings and hybrid-cloud positioning.
After its strong quarter, the company authorized a $1.2 billon share repurchase program through the end of its 2018 fiscal year ended Jan. 2018. A program as large as this indicates that VMWare sees deep value in its shares.
VMWare has strong guidance for the first quarter of 2017. The company expects revenues to come in between $1.67 to $1.72 billion, and earnings per share (EPS) should hit $0.93-0.96. On both counts, Wall Street estimates were a tad lower. 
VMware's strong momentum and capable hybrid cloud architecture could generate the sort of demand that enables the firm to beat its own projections.
Experts anticipate nearly 10% annual EPS growth for the next 5 years, a number that's in-line with rivals like Citrix Systems'11.9% and Cisco's9.16%.
The stock trades at a forward price to earnings ratio of 17.8 times compared to the Software System industry average of 31.25, a 76% discount to its peers. With its future prospects as bright as they are, the company's stock is trading at a huge discount relative to its potential future earnings.
---
As we've just explained, VMWare is an excellent growth opportunity. If you're looking for other growth opportunities, we've found a genius trader who turned $50,000 into $5 million by using his proprietary trading method. For a limited time, he's guaranteeing you $67,548 per year in profitable trades if you follow his simple step-by-step process.Click here now for details.
The author is an independent contributor who at the time of publication owned none of the stocks mentioned.