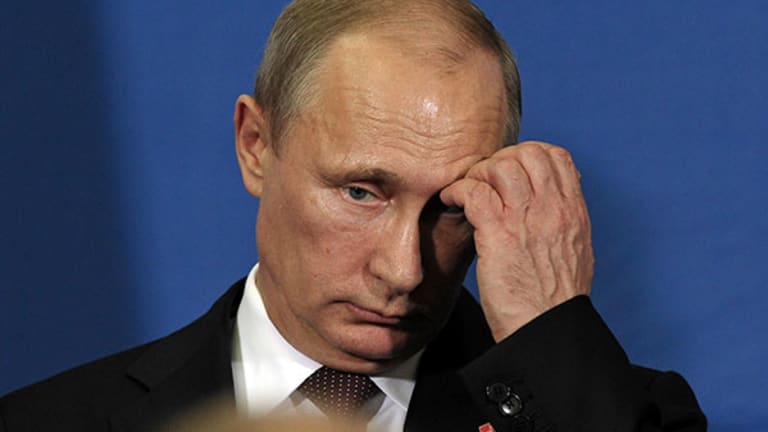 Vladimir Putin Probably Hates This ETF (but You Should Love It)
Cyber war is now a prominent fixture of the U.S. presidential campaign. Here's the easiest and safest way to play the trend.
Cyber war is now a prominent fixture of the U.S. presidential campaign. Here's the easiest and safest way to play the trend.
In a U.S. presidential election year marked by extraordinary if not shocking headlines, one of the dominant stories is the increasing occurrence of alleged Russia-based hacks against the Democratic Party.
The ceaseless struggle against cyber crime involves public and private entities, but the most disturbing manifestation is Vladimir Putin's reported attempts to hurt Democrat Hillary Clinton.
According to news agency reports, Clinton's campaign chairman John Podesta has accused a top Donald Trump adviser of collusion with WikiLeaks and Russian intelligence to harm Clinton's campaign. The FBI and other law enforcement agencies are now investigating the hack of Podesta's Gmail account, amid a growing consensus within U.S. intelligence services that Russia is behind the hacking of the Democrats.
Alarming tales of corporate-related hacking are proliferating as well. Notably, social media giant Yahoo! (YHOO) continues to investigate a massive cyber breach in which sensitive information was stolen from 500 million email accounts. Yahoo executives and American intelligence strongly suspect a "state-sponsored actor" was behind the attack, most likely (you guessed it) Putin's Russia.
What do all of these frightening revelations mean for you as an investor?
The incessant struggle against hacking is the sort of unstoppable trend that confers long-term profits, but only for those who make the right investments. Several individual equities are plugged into the growing demand for cyber security, but the broader market remains volatile and risky.
Here's a "one-stop" investment that offers you an outsized moneymaking opportunity combined with greater safety: PureFunds ISE Cyber Security ETF (HACK) - Get Report
Founded in November 2014, this exchange-traded fund is one of the world's first cyber security ETFs. The index tracks the performance of companies around the world that are direct service providers of cyber security solutions. HACK seeks performance that generally mirrors the price and yield performance of the ISE Cyber Security Index.
Nearly 80% of HACK's holdings are headquartered in the United States, the global leader in technology innovation. HACK divides its holdings among those that design and sell cyber security hardware and software, and those that provide cyber security not as a product but as a continuing fee-for-service.
With net assets of $803.79 million, HACK's top holdings are the leaders in cyber security, including Cisco Systems (CSCO) - Get Report , Check Point Software Technologies (CHKP) - Get Report , Imperva (IMPV) - Get Report , Science Applications International (SAIC) - Get Report , Qualys (QLYS) - Get Report , Fortinet (FTNT) - Get Report , Proofpoint (PFPT) - Get Report , Palo Alto Networks (PANW) - Get Report  and Juniper Networks (JNPR) - Get Report .
These are all stable technology companies with robust balance sheets, low debt and portfolios of proprietary technology. The fund has racked up a year-to-date return of 8.52% and a one-year return of 11.31%, compared to 4.83% and 7.24%, respectively, for the S&P 500 (SPY) - Get Report . The expense ratio is 0.75%, in line with the average for ETFs. Via HACK, you can reap profits and also strike a blow against foreign interference in American democracy.
---
As we've just explained, PureFunds ISE Cyber Security ETF is a shrewd play on the growing menace of cyber crime. If you're looking for other outstanding growth opportunities, we've found a genius trader who turned $50,000 into $5 million by using his proprietary trading method. For a limited time, he's guaranteeing you $67,548 per year in profitable trades if you follow his simple step-by-step process. Click here now for details.
John Persinos is an editorial manager and investment analyst at Investing Daily. At the time of publication, he owned stock in CSCO.