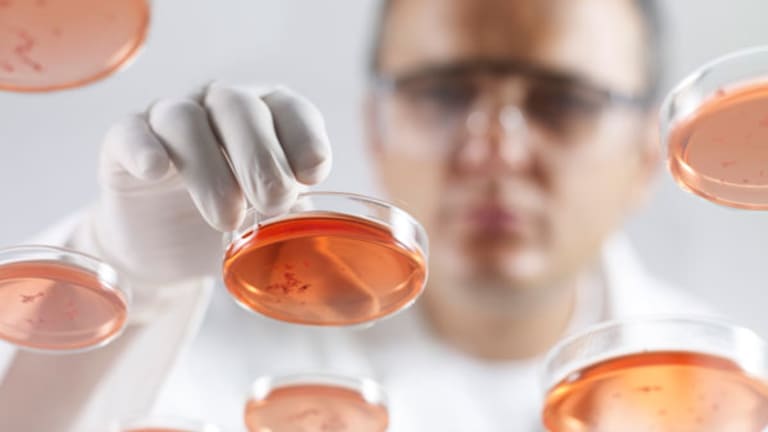 Vivus to Roll Out Key Obesity Drug Data
The pending results from two studies of Vivus' drug Qnexa is just the start of what promises to be an active 12 months in the race to develop the next generation of obesity drugs.
The pending results from two studies of Vivus' drug Qnexa is just the start of what promises to be an active 12 months in the race to develop the next generation of obesity drugs.
Obesity drug maker
Vivus
(VVUS) - Get Report
is gearing up to release the first phase III data on its experimental weight loss drug ahead of an analyst meeting next week.
The pending results from two studies of Vivus' drug Qnexa is just the start of what promises to be an active 12 months in the race to develop the next generation of obesity drugs. Three small drug companies -- Vivus,
Orexigen
(OREX)
and
Arena Pharmaceuticals
(ARNA) - Get Report
-- are all expected to release results from pivotal phase III clinical trials in 2009.
We live in fat world that is getting fatter, which has lured scores of drug companies to seek a lucrative treatment for obesity in the form of a simple pill. Unfortunately, currently marketed weight-loss pills aren't very effective or have particularly nasty side effects. The obesity drug market has also been beset with more serious safety issues like the heart damage caused by the popular "fen-phen" diet drug combination in the 1990s.
More recently,
Sanofi-Aventis
(SNY) - Get Report
halted sales of the obesity drug rimonabant in Europe after regulators there concluded that the drug's benefits did not outweigh the risks -- a marked increase in psychiatric events such as depression and suicidal thoughts. Rimonabant was never approved for use in the U.S.
Vivus' Qnexa consists of two currently approved drugs, combined in a proprietary formulation to promote significant weight loss without dangerous side effects. One of the drugs is phentermine, a generic weight-loss drug still available. (And yes, it's the "phen" in fen-phen but it was "fen" or fenfluramine and not phentermine that was later discovered to be toxic drug in the combination.) The other drug in Qnexa is
Johnson & Johnson's
(JNJ) - Get Report
topiramate, used to treat epilepsy and migraines.
In 2005, Vivus released data from a pilot study in 200 obese patients that resulted in an 8% weight loss, adjusted for placebo, in patients taking Qnexa for six months. Moreover, side effects were all mild to moderate.
This pilot study of Qnexa was conducted entirely at Duke University's obesity research clinic, which has a reputation for achieving superior results. Therefore duplicating the Qnexa weight-loss data in a larger trial conducted at multiple sites is an important milestone for Vivus.
In the next week or so, Vivus will release top-line results from the first of three phase III studies, known as EQUATE. This study enrolled more than 700 patients and will compare the weight loss after six months of Qnexa against a placebo and Qnexa's individual components taken as monotherapy.
Adam Cutler, biotech analyst at Cannacord Addams, says the EQUATE study is the first big test for Qnexa because it will provide a more robust picture of the drug's efficacy and safety than the previous pilot study conducted at Duke.
"The Duke study set a high bar for Qnexa, so while I don't expect EQUATE to come through with exactly the same results, I do expect weight loss that it almost as good -- call it high single digits," he says. Cutler has a buy rating on Vivus and a $12 price target. Vivus is not an investment banking client of Cannacord.
In a note sent to clients this week, Rodman & Renshaw's Jason Butler put Qnexa's magic weight-loss number from the EQUATE study at 8% to 8.5%, placebo adjusted.
"This would be the best
weight loss data in years since fen-phen. ...We think the stock could trade to $8-$9 on good data," Butler wrote. Butler has a market outperform rating on Vivus, which has no banking relationship with Rodman.
The FDA requires 12-month weight-loss studies for approval, so the six-month EQUATE study will not be enough for Vivus to file Qnexa with the regulatory agency. To that end, Vivus is conducting two longer phase III studies, with data expected next year.
Earlier this year, Vivus announced results from a six-month study of Qnexa in patients with type 2 diabetes that resulted in a placebo-adjusted 6.8% weight loss plus a reduction in blood glucose levels compared to placebo.
Along with the EQUATE study results, Vivus is also expected to release data from a six-month extension of the diabetes study. Cannacord's Cutler says this will be the first indication of how Qnexa performs over a 12-month treatment period.
For all the focus on weight loss, the biggest hurdle facing obesity-drug makers like Vivus is safety. In particular, the FDA is keenly focused on detecting any adverse changes in behavior or mood that may be an early signal for an increased risk in suicidal thoughts and behavior (the safety issue that scuttled rimonabant.)
For Qnexa specifically, the safety issues of potential concern, in addition to mood changes, are cognitive impairment and paresthesia, or tingling in the hands and feet.
There is no set timetable for the release of data from the EQUATE or diabetes studies, but Vivus is widely expected to announce results prior to the company's analyst meeting on Dec. 12.
Vivus shares were down 5% at $5.40 in recent trading.
Adam Feuerstein writes regularly for TheStreet.com. In keeping with TSC's editorial policy, he doesn't own or short individual stocks, although he owns stock in TheStreet.com. He also doesn't invest in hedge funds or other private investment partnerships. Feuerstein appreciates your feedback;
to send him an email.