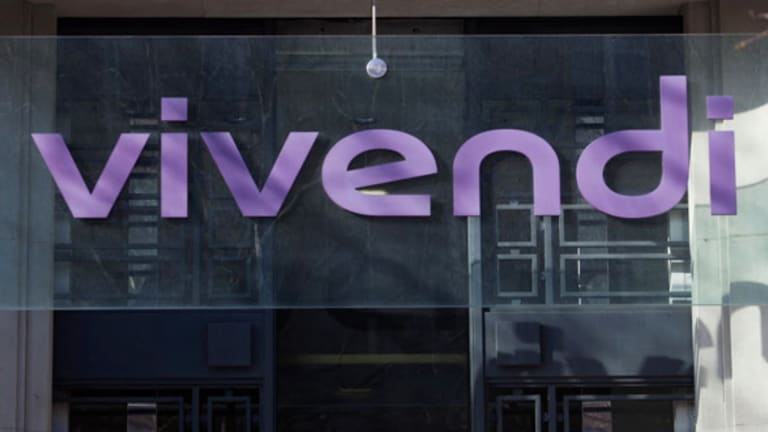 Vivendi Sees Escape Routes From Mediaset Deal but Still Faces Court
Mediaset Premium's figures were "artificially-inflated" and the deal will likely become void when it misses a regulatory deadline, said Vivendi CEO.
Vivendi (VIVHY)  sees two escape routes from its unwanted agreement to buy the pay-TV arm of Italy's Mediaset (MDIUY) but is still likely to face a Milanese court unless it can come up with an unlikely new deal.
Vivendi's CEO Arnaud de Puyfontaine told analysts late Thursday the agreement was invalidated by Mediaset's fudging of the pay-TV unit's prospects and that it will, either way, likely miss a regulatory clearance hurdle next month.
"The agreement signed on April 8, was subsequently subject to a due diligence review," Puyfontaine said on a results call with analysts. "It became clear from this audit and Vivendi's analyses that the figures provided prior to signing were not realistic and were founded on an artificially-inflated base."
The CEO also said the European Commission would not accept notification of the deal due to the conflict between Vivendi and Mediaset. That effectively ensures it will miss an antitrust clearance deadline of Sept. 30, leaving the deal void, according to Vivendi.
Mediaset, on Thursday, dismissed Vivendi's claims as "entirely...without foundation," and accused the French company of mismanaging the antitrust procedure.
Vivendi, led by billionaire chairman Vincent Bolloré, in April agreed to swap a 3.5% stake with Mediaset and take over the Italian group's 89% stake in Mediaset Premium to make up for the difference in valuation of the cross shareholding. The agreement valued the loss making pay-TV operation at €740 million ($834 million) at the time it was struck.
Two months later, on July 26, Vivendi reneged on that deal and submitted a new offer for just 20% of Mediaset Premium and requested the right to buy a 15% stake in Mediaset itself.
Mediaset and its largest shareholder Fininvest SpA countered with lawsuits alleging breach of contract and demanding damages. Mediaset has asked for a minimum €1.5 billion in the event the deal doesn't complete. Fininvest, which is controlled by former Italian prime minister Silvio Berlusconi, filed for "at least €570 million" in compensation regardless of whether or not the deal completes.
Vivendi appears confident it will win any legal battle. But weeks in an Italian court would be an unwelcome distraction for management, not least because it is likely to rope in Puyfontaine who personally oversaw negotiations for the Mediaset deal.
There may still be a cleaner way out. Vivendi and Mediaset, despite all their public bluster are reported to still be talking about a potential new deal. There may not be enough trust or goodwill left to get that over the line, but it would be the simplest solution.
Vivendi declined to comment, while Mediaset did not immediately respond to requests for further information.
Vivendi reported second quarter income from operations of €212 million, down 24.7% on the same period last year and about 10% down on analyst forecasts, mainly due to weaker than expected performance at its French pay TV unit Canal+.
Vivendi shares traded Friday morning at €16.70, down €0.88 or 5% on their Thursday close. Mediaset shares traded at €2.80, down €0.05 or 1.8%.