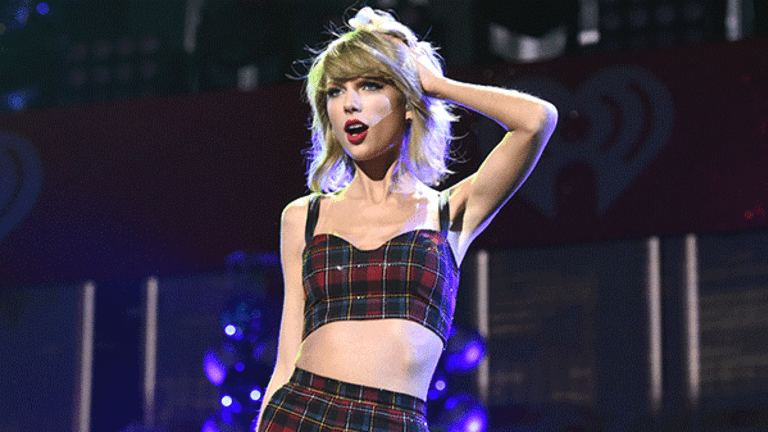 Vivendi and Sony Will be Winners As Music Streaming Takes Off Says Goldman Sachs
Streaming sales will increase nine-fold by 2030 to $28 billion with most of the benefits flowing back to the major music labels.
Streaming sales will increase nine-fold by 2030 to $28 billion with most of the benefits flowing back to the major music labels.
The world is going to be increasingly wired for sound and the companies that own the music are going to be the big winners, according to Goldman Sachs, which this week tipped music streaming sales to hit $28 billion by 2030, up 16% on its previous forecasts.
Much of those revenues will make their way back to France's Vivendi SA (VIV) - Get Report , owner of the world's biggest music label Universal Music Group, and its closest rival Sony Corp. (SNEJF) , which owns Sony Music Entertainment. Music labels will "receive 55%-60% of royalties for every piece of content that is being monetized," according to Goldman analysts including Lisa Yang.
Goldman increased its valuation of Universal Music by 16%, to €19.5 billion ($23.5 billion) from €16.8 billion, resulting in an 8% increase in its price target for Vivendi, which rose to €25.20 per share. Vivendi shares traded Tuesday, August 29, at €18.48, suggesting a 36% upside based on Goldman's analysis.
Goldman's price target for Sony was also hiked to ¥5,600 ($51.60), up 2%. Sony shares traded Tuesday at ¥4,200, prompting Goldman to describe the business as "an undervalued content giant."
The global market for paid streaming is expected to explode over the next 10 years as improved connectivity enables more smartphone users to abandon purchasing of individual tracks and albums in favor of streaming services. The paid streaming market made revenues of about $3 billion in 2016, and is on track to hit about $28 billion by 2030, according to Goldman. That nine-fold increase will outpace the wider 100% growth that the bank is tipping for the global music market, which it expects to grow from about $56 billion last year to about $119 billion by 2030.
Goldman believes that about 14% of all smartphone users, or about 847 million people, will use streaming services for music by 2030. That forecast is based partly on streaming penetration in the most advanced markets of Scandinavia, where streaming accounts for 30% the total music market sales and is continuing to grow. The analysis also provides a nod to the success of Netflix Inc. in the U.S., noting that the movie streaming service is now present in 50% of homes with cable.
"Our assumption of 14% global paid streaming penetration is based on 32% penetration in developed markets and 10% in emerging markets," noted Goldman's analysts.
Those growth forecasts could yet prove conservative. The forecasts do not include potential growth from connected cars and smart speakers, which the Goldman claims could add a further $8 billion to streaming music sales by 2030.
Tesla Inc. (TSLA) - Get Report has been widely rumored to be pondering the launch of its own in-car streaming service, though its CEO Elon Musk on Aug. 26 appeared to dismiss the idea of a so-called 'TTunes' service as "a joke."
More of What's Trending on TheStreet: