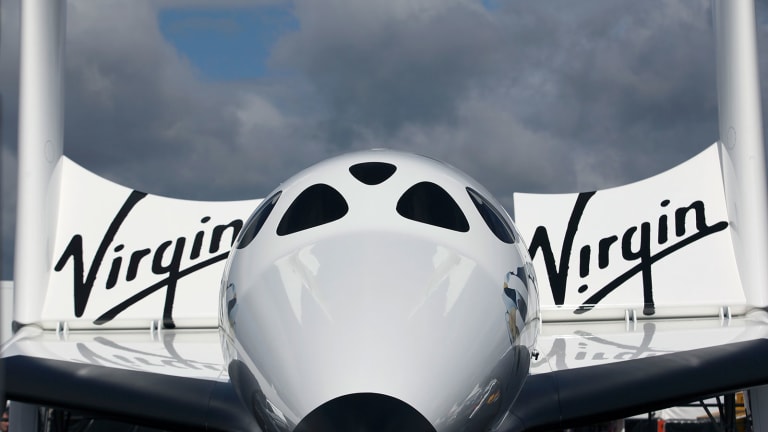 Virgin Galactic, Space Tourism Company, Heads Skyward in Public Share Debut
Richard Branson will continue to hold a 51% controlling interest in Virgin Galactic.
Shares of Virgin Galactic (IPOA) - Get Free Report , the space tourism company founded by the U.K. investor and executive Richard Branson, rose on Monday, the first day the company was publicly traded on the New York Stock Exchange following its direct listing. 
The stock at last check was up 3.4% to $12.19. 
Last week, Virgin Galactic completed a merger with public investment firm Social Capital Hedosophia to form Virgin Galactic Holdings. 
As a result of the merger, Virgin Galactic received more than $450 million of primary proceeds with a market cap of $2.3 billion. Virgin Galactic holders own about 59% of the new company. 
Those shareholders include Branson, who told CNBC that he planned to hold on to his 51% controlling stake in the company following the debut. 
Virgin Galactic became the world's first publicly traded commercial human spaceflight company, CEO George Whitesides said in a statement. ["Our] IP and engineering skills alongside the talent we have in our business makes us confident and excited about our future."
Virgin Galactic says it has customer reservations from more than 600 people in 60 countries, representing about $80 million in total collected deposits and over $120 million of potential revenue. 
"Per VG's filings, its primary competitor in establishing a commercial suborbital spaceflight offering is Blue Origin, a privately funded company founded in 2000. In addition, several large, well-funded, public and private entities are actively engaged in developing products within the aerospace industry, including SpaceX," said Rohit Kulkarni of MKM Partners. 
The company reportedly is in the final stages of testing its spacecraft, a vehicle that will carry up to six passengers at a time at a price of $250,000 each.
Earlier this month the company said it was partnering with sports-apparel maker Under Armour (UAA) - Get Free Report  to design the spacesuits tourists will wear during space flights. 
"Virgin Galactic gave us an exciting challenge to build the world's first commercial spacesuit," said Under Armour founder Kevin Plank. Under Armour shares were trading up 1.2% at $21.32.