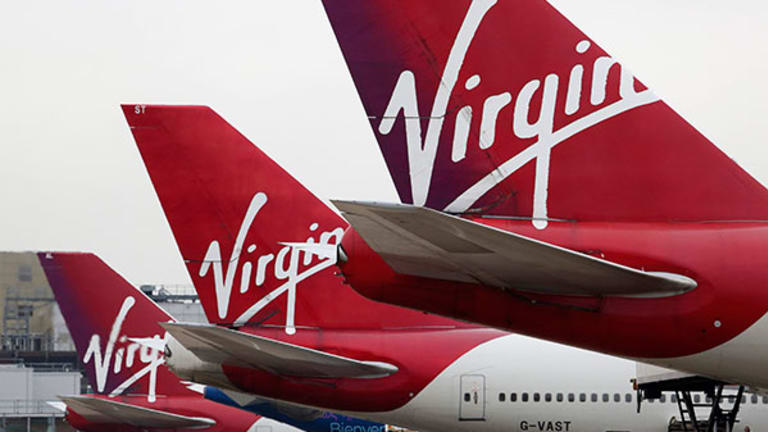 Virgin America's Final Push Into Airline Club Brings Raid on Southwest's Home
Virgin America is doing everything at once - an IPO, a move to Love Field, opening new routes and welcoming its first labor union.
SAN FRANCISCO (TheStreet) -- Now everything is happening at once for Virgin America. New routes, new airports, an initial public offering and the first union on the property are all coming nearly simultaneously, providing a major test for management just as investors start to take notice.
It has been a steep climb for an airline that started out in 2007 after an 18-month battle with the entire U.S. airline industry, which resisted the start-up effort, citing lack of clarity about Englishman Richard Branson's ownership and the potential violation of the limitations on foreign ownership of U.S. carriers.
Now Virgin America is nearly a full member of the club, one that competes at its San Francisco hub with United (UAL) - Get Free Report  and will soon fly out of Southwest's (LUV) - Get Free Report  nearly private home airport at Love Field in Dallas.
While its network may be lacking, Virgin America has lower costs than either competitor. Its second-quarter cost per available seat mile excluding fuel and special charges was 6.87 cents, compared with 9.31 cents at United and 7.77 cents at Southwest. Quarterly revenue was $399 million, compared with $9 billion at United and $5 billion at Southwest.
Virgin America "has clearly built a product that's attractive to customers, who are willing to pay more for it," said Imperial Capital analyst Bob McAdoo.
In trans-continental markets, which account for two-thirds of capacity and two-thirds of the profits, "their product is so different and so modern that it attracts customers who are willing to pay as much for these flights as the legacy carriers get, even though these guys don't have a frequent flier plan that is anything at all like legacy carriers have, or any of the other network advantages," he said.
Yet in the LAX-JFK market, the No. 1 domestic market, "their average ticket price is meaningfully above Delta (DAL) - Get Free Report and JetBlue (JBLU) - Get Free Report and very close to American (AAL) - Get Free Report ," he said.
A recent survey, conducted for TheStreet by GfK, showed that only 5% of Americans consider getting frequent flier miles to be an important consideration when selecting a flight. 
This summer, the LAX-JFK market had approximately 40 daily round-trip flights per day, most of them on five airlines. Virgin America tied United for second in fare level during the first quarter, according to the most recent statistics available from the U.S. Department of Transportation.
American collected an average one-way fare of $310. United and Virgin American collected $255; Delta $239 and Jet Blue $198 -- explaining JetBlue's need to add an improved Mint product.

From San Francisco, where Virgin and United both have hubs, United, with a premium trans-con product, collected an average SFO/JFK fare of $319. Delta and American collected $280; Virgin, $253 and JetBlue, $191.
When it began flying in 2007, Virgin America encountered rising fuel prices, a bad economy and intense trans-con competition. Between the second quarter of 2010 and the second quarter of 2012, the carrier took delivery of 25 Airbus A320 family aircraft. Then CEO Cush slammed on the brakes, enabling the airline to fully benefit from the airline industry's increase profitability. Now, with the fleet at 53 planes, deliveries have been curtailed until 2015.
"They had several difficult years when they tried to grow too fast," McAdoo said. "They realized that wasn't working. So they switched from being growth-oriented to being profit-oriented."
In the past three weeks, developments have come at a rapid pace. On July 28, Virgin America filed for an IPO. On Aug. 12, it reported second-quarter net income of $37 million, up from $9 million a year earlier. On Aug. 13, the Transport Workers Union announced it had won a union election among the flight attendants.
The carrier will move its Dallas operations from DFW to Love Field on the night of Oct. 12. On Oct. 28, it will inaugurate Love Field to New York LaGuardia, its first LaGuardia service.
Virgin America flight attendants elected to join the TWU after rejecting the same union in a 2011 vote. Of 737 flight attendants who voted, 58% backed the union.
"We are not a start-up airline anymore," said three-year flight attendant Jeremy Schoggins, who worked as a TWU organizer. "We are growing up. Management didn't want us to have (a union). But I love Virgin America. We are rock star flight attendants who take amazing care of our guests (who) love Virgin America. I want to make sure flight attendants get their fair share.
"Flight attendants don't have a big voice," Schoggins said. "Management asks us what we want every year, and we tell them, but we get only a fraction of those things." He said flight attendants would like a contract clause assuring that after 18 hours on duty, they can decline additional work. Additionally, he said, flight attendant issues involving hotel accommodations or catering or pay can take weeks to resolve because e-mails to supervisors may not be promptly returned. "With a union rep, I will always have someone I can go to," he said.
In a May 2013 interview with TheStreet, Cush declared, "Growing an airline is difficult in the best of times, and we haven't been in the best of times. We've had a huge recession and high commodity prices. We fought our way through those."
Although "going public brings a lot more headaches," Cush said, it also "opens up large pools of capital, not only in the equity markets but also access to debt markets, (so that) financing aircraft costs less." Currently, Virgin America's principal owner is New York hedge fund Cyrus Capital, with about 50%; Branson's Virgin Group has about 46%.
McAdoo said adding new markets, especially in limited access airports like LaGuardia and National, will help the airline because "it allows them to go through and pare back capacity in their weakest markets and reallocate it to new markets that might be pretty good -- it's a high-class problem."
All of the challenges JetBlue faces now, he said, seem minimal when compared to the problem of earlier years, when "the airplanes just kept coming and Virgin was trying to find profitable markets to put them in."
Written by Ted Reed in Charlotte, N.C.
To contact this writer, click here.