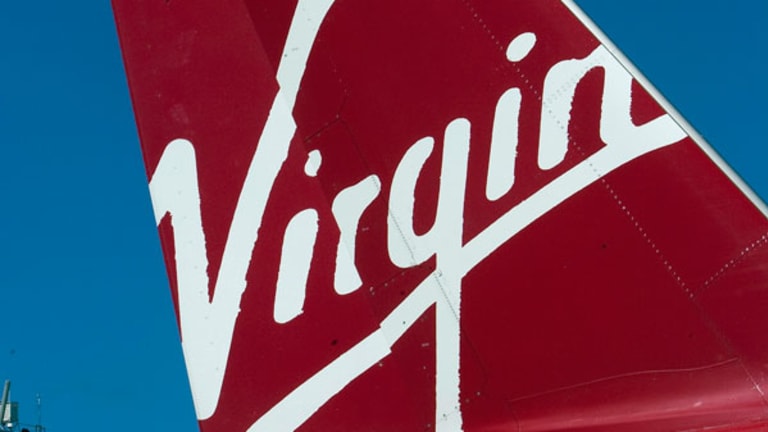 Virgin America Cuts Losses and Sees IPO
Virgin America Airlines, now in 21 cities, is pushing back as most U.S. carriers downsize.
SAN FRANCISCO (
) --
Virgin America
said its losses are declining and it could stage an initial public offering as early as next year.
The San Francisco-based carrier, which is adding two new routes this month, has reduced losses after restructuring debt owed to the British company
Virgin Group
, and could stage an IPO in late 2014 or 2015, CEO David Cush said in an interview with
The Associated Press.
In a filing with the U.S. Transportation Department, Virgin America said its 2012 net loss widened 45% to $145.4 million. However, its fourth-quarter loss narrowed to $25 million from $30.8 million in the same quarter a year earlier. In the first quarter of 2013, the loss narrowed to $46.4 million from $76 million.
Cush told
AP
the carrier is reducing costs by suspending aircraft deliveries until 2015 and by a recent deal to eliminate $290 million in debt, a majority of it owed to Virgin Group, Cush said. The debt was converted to "conditional equity," he said.
A share offering would be a way for Virgin Group and other shareholders to recoup some of their investments, Cush told the
AP
. But aviation consultant Robert Mann said that while the airline may be hopeful, "it's not clear that a recapitalization, interest rate reduction and allowing the network to 'mature' will reverse the losses, which are a function of a lack of network scope and appeal to large volume corporate travel buyers, in a space dominated by three network/alliance competitors.
"Slowing unprofitable growth helps, but also hurts, in the sense that the network continues to lack scope, and many markets lack sufficient frequency," Mann said. "Consolidation has to be a hoped-for end game."
Based in Burlingame, Calif., Virgin America is one of the country's few expanding airlines and has focused on trans-continental service. In April, it began flying to Newark from Los Angeles and San Francisco, markets dominated by
United
(UAL) - Get Free Report
, which operates hubs in all three cities.
"Since we entered the market, fares have dropped by nearly 40%, last-minute walk-up fares have dropped by about 30%, and travelers now have a fresh option with Wi-Fi, new aircraft, live TV and award-winning service on every flight," Cush said last month, in a prepared statement.
The carrier said it serves nine of the top 10 business markets from San Francisco and eight of the top 10 business markets from Los Angeles. According to San Francisco International Airport statistics, Virgin America carried 9% of SFO passengers in 2012, second only to United, which had a 46% share. In terms of landings at SFO, United was first with 29%, while
Skywest
(SKYW) - Get Free Report
had 28% and Virgin America was third with 9%.
On May 1, Virgin America began service for four daily flights times between LAX and San Jose aboard an Airbus A320, in a code share with
Hawaiian
(HA) - Get Free Report
and
Singapore Airlines
.
Virgin America emphasizes luxuries such as Wi-Fi and live TV at every seat and leather seating in coach. "Our tech-forward features reflect our roots here in the Bay Area - and have helped us build a loyal frequent flyer following in this community, especially among local entrepreneurs," Cush said.
Founded in 2007, Virgin America serves 21 cities, including seven on the West Coast and three in Mexico as well as New York, Newark, Philadelphia and Washington. Service to Austin, Texas is slated to begin next week.
-- Written by Ted Reed in Charlotte, N.C.
>To contact the writer of this article, click here:
Ted Reed